Born in 1929: Monty's story
Posted on 26 June 2018
4 min read
From growing up in the blitz to working as a firefighter
Morgan Britton – who's been known as Monty for as long as he can remember – tells us his inspirational life story, from growing up during World War II to serving his country in the RAF and working as a firefighter.
Growing up in Bristol, he tells us about how different times were back then to how they are today. Perhaps the biggest difference is that Monty grew up during World War II.
This meant that for Monty and his friends, playground games included picking up and comparing pieces of shrapnel, swapping them with each other for the bigger and better pieces.
Monty says that the whole neighbourhood was different back then – his family's door was always open, and everyone would offer a helping hand and you knew all the local kids.
After spending six months or so in the shelters, the day that everyone was dreading eventually came and Monty saw German bombers come over en masse. As a young boy, he witnessed bombs fall over his home town of Bristol in what would be known as the Bristol Blitz.
'To see the bombs falling is something I'll remember for the rest of my life' he says. After the bombs hit, 'you could see Bristol burning'. Several houses two or three streets away from Monty's home were completely destroyed. Luckily, his family's home was okay.
Growing up during the war might have been hard, but it shaped the rest of Monty's life. He says that everyone had a job to do, and no matter how young or old you were – you got involved.
Because of this, Monty's uncle soon signed him up as a bucket carrier during the war and so Monty had his first taste of firefighting.
Like many young men his age, Monty left school and signed up to the military with his sights set on the RAF.
With Monty's father-in-law being a firefighter in Bristol, Monty was heavily influenced by him and as soon as he de-mobbed from the military, Monty applied to join the Bristol Fire Brigade.
At the beginning, he worked 60 hours a week, including weekends and at Christmas time, for £4.15 a week.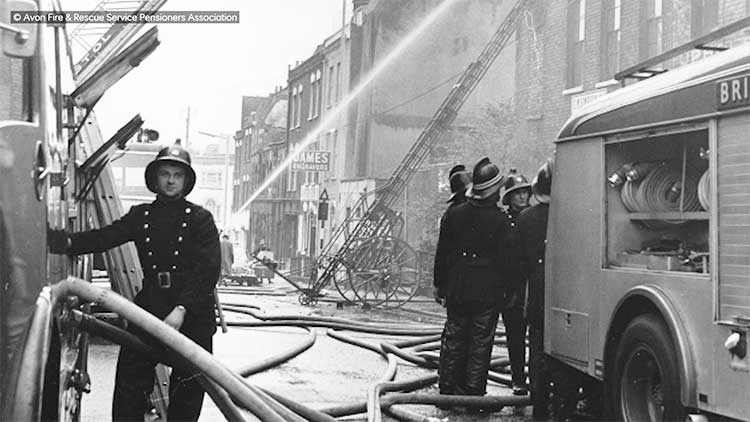 Not only were the wages different back then, but the job itself faced a lot of challenges that thankfully, firemen today don't have to deal with.
'Every single building had open fires' said Monty, with a lot of them often having chimney fires. And there was no technology like we have today. No Google maps, mobile phones or even radios.
'The firemen in Bristol had to know the streets like the back of their hand' Monty tells us. 'You got a message handed to you on a piece of paper, 26... whatever road it was. There was no radio contact. If you got there and found it was a major job and needed support, you had to go and knock on the neighbours' door and ask if I could use the telephone' he added. Having mobile phones would have been useful in those days, he adds.
Another regular job for the Bristol firefighters was putting out embankment fires caused by steam trains on hot days. One memory that Monty will never forget was attending the Torrey Canyon oil spill in 1967- the UK's worst ever oil spill.
Despite the tough parts of the job, Monty calls being a firefighter a great job that he had for many years with a 'very happy, enjoyable service'. He ended up being a fireman for over 35 years. The comraderie and teamwork was 'unbelievable', he tells us.
After 55 years of working with charities, Monty was nominated by the Lord Mayor of Bristol to be Chairman of the Avon Fire and Rescue Service Pensioners Association. He even got an invitation to a Garden Party at Buckingham Palace, which he has proudly framed at home.
After retiring, Monty and his wife Genie decided to travel the world together. His wife Genie was the best thing that ever happened to him, and they were married for a long and very happy 65 years.
At 89, Monty lives in the home that he and Genie bought together. 'I'm surrounded by friends and memories here' he tells us.
When he talks about getting older, Monty says he's the 'hanger on' and would like to reach his 90th birthday next January. 'I don't necessarily want to be 200' he says.
Monty's best piece of advice? You can't change the world.
You've got to face the fact the world has changed and you've got to change with it.
To read more inspiring stories, read about our amazing over 50s who are defying stereotypes.
SunLife offers a range of straightforward and affordable products including over 50s life insurance, funeral plans, equity release, home insurance.