Our top 12 indoor activities for a day at home with the grandchildren
Posted on 16 November 2018
6 min read
From indoor camping to midnight feasts, a day at home doesn't have to be boring (or break the bank)!
If you've got a day planned with your grandkids and the weather isn't behaving, it can really change plans.
The kids can start to get restless and you have to think on your feet for something else to do to avoid a day wasting time rather than spending time making great memories together.
Here are our top picks of things to do with your grandchildren that will keep everybody busy and more importantly – happy.
Cooking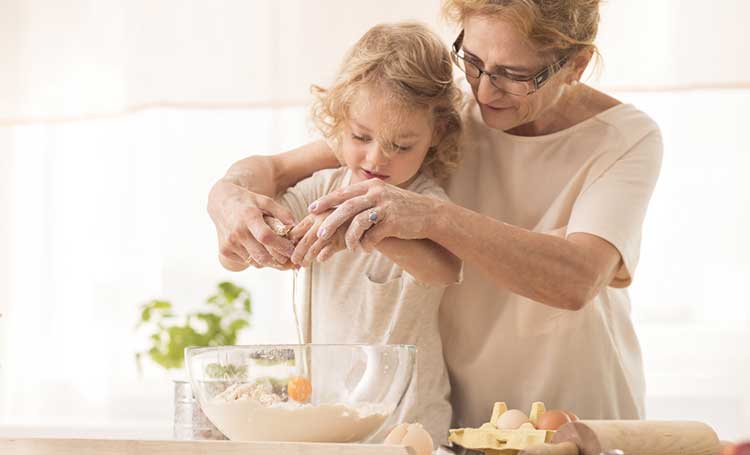 Everyone knows it's a grandparents' prerogative to have the best baking skills in the family! But really – have you ever had a bad time when baking a cake?
Even using a really simple "add an egg and water" pack can be all the fun you need to waste an afternoon in the kitchen with some cute cupcakes to show for it.
Or, you could start to giveaway your favourite recipes ready for when your grandchildren are old enough to return the favour and cook you some sweet treats!
You could even start writing down each recipe or making a scrapbook of family recipes that they'll be able to keep and use and even pass on when they're older.
Teddy bear's picnic
When the weather's dull it doesn't mean that lunch has to be!
Spend some time preparing your picnic together, choosing what to add to the sandwiches and which veggies to cut up.
Lay down a picnic blanket in the living room and eat the picnic together. Of course, that's once you've gathered all your guests – the teddy bears!
It'll feel like a real treat for the kids eating their lunch on the floor, and you can read the Teddy Bear's picnic book before you settle down to eat.
Build a den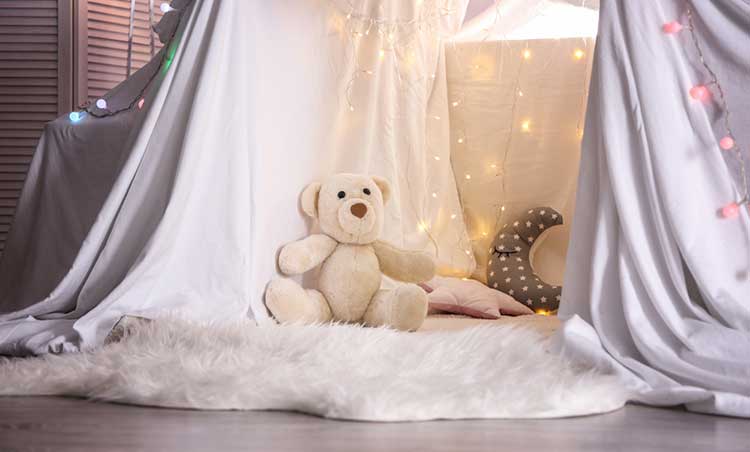 Where better to hide away from the cold, wet weather than inside a den? All you need is some bedsheets and chairs – create your space in between the chairs and drape the sheets over and there you go!
Add some cushions and blankets to the floor to make it super cosy and let your grandchildren bring in their toys to keep them busy.
Why not add some battery powered fairy lights to add a magical touch?
It's also the perfect place to batten down the hatches and read a book together.
If you really want to make the most of it before taking down your den, call it "indoor camping" and let your grandchildren sleep there for the night.
Treasure hunt
This one would involve some prior planning, but it's nothing that can't be done in a few hours in the morning.
Hide small toys and books around the house with a clue to where the next "treasure" will be.
If you really want to add to the loot, hide a new toy right at the very end of the hunt! You could even draw a map of the house that leads to each clue.
Arts and crafts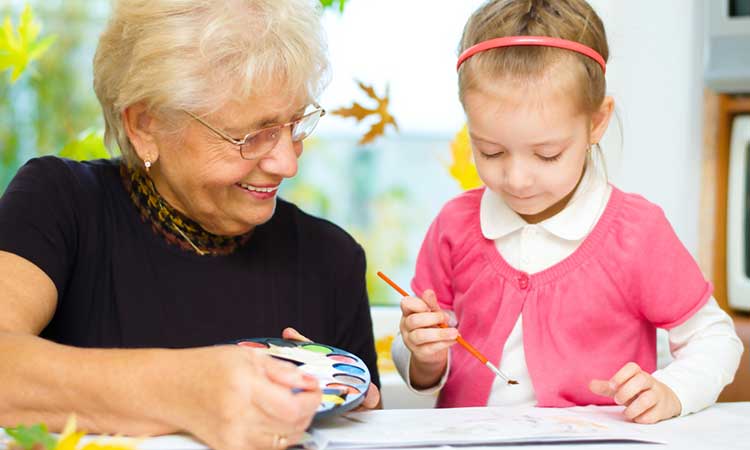 This one is probably a no brainer – but it never gets old! It's handy to keep a box of colouring pens, pencils, crayons and paper in so you can always rely on something super easy to fill your afternoon.
Paints will always feel like more of a treat so using old sheets or a plastic, wipeable table cloth will help protect your surroundings.
To really make it feel special you can get cheap canvases to paint on and create a painter's palette using a paper plate.
Puzzles
Puzzles are great because no matter your grandchildren's age – you'll be able to find one that's right for them.
If you're going for a larger puzzle with 500+ pieces, set it up somewhere out of the way so they can have a go at completing it every time they come over if you see them every week or so.
Board games and quizzes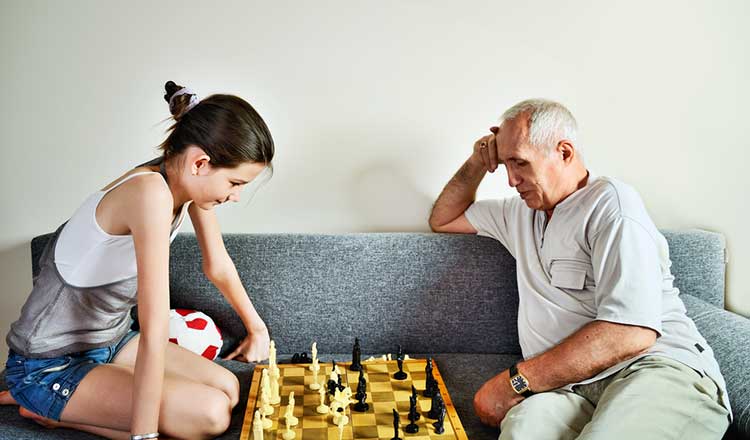 Either start a collection to keep at your house or get your own games out from when you were kid.
If you don't have any board games, why not create a quiz for them with questions that only your family members would know the answer to?
They could play for prizes and even create a quiz of their own to ask you!
Hide and seek
Another more traditional one but make the game harder by playing "moving hide and seek" where the person hiding can keeping moving to a new hiding spot every time you get near!
Get some music playing to hide the pitter-patter of feet running across the hallway.
Movie afternoon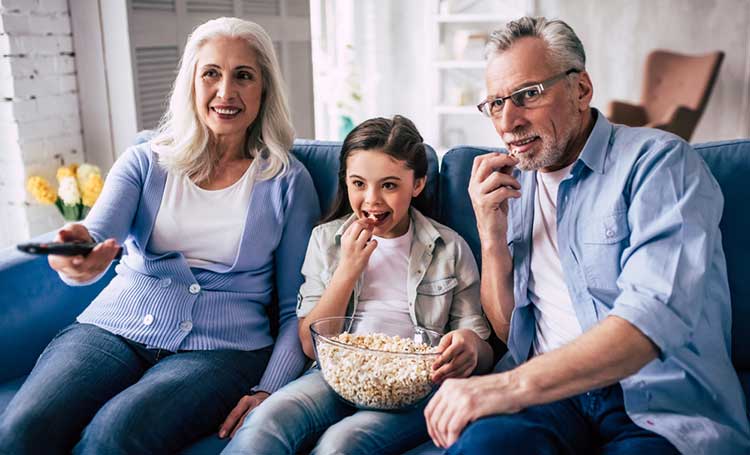 Not just any movie afternoon but pull out all the stops to make it a bit more special, including creating your own admission tickets.
One of the main things is to make everyone cosy, so get out a special blanket, or you could even buy some new fluffy socks for everyone to wear.
Then prepare all the snacks for the afternoon: popcorn (which you can make yourselves for extra fun!), make your own pick 'n' mix with a selection of sweets and a paper cup.
Chocolates are another great movie snack, or a simple glass of milk with some cookies.
As for what film to watch, go for something that will please everyone. If you really want to go all out, you could theme your afternoon around what film you're going to watch.
If it's a movie of a book you all like, read the book first and then watch the movie to see favourite characters come to life.
Write a book
Writing a story book together can lead to lots of activities in itself.
Write the book and illustrate each page together or each create a book and read yours to each other at the end.
It's a great way to write down family stories or stories about the days you spend together, which become great keepsakes as your grandchildren grow older.
You could add stickers and other scrapbooking bits to make them more special.
Midnight feasts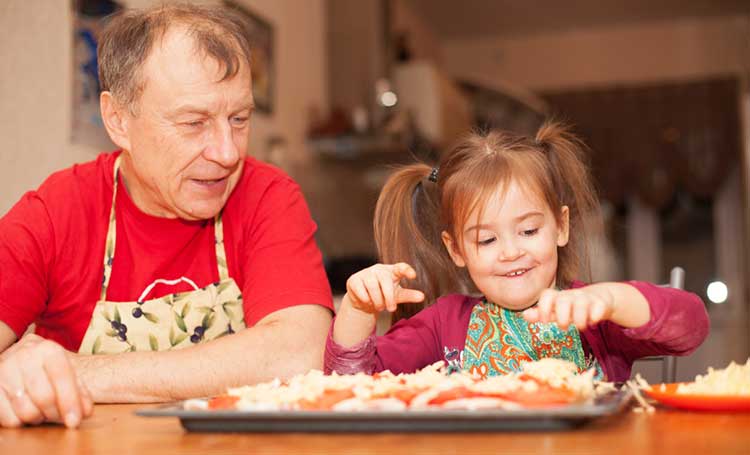 Throw a "midnight feast" – at 8pm! Kids find a change in routine exciting, so why not treat them to a late-night snack as a one off.
You could even make the snack earlier in the day together and pop it into the fridge ready to be heated up.
Pizza is a great idea for this as it won't take long to cook for your "midnight snack" and it always feels like a real treat.
Throw a party
You don't need a reason to throw a party. Spend the day planning your "do" together, deciding what games you're going to play and what food you will eat.
Then open the fancy dress box and get your costumes ready, turn up the music and party the afternoon away!
You could even play some traditional party games such as musical chairs or musical statues.
No matter what you end up doing, the main thing is that you and your grandchildren end up spending time together making new memories.
At SunLife, we're here to help you make the most of life after 50. For those interested, we also offer over 50 life insurance with no medical required and guaranteed acceptance.
SunLife offers a range of straightforward and affordable products including over 50s life insurance, funeral plans, equity release, home insurance.