19 random acts of kindness ideas you can do
8 min read
Make someone's day with these ideas for a small act of kindness
Did you know research shows being kind and doing nice things for people is good for your mental health and can make you happier?
Try improving your wellbeing with this list of our favourite random acts of kindness. The family can get involved too; we've chosen some great selfless acts for kids that are easy to try.
What is a random act of kindness?
A random act of kindness is a spontaneous, selfless action designed to offer kindness towards a family member, friend, or even someone you've never met.
Top 19 easy acts of kindness
There's no limit to how much kindness you can show throughout the day, but we've picked out 19 simple random acts of kindness ideas that will raise a smile.
1. Give someone a compliment
A compliment is one of the easiest ways to make someone feel good, especially if they're having a bad day. It could be anything from "you look nice today" to "you're a great friend and I'm lucky to have you".
2. Let someone go in front of you in a queue
If you see someone who looks like they're in a rush, why not let them in front of you in the queue? Or even let that person who only has a few items in their basket in front of you in the supermarket queue. It might make their day.
3. Give up your seat on the bus or train for another passenger
This doesn't take much but goes a long way, especially if you're helping an elderly, disabled, or pregnant passenger who might be struggling to stand. You could also help a mum with her pram when she's struggling to get around the shops or off a bus.
4. Cook someone their favourite meal
You know what food they love, but they might not have the time to cook for themselves. Making someone their favourite meal will brighten their mood after a day at work or school.
5. Donate your old towels or blankets to an animal rescue
Instead of throwing blankets and towels out, you could help the countless cats and dogs at your local animal rescue by donating them. They'll keep the animals warm and comfy, and save the shelter some cash.
6. Visit someone who may be lonely
If your elderly relative or neighbour lives alone, they might not see many people very often. Visiting out of the blue may well brighten their day. They might love hearing about what you've been up to and they'll definitely have some interesting stories of their own to tell.
7. Make someone a hot drink
There's nothing better on a chilly day than a warm drink, so treat your neighbour, gardener or partner to a cuppa, hot chocolate or strong coffee. You can be sure they'll appreciate a quick natter too.
8. Sign up to give blood
It only takes an hour of your time, but you could save up to three lives by donating blood once. Why not make it more regular and give three or four times a year?
9. Take a job off someone's hands
It could be as simple as asking a busy colleague if there's anything you can help them with, or offering to pick the grandkids up from school, but you'll be making someone's day that little bit easier.
10. Buy a hot drink or some food for a homeless person
It might not seem like much to you, but a warm drink and some food could make all the difference to someone sleeping rough.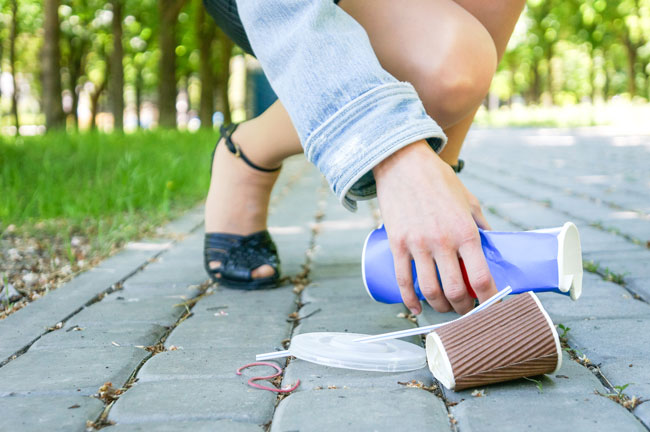 11. Pick up rubbish in your area
Do something nice for your area and find a bin for the empty crisp packets and drink bottles. You could even do it on your walk home from somewhere so it doesn't eat into your free time.
12. Donate to a charity shop
Why not have a clear out and donate your old clothes to a charity shop? Someone can get more wear out of them and the money will help those in need.
13. Send a 'thank you' message to a friend or colleague
Make somebody smile by letting them know how much you appreciate them or something nice they've done. A quick note won't take you long and people always welcome recognition every now and again
14. Help an elderly person with their shopping
It doesn't take much to carry a few bags of shopping, but your elderly neighbour will be thankful for your help bringing it to the front door.
15. Bring in some treats for your colleagues
Nothing lifts the mood at work like a sweet treat. Bake a cake, bring in a packet of biscuits, or share your favourite snacks with everyone. Treats always help everyone get through a long day in the office.
16. Hold the door open for someone
It doesn't take much, but holding the door open for someone, especially if they're carrying loads, can make their day that bit easier.
17. Put your loose change in a charity box
It may only be the change from your lunch, but every penny can help people less fortunate than you.
18. Pick up the phone instead of sending a text
A text might be the easy option but picking up the phone for a proper chat can brighten both of your moods.
19. Smile at everyone, just because
It's often said that smiling is infectious, so what better way to lift people's mood than to give them a beaming, silly grin?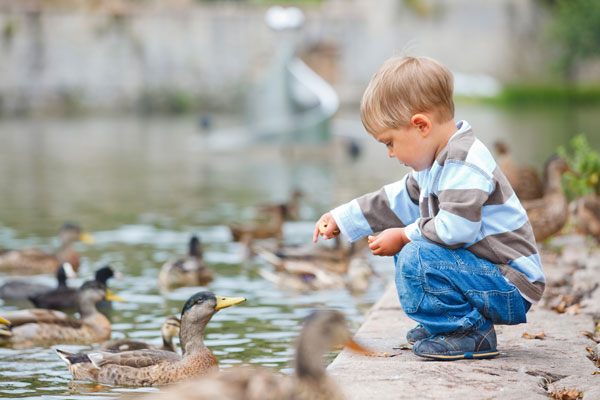 20 acts of kindness for kids
There's countless ways you can spread kindness, and even the little ones in the family can do nice deeds.
We've put together a list of easy acts of kindness ideas for kids so they can also spread a little happiness to their parents, teachers, and friends.
Donate an old toy to a child less fortunate
Tidy their room without being asked
Hold the door open for someone
Set the dinner table for their family
Call their grandparents
Give a high five to a friend
Wash their parents' car
Offer to help a friend carry their bag
Thank one of their teachers
Pick up litter and put it in a bin
Hang their coat up when they get home from school
Draw their parents a picture
Say hello to someone new
Tell their grandparents why you love them
Make sure to say please and thank you
Hold the door open for someone behind them
Clear the table after dinner
Make their bed in the morning
Hug their mum and dad
Ask how somebody's feeling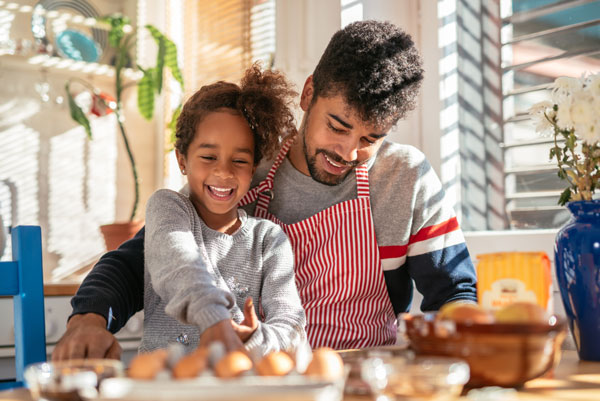 />
13 acts of kindness toward your family and friends
Your friends and family are the people closest to you, so small acts of kindness can go a long way towards showing how much you love them.
Our list of simple actions will show appreciation for your nearest and dearest.
Take the family out for a meal
Bake something as a family
Frame a family photo
Buy your family's favourite takeaway as a surprise
Take the kids or grandchildren to the park
Visit an old friend for coffee
Tell your children why you're proud of them
Let your partner watch their favourite show
Bring a family member breakfast in bed
Clean the family car
Mow the lawn for a family member
Empty the bins if you see they're full
Wash the dishes without being asked
Need inspiration? Take inspiration from these people
You might feel awkward going out of your way to help others. 'Will it even work?' 'What if they don't like it?' These people have overcome that initial strangeness to help brighten someone's day.
Mum's the word
A young mum was so touched she almost cried when a stranger on a train, praised her for being a good parent and gave her £5 to buy herself a drink.
Sammie Welch was travelling with her young son, Rylan. Because the train was busy, she made her little boy sit on her lap so another passenger could have a seat.
As she left the train, a man passed her the money and a note that read: "Have a drink on me. You are a credit to your generation, polite and teaching the little boy good manners. Have a lovely evening."
Sammie was so moved by this act of generosity, she put out an appeal to find her anonymous benefactor. Wonder if she's found him yet.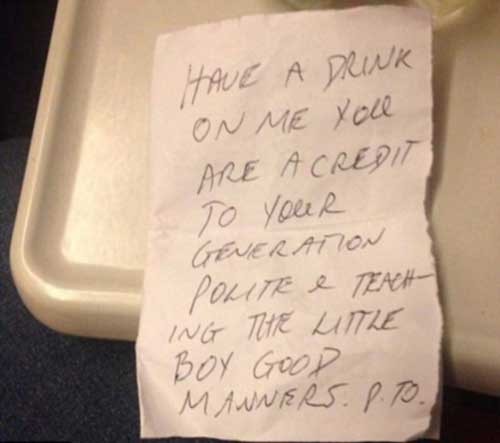 Source: stylist.co.uk
A stranger's genorosity
When Cara Grace's mum received a terminal diagnosis, she looked to alternative therapies and decided to buy her mum a certain well-known nutrition extractor. Not able to afford a new model, she searched online and found a used one for sale in London.
She asked if the seller would post the item to Belfast, explaining why she wanted it. She was astounded when the man offered to send it to her absolutely free. But the story doesn't end there…
Later that day she received another message saying he'd ordered and paid for a brand new one and all she had to do was pick it up!
Cara was completely overwhelmed that a total stranger would be so kind but the man simply said, "Don't say thanks to me. In fact thanks to you for giving me this opportunity."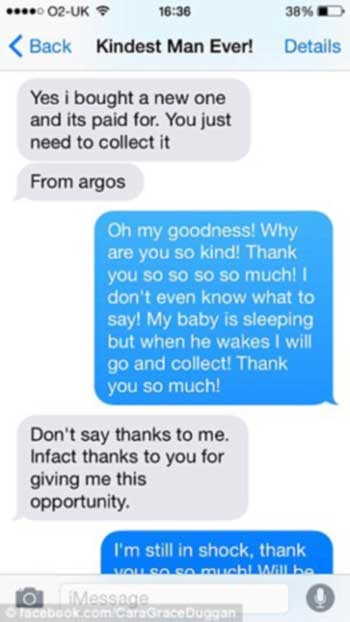 Source: Daily Mail
Look out. Here comes Spiderman
Don't be surprised if you spot Spiderman on the streets of Birmingham. A 20-year old barman, who doesn't want to be named, has come to the rescue of the city's homeless.
A few nights a week, he puts on his disguise and armed with sandwiches, feeds the hungry and homeless people he encounters on the streets.
When asked why he's spending his own time and money to help the homeless he said, "…I believe that we need to look at everyone as humans and help each other the same as we would a close friend." Wise words.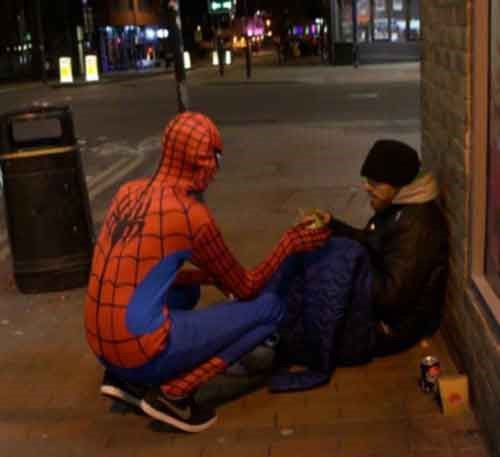 Source: stylist.co.uk
Random acts of kindness come in many forms, but even the simplest moment of kindness can make a positive memory that lasts a lifetime.