Top 50 tips for saving money over 50
Posted on 29 October 2019
12 min read
Information correct at time of first posting, Oct 2019
Looking to free up some cash? Here's 50 ways to start!
Our recent research into Over 50s Finances* told us that when it comes to money, it's not how much you have but how you manage it, save it and spend it that affects your happiness.
The happiest household is smart with their money and ends up with, on average, £614 spare each month.
This is between a couple, after all household bills and expenses are accounted for. For one person, that works out at £76.75 each week.
If you make a few changes to the way you manage your money, you might find yourself feeling quite a bit happier, with some spare cash to show for it!
To get started, here's our top 50 tips.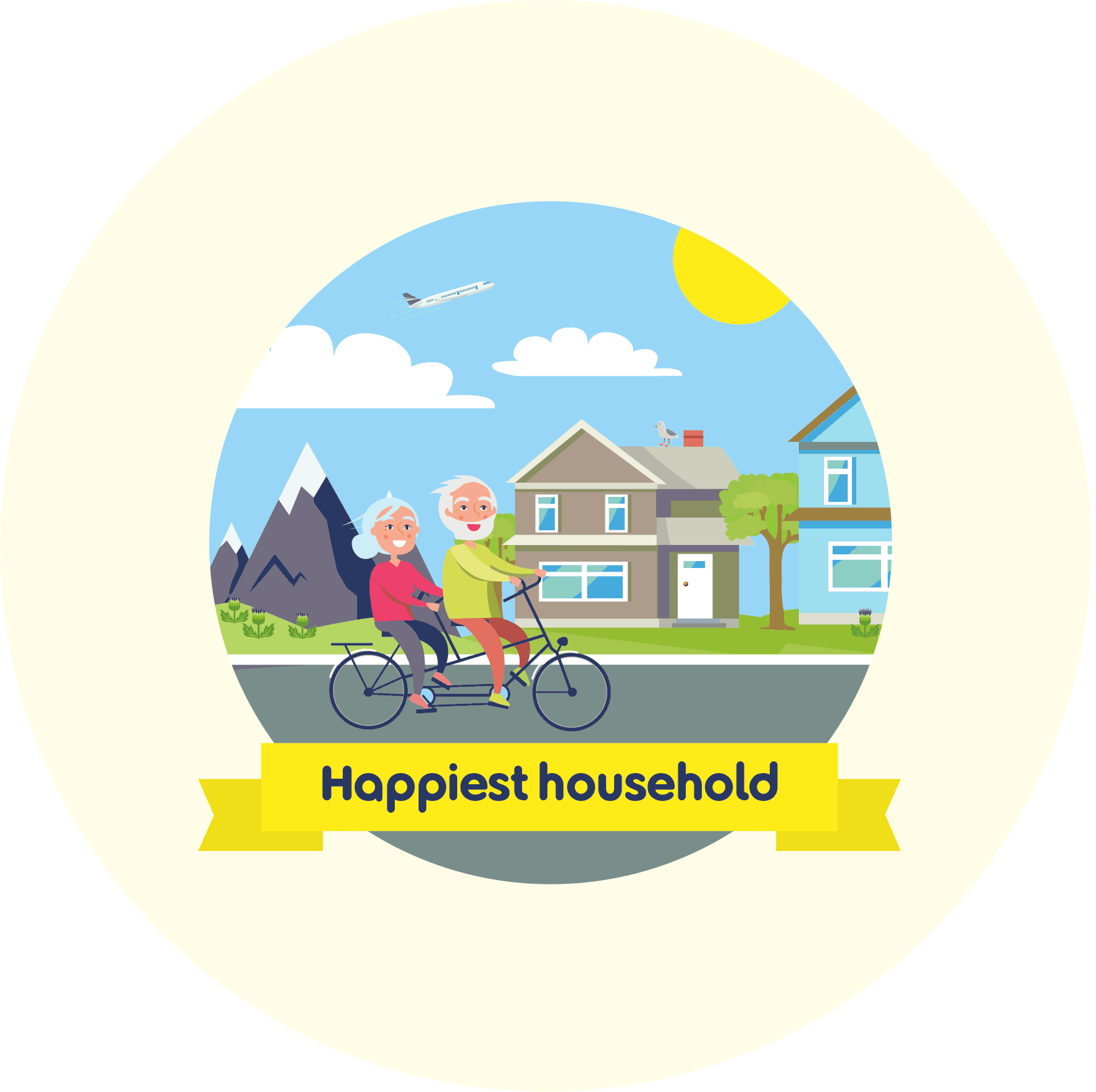 Health
NHS free prescriptions
You can get free NHS prescriptions if you're 60 or over at the time the prescription is dispensed. (If you live in Wales, you'll receive free prescriptions no matter your age.)
You can also get free prescriptions if you or your partner (including civil partner) receive Pension Credit Guarantee Credit.
There are some other exceptions, so to make sure you're not missing out on free prescriptions, check on the NHS website.
Specsavers
Specsavers offers 20% off glasses and lenses for the over 60s. You're also entitled to a free eye test at age 60 and above. (updated Sept 2020).
Boots Opticians
At Boots Opticians, if you're over 60, you can save 25% on your first pair of glasses or prescription sunglasses.
You get every additional pair of glasses or prescription sunglasses for ½ price.
Over 50s savings in the home
Free passport
If you were born on or before 2nd September 1929, you're eligible for a free passport, whether you apply online or by using a paper form.
If this doesn't apply to you, always try to apply for your passport online as it is cheaper than the paper option.
TV license
Once you or someone you live with are over 74 you are eligible to apply for the over 75 free TV license for your household.
You don't automatically get an over 75 TV License on your 75th birthday. You have to apply for it.
Remember: The government funded, free over 75 TV License scheme is being replaced on 1 June 2020.
If you or your care home qualify for an ARC (Accommodation for residential care) TV license, you only pay £7.50 per room, flat or bungalow.
You qualify if you are 60 or over. Find out more on the TV licensing website.
Help with council tax
If you're on a low income, you may be entitled to some help towards paying your council tax. This is called Council Tax Reduction (CTR).
If you're a pensioner, you should be able to get CTR if you've got less than £16,000 in savings.
Contact your local authority (or the Welsh or Scottish Government) to find out if you're eligible or see the government website for more information.
Winter Fuel Payment
The Winter Fuel Payment is an annual one-off payment to help you pay for heating during the winter.
You can usually get a Winter Fuel Payment if you were born on or before 5 August 1953.
Find how much you can get, and how to claim on the government website.
Cold Weather Payments
Cold Weather Payments are one-off payments to help you pay for extra heating costs when it's very cold.
You'll get a payment each time the temperature drops below a specific temperature for a set period of time.
You'll only be eligible if you already get:
Pension Credit
Income support
Income-based Jobseeker's Allowance
Income-related Employment and Support Allowance
Universal Credit
Find out more about Cold Weather Payments on the government website.
Warm Home Discount Scheme
You might be able to get £140 off your electricity bill under the Warm Home Discount Scheme if you're either:
Getting the guarantee credit part of Pension Credit
On a low income
Check with your supplier to see if they offer the Warm Home Discount - not all suppliers are part of the scheme.
Grants to help pay off utility bill debts
If you're in debt with your energy supplier, you might be able to get a grant from a charitable trust to help pay it off.
British Gas Energy Trust offers grants that are open to anyone. You don't have to be a British Gas customer.
There are also companies who offer grants specifically for their own customers:
When you apply for a grant, you'll have to provide detailed information about your financial situation in your application.
It could take a while to complete, and it might be worth getting help applying.
The charity Charis Grants can help you with the application.
Alternatively you can get help from an adviser at Citizens Advice.
Install a water meter
Having a water meter means you only pay for the water you use.
As a rule of thumb, if there are fewer people living in your home than bedrooms, you should save money with a water meter.
If you live in England or Wales - you can get a meter fitted for free.
Contact your water company to see if you would save, then fill in a quick application form by phone, post or online.
Insulation and heating schemes
Some schemes install insulation and heating to make your home more energy efficient.
People with poorly-insulated homes and no central heating system will likely be eligible.
Contact the Energy Saving Advice Service (England, Wales and Northern Ireland) and Nest (Wales).
Scottish households should opt for the Scotland Energy Assistance Package - ring 0800 512 012 for more information.
Over 50s Benefits
Job seekers allowance
While in your 50s, you are still eligible to claim jobseeker's allowance if you're looking for work.
After you reach state pension age, this benefit is no longer available.
Pensions credit
The purpose of Pension Credit is to top up low incomes, bringing them up to a minimum of £155.60 for single people and £237.55 for a couple.
See if you can benefit on the government website.
Grandparents childcare credit
Grandparents and other family members under state pension age who look after children under 12 while their parents are at work may be able to claim valuable tax credits.
You can apply for them using this form on the Government's website - and you can claim all the way back to April 6 2011.
Disability Living Allowance (or Personal Independence Payment)
Disability Living Allowance is being phased out for people born after 8th April 1948. It's being replaced by Personal Independence Payment (PIP).
PIP will cover you if you have long-term ill-health or a disability if you're aged 16 to 64.
The financial support you receive depends on how the condition affects you, not the actual condition itself, but you'll get between £21.80 and £139.75 a week.
Find out if you're eligible on the government's website.
Travel savings
Free bus pass
If you're 60 and over, you can get free travel on local buses in England and Wales depending on when you were born.
For more information on how to apply visit the gov.uk website and use the State Pension Age calculator, it will give you the exact date you can apply for your free bus pass.
Senior Railcard
The Senior Railcard is available to anyone aged 60 or over.
It costs £30 per year and gives you a third off standard, off-peak, first-class anytime and advance tickets.
You can apply for a senior railcard online using your passport of UK driving licence as ID.
You can also apply at most railway stations, where you can also use your birth certificate as proof of age.
National Express Senior Coachcard
For people aged 60 or over, you can save a third on standard and full flexible fares to hundreds of towns, cities and airports across the UK.
It costs £10 a year plus £2.50 postage and packaging.
You can buy a senior coachcard online.
London Freedom Pass
The London Freedom Pass gives free or discounted travel on London transport, including national rail, the underground and buses.
Eligibility for this pass is rising in line with the women's State Pension age.
You can check when you will be eligible on the Freedom Pass website.
60+ Oyster card
If you're over 60 and live in a London borough, you can get a 60+ Oyster card.
This card gives you free travel on bus, Tube, tram, DLR, London Overground, TfL Rail and most National Rail services in London.
You can apply online from two weeks before your 60th birthday.
Club 50 card from Greater Anglia
Greater Anglia offer 20% off all off peak and advance fares for over 50s online, and 10% off fares at the station.
The card costs £20 a year and you can apply for it online.
TransPennie Express Club 55 scheme
Every year TransPennie Express (TPE) allows people aged 55 or over to take advantage of some amazing value fares which can be booked up until 23.59 the day before travel.
Leisure discounts
Odeon Silver Cinema
Odeon Silver Cinema is a series of film screenings for guests who are over 55. Tickets are from £3 each and include tea, coffee and biscuits before your film.
Vue Cinema Seniors Club
Vue offer senior screenings for over 60s, held regularly at select venues. You'll even get a cuppa and a biscuit included with your ticket.
The Picturehouse
The Picturehouse chain offers a free Silver Screen club, where screenings before 5pm on Tuesday and Thursdays are £5.50, including free hot drink and biscuit.
Over 60s can also join their membership club to receive special benefits.
Cineworld
Cineworld offer senior tickets at certain times on specific days. Anyone aged 60 and over can receive up to a third off their ticket price.
National Theatre matinees
The National Theatre offers discount to over 60s on midweek matinees.
Check with the box office to find out which productions are offering the concession tickets, or book your theatre tickets online.
Golden Years at Hungry Horse
Monday to Friday, Hungry Horse restaurants offer two courses for £4.70 for over 60s.
Choose a main plus any starter or dessert from the set menu and you're in for a cheap as chips meal out.
B&Q Diamond Club
B&Q has an over-60s club. Upon application, members receive a Diamond card that entitles them to a 10% discount every Wednesday.
Boots Advantage Card
Boots offers discounts and deals to people over 60. If you are an Advantage card holder you can earn 10 points for every £1 spent on Boots-branded product.
National Trust membership
If you're 60 or over and you've held an individual or joint membership for at least five of the last ten years, you'll be eligible for a 25% senior discount.
Find out more about National Trust's senior membership.
English Heritage
If you're 65+, you can get unlimited access to over 400 historic places across the UK for one year for £51 instead of £60.
Membership includes six accompanying children per adult member, under 18 years and within the family group. So your grandchildren can go with you free.
Silvercard+ by Silver Surferss
To get a Silvercard+ you have to be over 50 years of age.
All you have to do is to set up a Silversurfers account and you'll have immediate access to their partner discounts.
Wyevale Garden Centres
If you're over 60 and join Wyevale's Garden Club loyalty scheme, every Tuesday you'll receive 10% discount on things you buy at the garden centre.
The Beamish Open Air Museum
Based in the North of England, pay once and visit this museum for the rest of the year for free, excluding evening events. The cost is also £14.50 for seniors (60 years+), instead of £19.50.
Royal Shakespeare Company
The Royal Shakespeare Company offers 20% off all seats (except premium) on Monday and Tuesday evenings and all midweek matinees if you're aged 60 or over.
The tickets are for selected performances only. They're not available for groups of more than eight people or on premium seats.
Holiday savings
Eurostar
The Eurostar offers discounted rates for those aged 60 and over. You will usually have to travel on midday and midweek trains and book your tickets in advance.
Ski resorts
Some ski resorts offer a senior discount for people aged between 65 and 70 and free lift passes for individuals aged over 75. If you don't ski they can still enjoy the mountain restaurants and hitch a lift back down.
Resorts with various discounts for seniors include:
Grandvalira, Andorra
Les Arcs, France
Baqueira Beret, Spain
Timberline ski area, West Virginia
Flaine, France
Hotham, Australia
Val Cenis, France
Interrail Pass
If you're 60 years and older, Interrail offer discounted Senior Passes. Senior discounts are available for all Interrail Passes. Read more about the senior discount offers to find out more.
Camping and Caravanning Club
If you're a Club member and aged 60 or over, you can get an additional 25% off club site pitch fees in Mid and Low season.
This works out as 288 days of discounted camping per year.
Cutting back
Cut the coffee habit
Swap your takeaway coffee for a reusable cup from home.
You'll need to buy the coffee in at home, but a jar will cost you less in the long run and last longer than the one off payment to the coffee shop.
If you stop spending even £1.50 on a takeaway coffee every day, that's a huge saving of £547.50 a year.
Give up smoking
You could save thousands of pounds a year if you give up smoking.
The NHS Inform website helps you calculate the exact savings you could make, depending on how often you smoke.
For example, if you pay £10 for a pack of 20 cigarettes, and you smoke 10 cigarettes a day, this would cost you £1825.00 a year.
If you gave up smoking and saved up this much money for five years, you'd make a huge saving of £9,125!
Think of the holidays you could go on instead!
Give online shopping a go
It's not quite as fun as roaming around a shopping centre but online shopping can often mean signing up to newsletters with hidden discounts.
You'll be first to hear about sales or promotions and can often find the same item for a cheaper price on a different website.
Cancel your gym membership
Even if you ARE making use of it (how many of us actually do?!), why not switch to the great outdoors?
Going for a walk is totally free and is great for your mental health.
There are loads of options on YouTube for a free at home work out too, so why not give it a go and switch up your workout routine.
Rethink your TV package
Do you really need all those channels in your TV package?
Maybe it's time to switch to the aptly named Freeview and take advantage of more on demand TV with the likes of iPlayer and All 4.
You could even have a look at subscription services such as Netflix or Now TV, they often work out far cheaper for a lot of great viewing options.
Ditch the lottery
Our research shows that happiest people aren't gamblers.
Although it's fun the enter the National Lottery every once in a while, if you make a habit of buying that £2 ticket every week, you could be down at least £102 a year.
It would be worth popping that £2 into a savings ISA or even a money box!
The odds of winning the lottery jackpot are 14m to 1, so you might not notice the difference – but you'll be quid's in by the end of the year.
Check out waste Apps
Websites and companies such as Olio and Too Good To Go allow you to buy food at a hugely discounted rate.
The apps connect businesses and people together to ensure that any extra food can be shared, not thrown away.
This could be food that's nearing it's sell by date, spare home grown vegetables or even the contents of your fridge before you go away for a holiday.
Download the apps and see what bargains you could find in your area.
"Downsize" your car
Once your family have flown the nest, it's not only your house that you can downsize.
Whilst you might have needed the extra seats and boot space once, now's the time to downsize your car and opt for a model that's cheaper on tax, insurance and fuel.
Once you qualify for other savings such as a free bus pass, you might not even need a car at all anymore.
Flog it!
Whether you use eBay, Facebook market place or even a local buy and sell group – selling your unwanted stuff can be a great way to boost your spare cash.
A good rule to have is, if you've not used it for a year, then you can afford to get rid and pocket the cash.
First published 26/10/2019
SunLife is not responsible for availability and eligibility of anything suggested.
*SunLife studied the overall happiness and the day to day finances of 3,000 over 50s households in May 2019.
Related articles
SunLife offers a range of straightforward and affordable products including over 50s life insurance, funeral plans, equity release, home insurance, car insurance, ISAs and Will writing services.