Has your favourite Christmas tradition survived?
Posted on 12 December 2017
From flaming Christmas puds to letters up the chimney
It's the most wonderful time of the year – but how has Christmas changed since we were kids? In the good old days, there wasn't much money to spare so we often had to make or upcycle presents. It wasn't surprising to receive a hand-knitted jumper from your aunty or a handmade doll from granny. During the war years, people saved up their rations for weeks to make sure they could lay on a good spread at Christmas. Festive food is still a huge part of the day, but what else has stayed the same or changed since then?
We take a look at Christmases gone by and the traditions that made it magical for us all those years ago.
Bring us some figgy pudding
Christmas lunch sometimes had to be perfected on a shoe string budget. Vegetables were just as likely to be grown in the garden as they were to come from the local shop, and the 'Christmas turkey' was often a chicken – but it was still a special treat. We had all the trimmings: pigs in blankets, then Christmas pudding (dad would go a bit mad with the brandy and flames) and then Christmas cake to follow. Not that we were bothered about the cake – picking off the icing was the best part! Mum made our Christmas cakes and puddings herself, with a bit of help from us kids, which really marked the start of the festive season.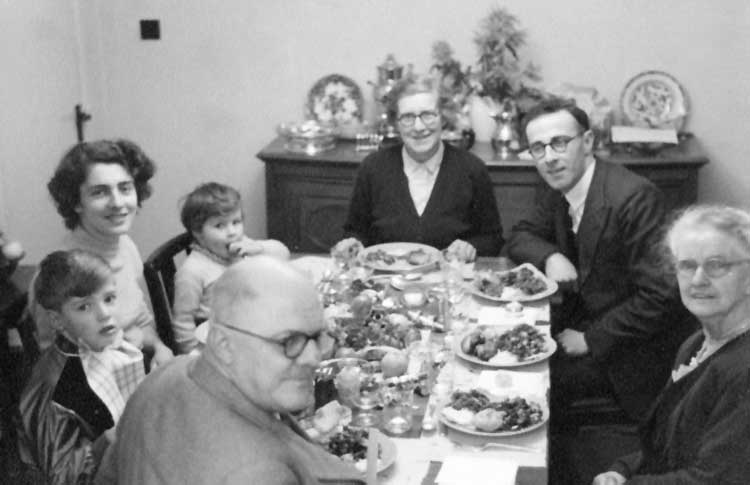 O Christmas tree, O Christmas tree
The Christmas trees were always real. It might've been one that dad had chopped down himself, or a sad looking straggly one bought from the market. The fairy sitting on top would often have been passed down from generation to generation and the best ornaments were handmade by us kids, including sprayed pine cones, paperchains and oranges studded with cloves. Our trees were always accompanied by tinsel that had got a bit thin and stringy, sparkly lametta that was chucked on last. Much like today, fairy lights never worked first time and then the hunt for the blown bulb would begin!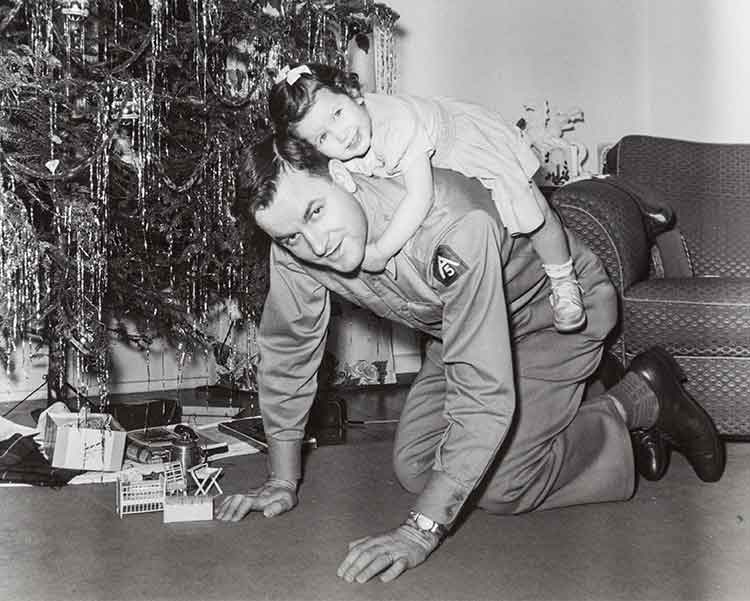 Dear Santa…
We would write our Christmas lists and then send them up the chimney to Santa. This was a business that was taken very seriously, being so innocent, we really believed that it was Santa who provided all our goodies on Christmas day. As a really special treat, we sometimes visited Father Christmas in a department store on Christmas Eve. We had to queue up in anticipation for ages and then when it was time, we were invited to sit on his knee and tell him what we wished for. Then with a ho, ho, ho, he'd ask us if you'd been good all year, to which we all gave a shy "yes" reply (with fingers crossed behind our backs) and hope for the best. Then we would have a photograph taken with Father Christmas which our parents would be put in a special seasonal wallet/folder. We always left with a small present, which we thought was the best thing ever.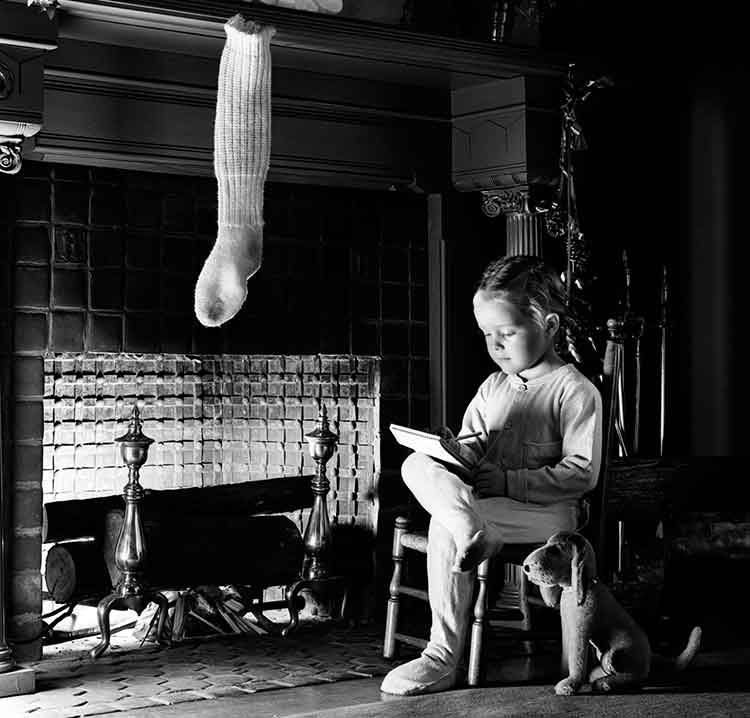 'Twas the night before Christmas
Christmas Eve was always the most exciting time, families came together in anticipation of the next day. Mums were busy getting everything ready and many people chose Christmas eve as the time to put up the tree - not three weeks before as is common now. Us kids would get ready for bed and leave out a treat for Santa and his reindeers. Christmas eve bed time was earlier than usual, we were told Santa wouldn't come otherwise. Unable to sleep because of the excitement ­, we lay awake for hours until finally our eyes dropped off. Despite being warned not to wake up too early, as the clocks stroke 6am, we were always wide awake.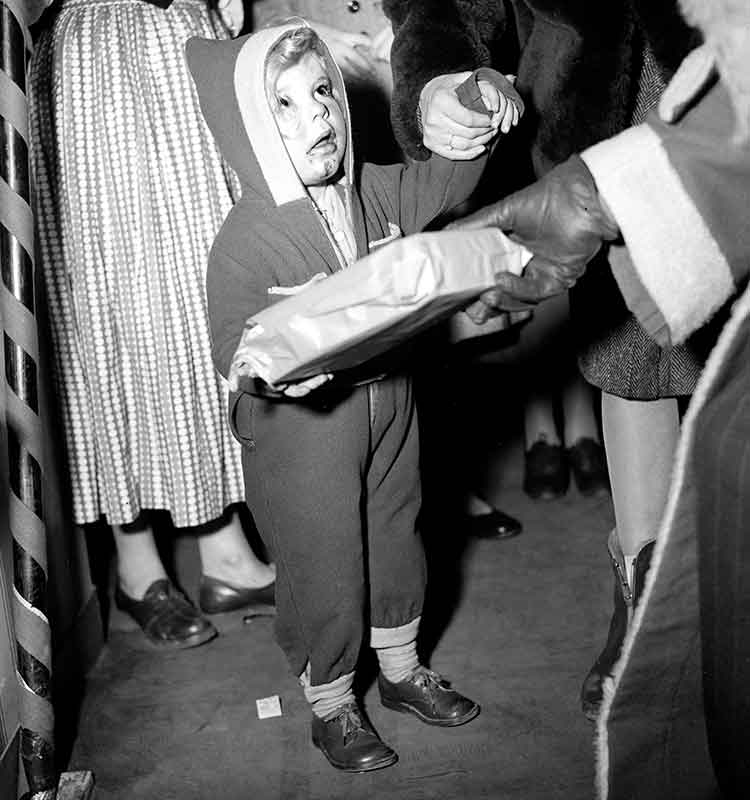 Stockings hung by the chimney with care
Our Christmas morning stockings were normally an old pillowcase or a sock. Inside we'd find a sugar mouse, golden chocolate penny, nuts and a tangerine. If we were lucky, Santa might've left a small toy in there too. The fruit and nuts were a luxury back then, especially during or shortly after the war years. We were always warned that for naughty children, Father Christmas would leave a piece of coal instead! Though next to a lump of coal, the biggest disappointment we might have had on Christmas day was getting a toy that needed batteries, and our parents had forgotten to get them! There were no 24-hour shops then so we had to wait at least until the day after boxing day before we could play with it.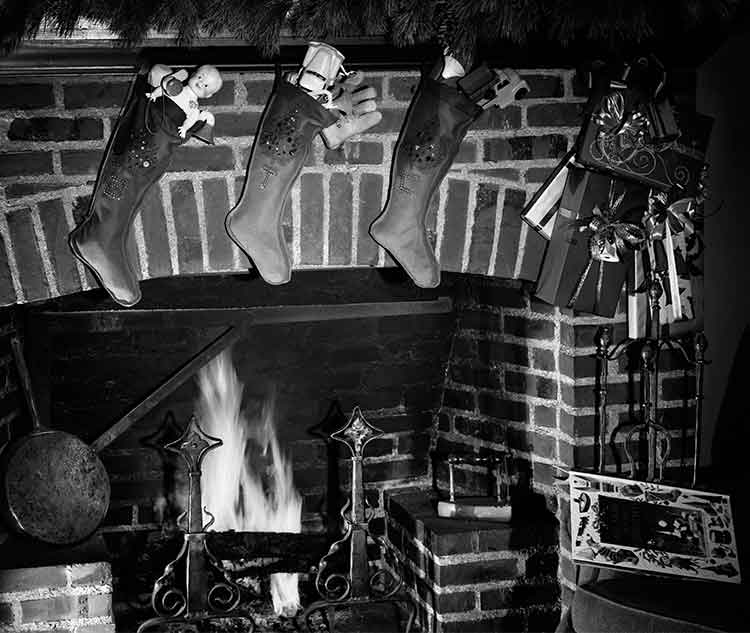 What are your special memories of Christmas growing up? Is there a particular smell that takes you straight back to Christmas dinner? Have you kept any of these traditions going with your children and grandchildren?
If this article took you back to simpler times and you're in the mood for more, you may also enjoy these memories of a post war childhood, the 1950s home and earning your first bob as a kid.
SunLife offers a range of straightforward and affordable products including over 50s life insurance, funeral plans, equity release, home insurance.