5 Easter traditions you will remember from your childhood
Posted on 19 March 2018
For us Brits, Easter time has always gone hand in hand with longer days and warmer weather, symbolising new life and new beginnings. But nowadays, it feels like as soon as Christmas is over the shops stock the shelves with chocolate Easter eggs and fluffy bunnies. Growing up over 60 years ago, it felt like Easter traditions were still going strong with certain events, and especially certain foods, dominating our Easter celebrations year after year.
We take a look back at our favourite traditions that developed into a symbol of Easter itself. How many of these traditions do you still associate with Easter to this day? And how many would your kids or even grandkids recognise? From boiled eggs to Simnel cake… here are our top 5 ingredients needed for the perfect nostalgic Easter.
Boiled eggs were everywhere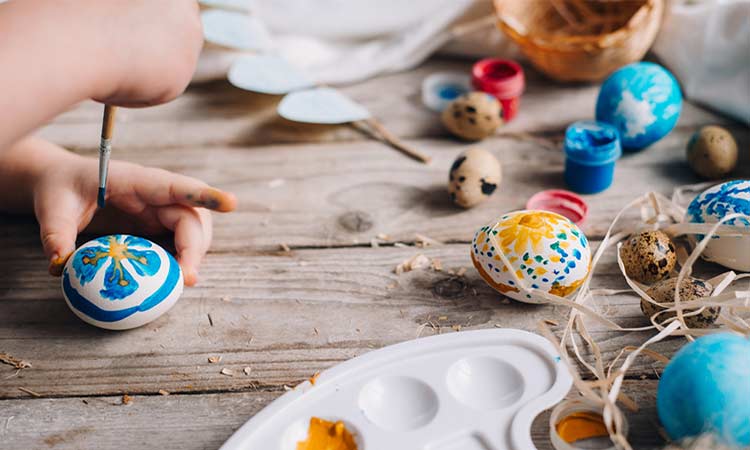 You couldn't start an Easter weekend without a boiled egg for breakfast. Mum would make sure we had a good start to the day and were set for a weekend of festivities. Not only that, but hard-boiled eggs were always used in traditional community events such as egg rolling and egg hunts. As kids, egg painting was always a spring time activity for us to do. It would take us hours to get it right, fitting everything onto the tiny egg with a fiddly little paint brush. Fun was homemade – after all.
Mum's homemade hot cross buns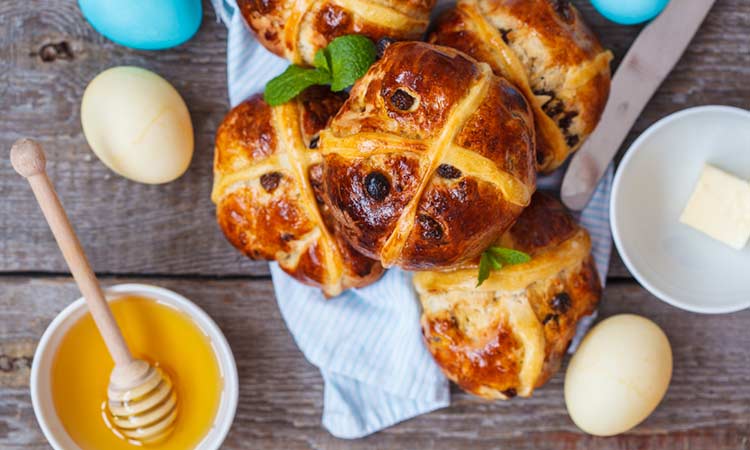 One a penny, two a penny, Hot cross buns!
We all used to sing the well-known nursery rhyme, and what's Easter without a hot cross bun anyway? These spiced fruit buns were only available in the shops on Easter weekend, though Mum would often make her own, and we'd help to add the cross to the top using flour and water. We were told if you split one with a friend and say, 'Half for you and half for me, between us two shall goodwill be' – you'd be friends forever.
Roast dinner after Sunday Service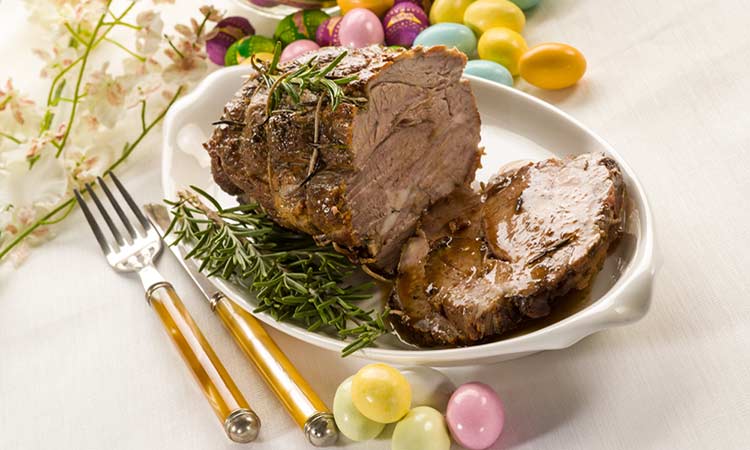 We'd head home from Easter service dressed in our Easter dresses and bonnets, and wait for Mum's special Easter Sunday roast dinner. With spring time meaning it's lambing season, it's long been a British tradition to eat roast lamb for dinner on Easter Sunday. Though like many other items, lamb became rationed during the war, and so unrationed foods such as chicken became a more popular choice. Whatever your chosen meat, it would be accompanied by seasonal veggies such as cabbage, carrots and potatoes. These days roast dinners are still popular for families to enjoy together over Easter – though luckily no rationing is in place and so people choose to eat anything from roast beef, to ham to a three bird roast!
Baking a Simnel cake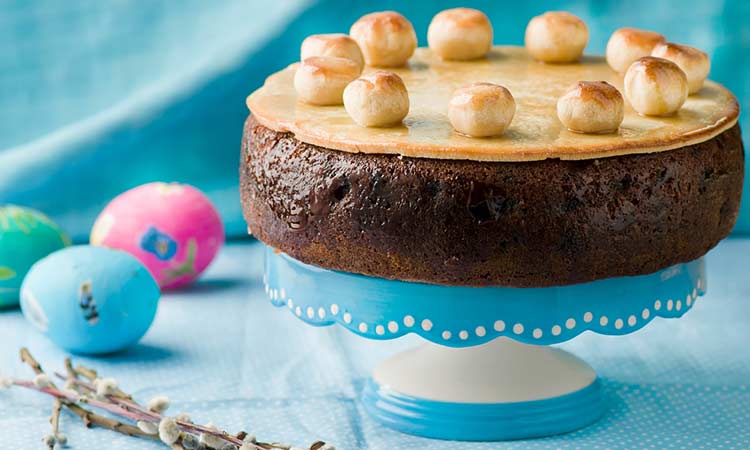 You often hear the term 'Easter cake' these days with people baking different cakes decorated with carrots, bunnies and mini eggs, but the Simnel cake was the original 'Easter cake' and is still associated with Easter today. The cake is decorated with eleven marzipan balls, representing Jesus' disciples minus Judas the traitor. Originally it was also decorated with fresh flowers, but sugar flowers are often used today.
The rise of the Easter egg!
Chocolate Easter eggs are now one of the most common symbols of Easter. First created in the 19th century, the real developments in the creation of chocolate eggs came with the experiments made by the Cadbury Brothers in the 1870s.
Picking up on the tradition for decorating real eggs at Easter, the brothers (and other leading chocolatiers of the time) worked with chocolate to make it easier to melt and shape. The first decorated Easter eggs were covered with marzipan flowers and filled with sugared almonds.
Rationing of chocolate during WWII meant that it was the late 1950s by the time Cadbury's introduced the first chocolate Easter eggs for children. Since that time, the market for children's Easter eggs has exploded – and the price has plummeted, thankfully!
Whatever Easter tradition your family enjoy today, why not teach them about a few from your childhood and keep the nostalgic Easter going. Plus, who doesn't love a Simnel cake?
SunLife offers a range of straightforward and affordable products including over 50s life insurance, funeral plans, equity release, home insurance.