How to keep the grandkids happy this Halloween
Posted on 9 October 2018
From scary stories to spooktacular sweets and treats
The spookiest time of the year is fast approaching! Filled with ghouls, ghosts and goblins, Halloween is a wonderful time for little ones and their active imaginations.
If you're looking after the grandkids this October 31st, or just looking for some ghoulish activities to excite them in the run up, we've got some great, easy-to-do ideas to keep the little ones (or little-ish ones) thoroughly entertained.
If you're at home, or in assisted living, these are some inexpensive, indoor activities that won't require much preparation but will give the grandkids hours of enjoyment.
What to think about
Before you decide to take on all of these activities in one evening, think carefully about how much time you have with the grandkids.
If you've only got a few of hours pick one or a couple of the most do-able. Creating a huge haunted house of surprises will leave the little ones disappointed if they don't have long enough to enjoy them.
It's also a good idea to consider your resources and how much money you want to spend.
If you're happy to buy costumes and all the extras, great, but they're not necessary – you can still have a great Halloween on a budget.
Top terrifying ideas
Cooking up creepy treats
One of the very best things about Halloween is the treat side of 'trick or treat'. It's a time when choccies, cakes and other sweeties are around in abundance in a variety of spooky styles and shapes.
Try baking some Halloween biscuits together. There are plenty of Halloween themed shape cutters around these days so you can create cat, bat or ghoulish biscuits.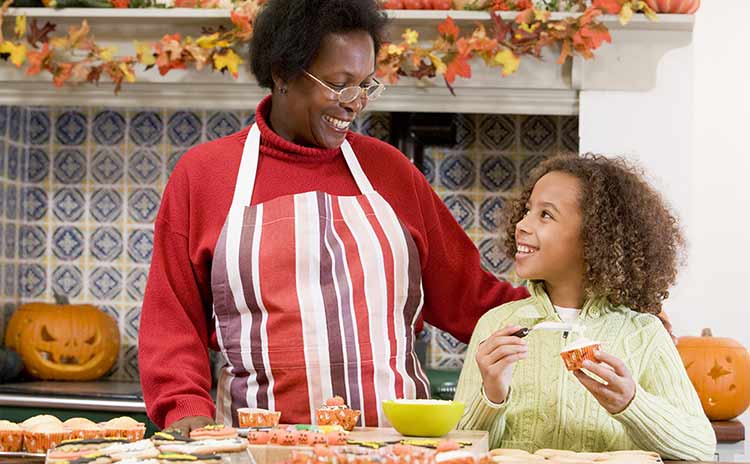 Alternatively, if baking isn't an option, you could buy some plain cupcakes and decorate them. You'll only need some icing sugar and different coloured icings – and even some additional edible decorations – before the little ones will be creating their creepy cupcakes.
It's a simple and easy way to keep the grandkids entertained, and the best bit? You all get to eat your efforts afterwards! Scary AND scrummy…
(Not so) frightening films
This is a super easy way to treat the grandkids to an evening of thrills and spills. Set up a selection of scary films to work your way through, or just the one if you have limited time.
Set the scene with dim lights, some popcorn or scary treats (see above), and set the room into a sort of spooky den to get cosy and ready for some hair-raising watching.
We'd suggest talking to their parents beforehand about what sort of films are appropriate for their age range . There are plenty of good children's Halloween films available; think Casper, Bedknobs and Broomsticks, Pooh's Heffalump Halloween Movie.
Weird and wonderful reads
If you don't own a TV, or don't fancy the film option, fear not! There are some fantastic Halloween reads available.
Get comfy and cosy, put some eerie music on and settle in for some spooky story telling.
It doesn't have to be a specific Halloween themed book – though there are plenty. You can always opt for a story that features witches, wizards or magical creatures. Think Harry Potter or The Lion, The Witch and The Wardrobe.
Apple bobbing and other games
One of the most well-known Halloween games is apple bobbing. It's stood the test of time and still widely played today.
It's also incredibly easy AND cheap. You'll need a bag or two of apples and a tub or large bucket – or simply the sink.
Fill the basin with water and pour in the apples. Because they are less dense than water, the apples float to the surface.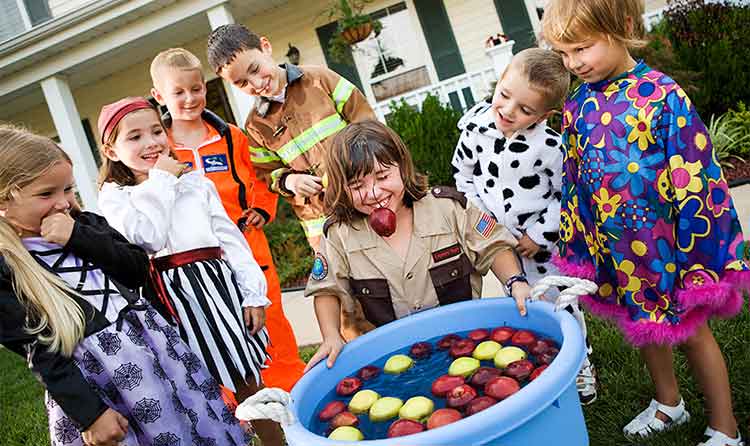 Then, you all take it in turns to catch one with your teeth, without using your arms or hands. It sounds simple but it's harder than it looks and will soon have you all in stitches.
Things may get a little messy so remember to put a towel down or do it in an area where you don't mind a little water spillage.
Frightening face painting
Give the little ones a ghoulish makeover with some fun face painting. You can find plenty of cheap packs of face paints all over the shops at this time of year, so you don't need to spend a lot of money to have a lot of fun.
Turn them into cats, vampires, zombies – whatever they fancy. Then, when you're finished decorating their faces, let them have their fun and paint yours.
You might not end up looking exactly like that ghost or ghoul but they'll have a great time. And remember, paints are easily washed off so nothing is permanent!
Pumpkin carving
One of the oldest Halloween traditions is pumpkin carving, and it's still a great activity to do today.
All you'll need is a pumpkin – and they couldn't be easier to find this time of year – and a large knife.
Get the grandkids to sketch out the shape they want onto some tracing paper and put it on the pumpkin or let them draw straight onto it.
You'll have to do the carving yourself as, unless they're old enough, it's important to keep sharp knives well out of reach.
Remember to cut the insides of the pumpkin out first by cutting off the top and scooping out the innards.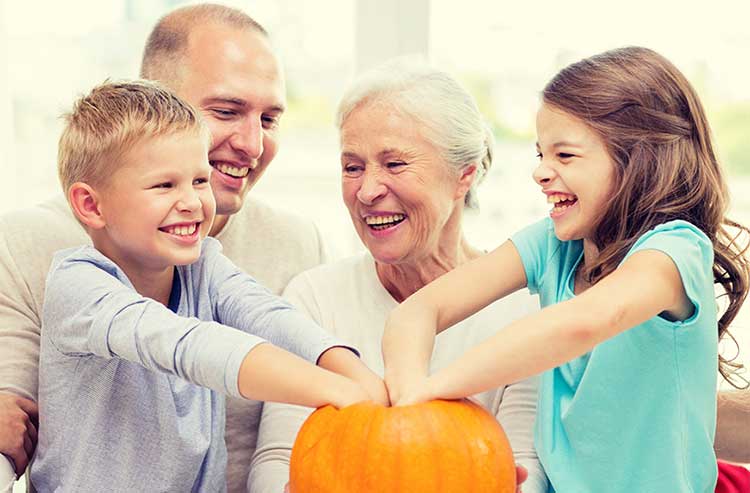 Then carefully use your knife to carve out the scary face the little ones have designed.
When you're finished, pop a little tea light inside and let the flame project the spooky design all over the room.
Haunted house
If you have the time and resources, you could always turn your home into a haunted house experience for the grandkids.
There are plenty of good DIY projects to do that range from throwing a white sheet with eye cut outs over a coat stand to hanging witches hats.
You could cut out bat shapes on black paper or card and stick them to the walls, use lanterns, and cover the walls and furniture with fake cobwebs.
If you have the space, you could create a yarn or rope spider web that the kids have to climb through.
Another great idea is to make a sensory bowl game where you fill a few tubs with different textured sweets.
Blindfold the grandkids before they see and get them to dip their hands in one at a time, then reveal that the slimy surprises are actually sweets.
Hopefully these ideas will give you and the grandkids a hair-raising time that'll leave them with happy memories for at least another 364 days…
At SunLife, we're here to help you make the most of life after 50. For those interested, we also offer over 50 life insurance with no medical required and guaranteed acceptance.
Read more about why many people take out life cover later in life to give them peace of mind.
SunLife offers a range of straightforward and affordable products including over 50s life insurance, funeral plans, equity release, home insurance.