Our best days out as kids who grew up in the 50s
Posted on 30 July 2018
From swimming in rivers to eating candyfloss at the funfair.
Growing up in the 50s, we often had to make our own fun. We didn't have electronic games like the kids of today to keep us occupied, let alone organised clubs that we could sign up for during the summer.
Our family didn't go abroad much so summers were made up of playing in the street with the kids who lived next door, along with special days out that our parents would treat us to every now and then.
There might be more choice for kids these days, but give us a childhood filled with swimming in rivers and picnicking in the park over computer games any day.
River swimming all day
Swimming holes were where people learnt to swim back then, and we'd congregate around them on a hot summers day – to paddle, picnic and play. Health and safety worries weren't what they are today and a lot of us learnt to swim in the local river.
We'd all pack for the day, Dad bringing a towel for us to share and Mum making jam sandwiches for the trip.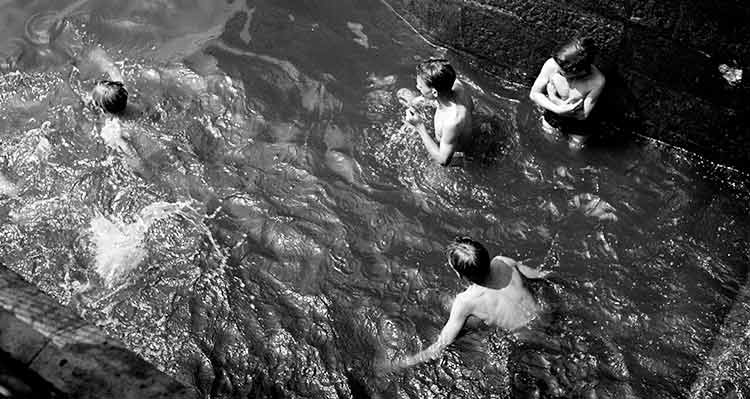 Seaside treats
It seems hard to believe now, but there was no such thing as beachwear back in the day. Instead mum and dad would don their Sunday best for a day at the coast.
Dad might take off his shoes and socks, roll up his trousers and have a paddle, but the suit stayed on no matter what.
Us kids weren't quite so restrained, but we did have to put up with those awful soggy, knitted swimsuits!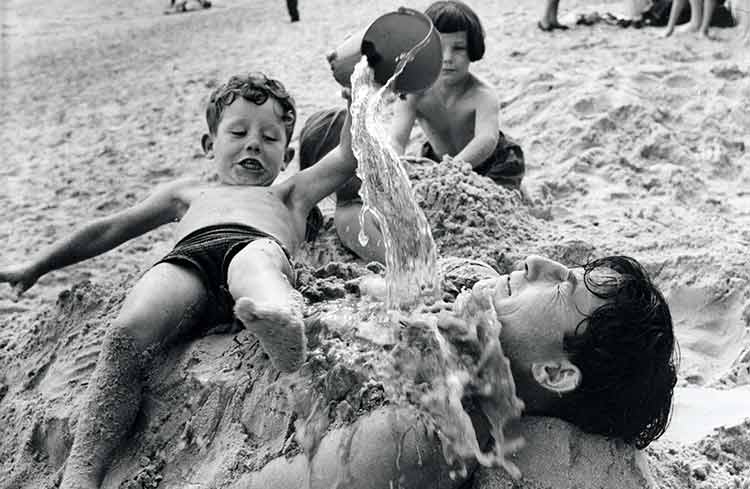 Visiting the funfair
Everything about the funfair was so exciting. You'd dare your dad to try the test of strength or take on the champ in the boxing booth.
The smell of candyfloss was amazing, but the best bit was going on the swing boats, whizzing on the chairoplanes or whirling on the waltzers, whether you'd get Mum to go on was a different story!
On the swing boats, we would compete with the kids next to us to see who could swing higher.
We'd spend hours there and practically had to be dragged home by our parents.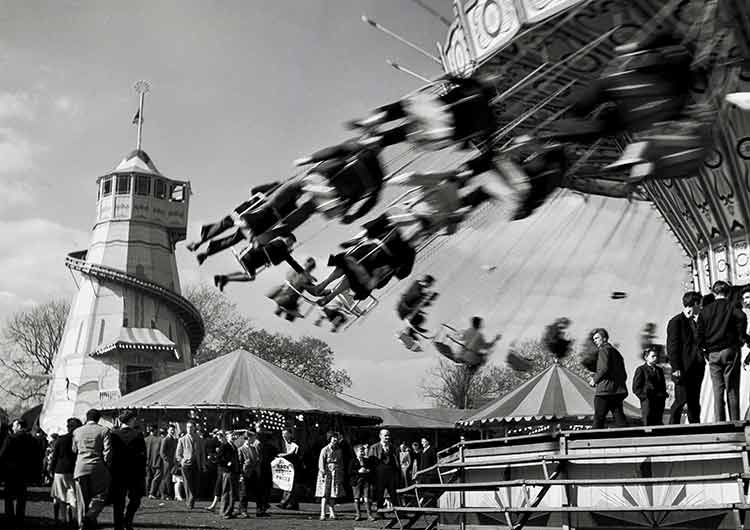 Picnicking in the park
There was never much money around, so for most people, eating out was almost unheard of.
A family day out at the park meant packing a picnic and sitting on a tartan blanket or a deckchair. You wouldn't believe how great a hardboiled egg, some home-grown tomatoes and a few slices of cold meat could taste.
And of course, there was always some homemade cake and a cup of tea from a flask to round it all off.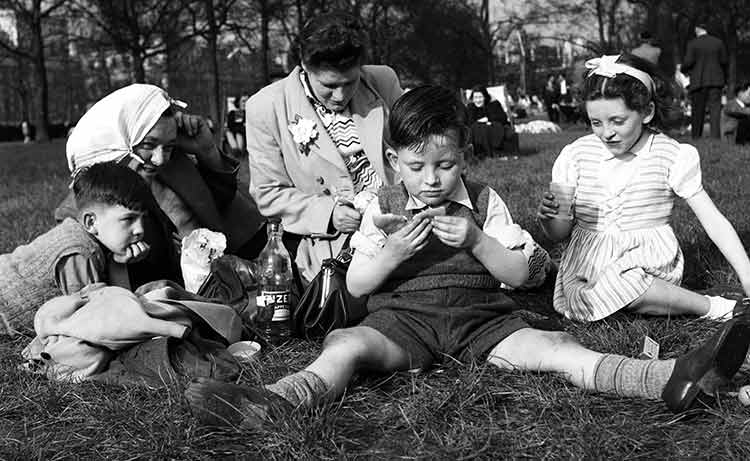 Catching a train (no, really!)
Sometimes, the journey to get somewhere was a special day out in itself.
We didn't often go on the train so heading to the seaside or visiting family via public transport meant an exciting trip.
We didn't moan about the long journey as we were just grateful to be out and about. It was all about the simple things when we were kids.
We'd take a bag of sweets for the journey and always tried to sit by the window, so we could watch the changing sights of our hometown, to fields and back to a town again.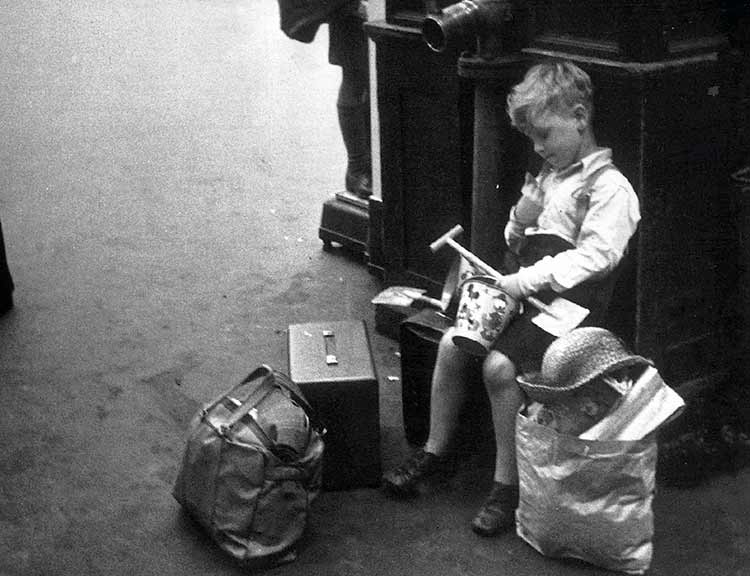 Going on an adventure
We spent our summers looking for adventures – and we'd find them anywhere. We'd have breakfast and head out for the day with nothing but a bottle of squash and some sandwiches to share.
Whether we went fishing, played in the woods, explored the nearest farm or played games in the farmers' fields, it didn't matter where we went.
We stayed out until it got dark, and even then, we only went home because mum made us – not because we wanted to!
Being outside was the norm back then – on rainy days we would sulk and wait by the window for it to stop. If mum was feeling nice she'd let us out in it knowing we'd come home wet and dirty – more washing to do!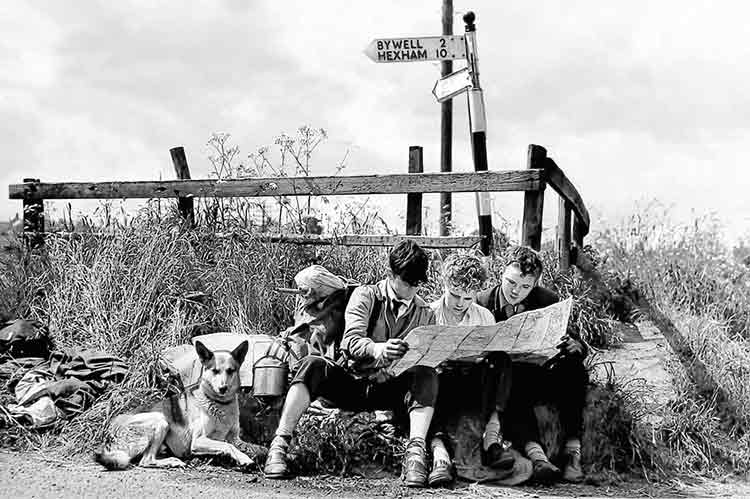 If this article took you back to simpler times and you're in the mood for more, you may also enjoy these memories of a post war childhood, the 1950s home and earning your first bob as a kid.
SunLife offers a range of straightforward and affordable products including over 50s life insurance, funeral plans, equity release, home insurance.