Carry on camping and caravanning
Posted on 31 July 2017
The holidays we looked forward to all year
Can you remember the excitement of going on holiday when you were a kid? The very thought of spending a week or two by the coast or in the countryside, kept us awake for nights on end. We must have driven our mums and dads mad, constantly asking 'how many more sleeps?'
Of course it was always a 'staycation' back in those days. But with two weeks' paid holiday being the norm by the 1950s, more families could now afford to get away. Low-cost camping and caravanning holidays were growing in popularity, especially as they offered an escape from the rules of the boarding house landlady and her regimental timekeeping. We just had to keep everything crossed for a bit of good weather!
Everything but the kitchen sink
Packing seemed to last almost as long as the holiday itself! Pretty much everything we owned was crammed into a couple of suitcases. If we were camping, it was even worse, with piles of equipment and a tower of tinned food, all squeezed into the back of the car – along with us kids! But before we could go anywhere, we had to wait, bucket and spade in hand, for mum to blitz the house so it was clean and tidy when we got home.
On our way!
Getting to our holiday destination always seemed to take forever. Most people travelled by train or coach back then, having to lug their stuff at the other end. But some lucky families had a car. That meant you could take your time and stop for a break by the side of the road – mostly so the car didn't overheat, but also for the obligatory flask of tea, ham sandwich and slice of Battenberg cake to keep us all going.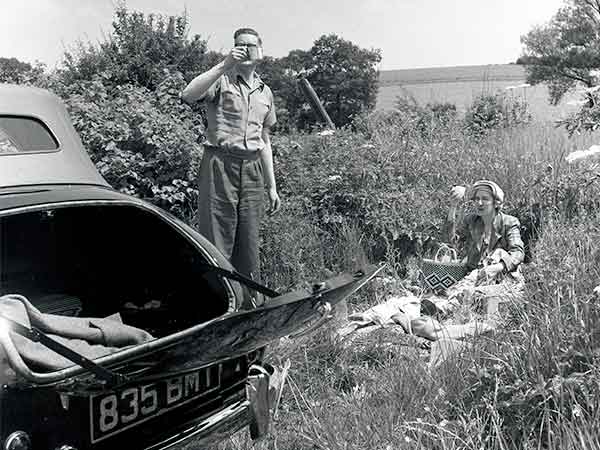 Are we there yet?
Finally, after many hours of travelling, we'd arrive at our caravan and mum would spring into action to give it a good clean before we unpacked everything. Us kids would all spill eagerly out of the car and set off to explore our new surroundings. When camping, we all mucked in to pitch the tent, before being sent off to get water or find out where the toilet block was. Yes it was basic, but it couldn't have been more fun.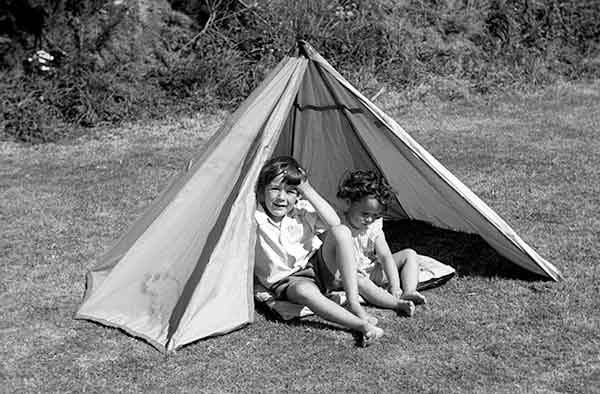 Rain never stopped play
We always seemed to have weather to contend with, one way or another, but we just got on with it. On hot days, the caravan resembled a tin can with us all reaching boiling point, and when it rained you could hardly hear yourself think! Those nights we spent huddled together in the tent while a gale blew outside, or midnight trips to the loo in the freezing cold, will never be forgotten. Once the gas lamps were lit in the evening though, it always felt cosy.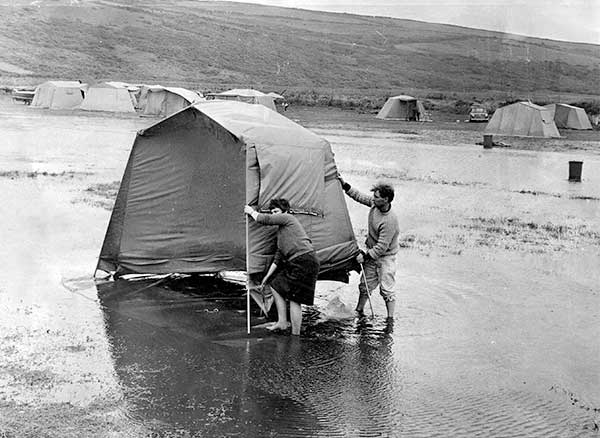 Time to explore
Holidays were so special because we were free to roam. The minute we'd had breakfast, we were off to spend the day fishing, playing in the woods, exploring the farm or discovering new adventures. We'd be gone for hours without a care in the world, and just a bottle of squash and a few bits of food to get us through the day. And somehow, we always found our way back to our temporary home, just in time for tea.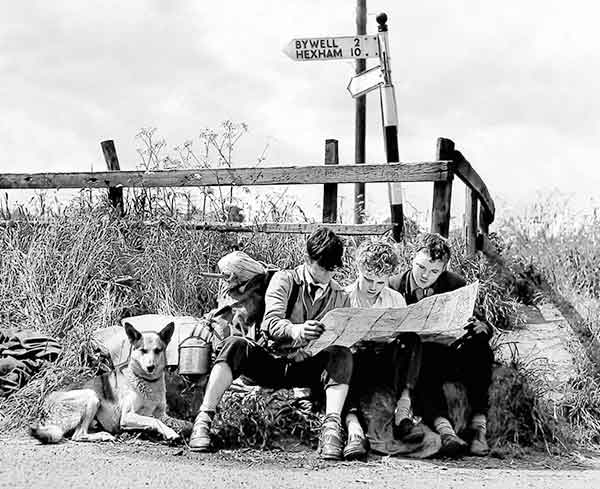 Seaside days
Days on the beach were the best. Family games of cricket, exploring rock pools or burying your dad in the sand were great fun. And no matter how cold it was, dad would roll up his trousers for a paddle and we'd all strip off and go charging into the sea. When it was time for lunch, we'd huddle behind a stripy windbreak and tuck into some sand-sprinkled sandwiches. If we were good, we might even get an ice cream!
Protecting your modesty
When you were finally coaxed out of the sea, it was usual to stand shivering from head to toe, while your lips turned blue. Then the most difficult task was getting back into your clothes without flashing your privates to the whole beach! If only we'd had one of these clever towelling/tent contraptions!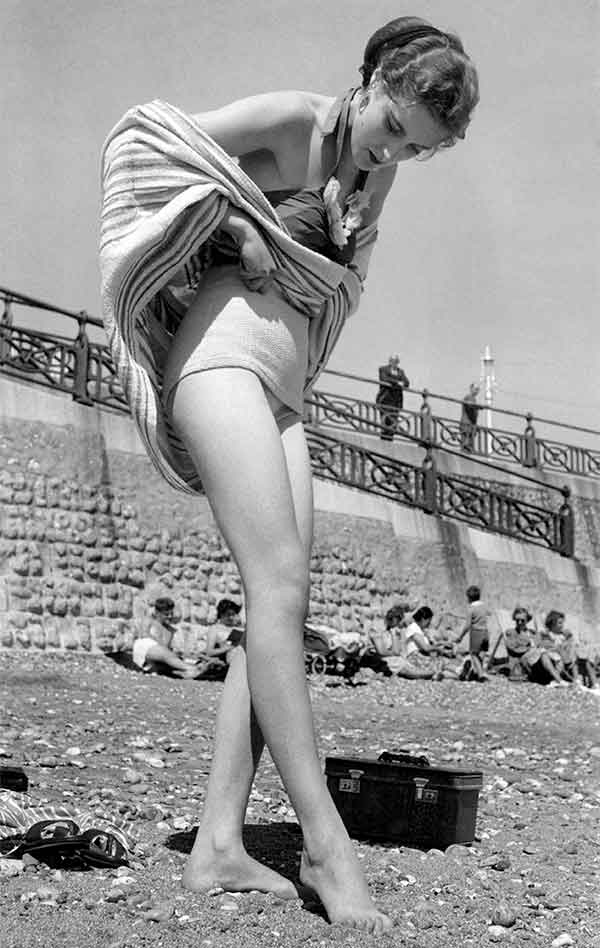 Camp cooking
Whether in a caravan or tent, mum and dad always managed to rustle up a hot meal to feed the whole family, often armed with only one gas burner and a frying pan. I don't know how they did it, but those meals always tasted amazing. Of course, for a really special treat, we'd have fish and chips, wrapped in yesterday's newspaper and drenched in salt and vinegar. Yum.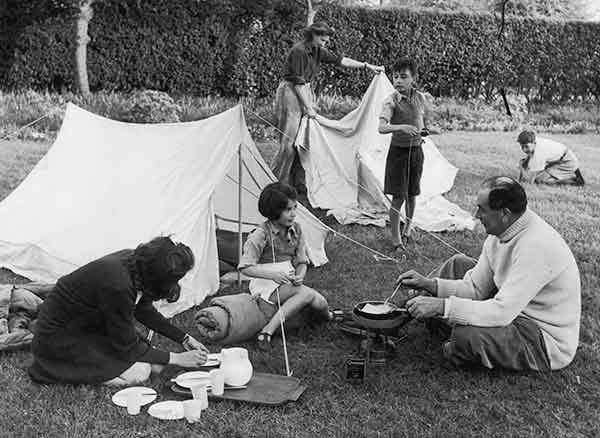 Generations of fun
The special thing about those caravan and camping holidays, was just being able to spend time together as a family, especially with dad who always seemed to be at work. Granny and Granddad often tagged along for the ride too, and were happy to join in our games. Though how much of a holiday they actually got, is anyone's guess!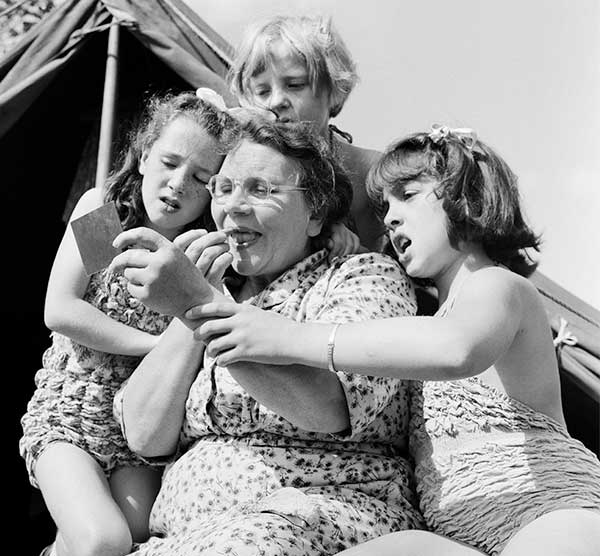 Time to go home
When the time came for us to head home, there was always much sadness that our holiday was over again for another year. But as we packed everything back into our bulging suitcases and mum cleaned everything (again!), we knew we'd have lots of brilliant memories to take back with us. And there was always time for one last family snapshot before we left. Then the long wait for the film to be developed to see how it turned out. No instant social media posts for us!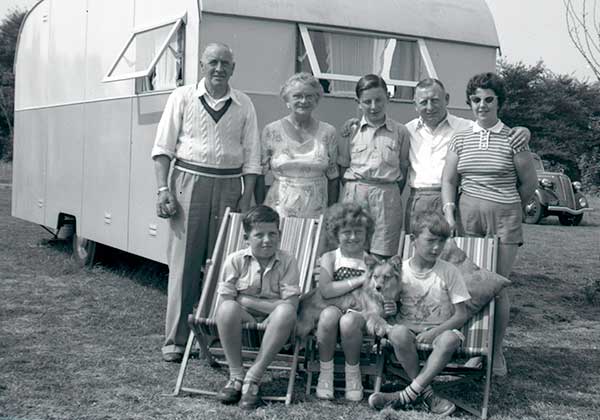 If you enjoyed our take on holidays in a tin can or under canvas, you may also enjoy these memories of long hot summer days and post war holidays.
SunLife offers a range of straightforward and affordable products including over 50s life insurance, funeral plans, equity release, home insurance.