This Is How Much The Tooth Fairy Pays In Your Area
Posted on 4 December 2017
The night time visit from the tooth fairy is one of our most treasured traditions. But what's her going rate for a precious milk tooth left under the pillow? Is even the tooth fairy feeling the pinch these days?
SunLife's recent Cash Happy research into household income and spending in the UK revealed that around £1.50 seems to be the norm per tooth, but the actual price depends on where you live.
It looks like the tooth fairy starts her nightly journey where the action is, paying an average of £1.88 in London, the UK's capital. Then she has a long flight to the far reaches of Scotland and Northern Ireland, before zigzagging her way back across England and Wales, ending up in the South West, by which time she might be running a bit low.
Take a look at our latest infographic to see how much cash she's parting with where you live.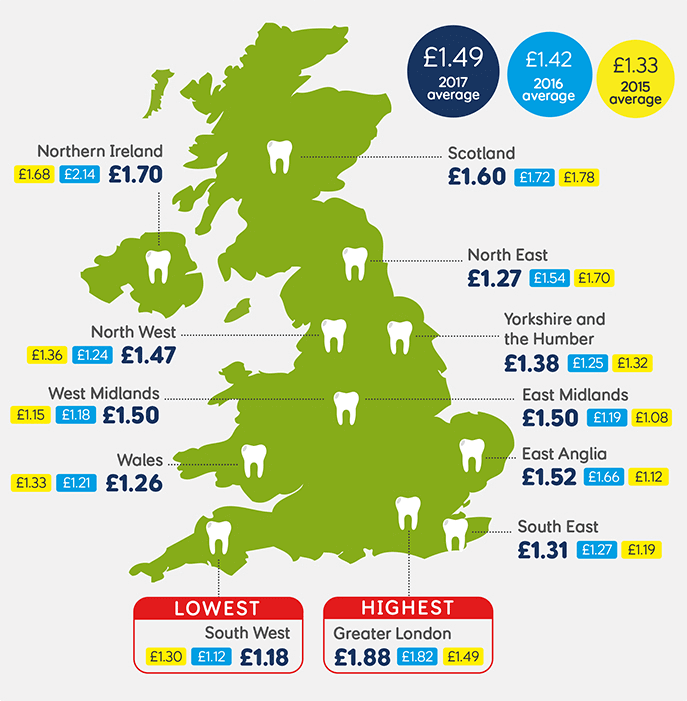 How the tooth fairy can teach your kids about money
Varying opinions and budgets means that some kids are given as much as £5 per tooth! Whatever your household tooth fairy might pay, she could very well be your kid's first source of income and so it's great to use the opportunity to teach your kids a bit about money. Here's a few tips on how to go about it:
Have a piggy bank ready – your child can get used to the idea of saving money in a specific place. They might put away all their pennies from fallen teeth and purchase something once a sizable amount is saved.
It's a good way to get them handling currency. Your tooth fairy might give different coins for different teeth, enabling you to show how some things are worth more than others.
It might be their first experience with financial freedom, so when you head to the shop for them to spend any tooth fairy money, make sure they understand the different options in front of them, and if they will receive any change from a certain purchase over another one.
SunLife offers a range of straightforward and affordable products including over 50s life insurance, funeral plans, equity release, home insurance.