Make this change and live a happier life
Posted on 6 November 2017
Please note this article was first published on 6th November 2017 and some of its contents may be out of date
Sometimes it feels like money is the root of all of our problems. In our Cash Happy research, first published on 23/10/2017, we looked into the UK's spending habits, and found that the happiest of all Brits used some form of budgeting.
'Budgeting' can mean a lot of things. Whilst we might think that keeping note of a few bits of spending here and there is enough, the actual amount you spend or don't spend can end up being really different, sometimes leaving you short. That's why the happiest people actually budget formally and check their bank accounts daily.
A budget is telling your money where to go, instead of wondering where it went.
Dave Ramsey
There's a few ways that you can budget formally. You can use an app on your phone or a piece of software on your computer, or if like us you like to keep things simple, a pen and paper is all you need. Follow the steps below for a simple way to begin budgeting formally, and you could see yourself change for the happier.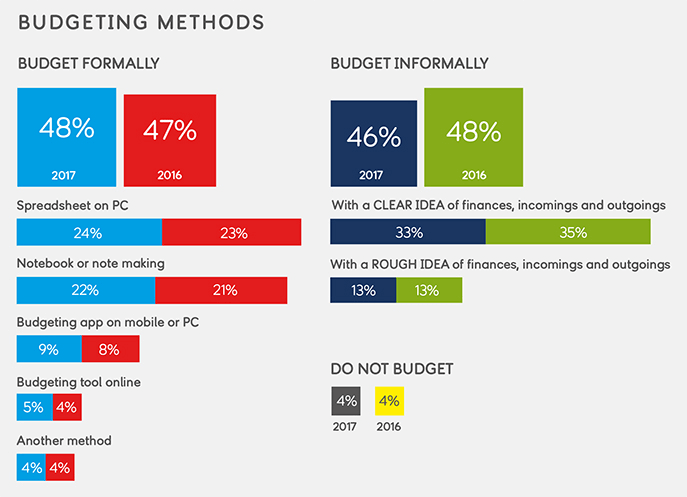 Figure out your income
The best place to start is working out exactly how much money you have coming in regularly each month. To budget successfully you must be realistic with what you have coming in.
Outgoings
Write down separately your monthly costs for things like rent, council tax, energy bills, phone bills, internet provider, car insurance and so on.
Note down extra expenses
When you start to figure out where your money's going each month, you can start to see areas where you might be able to save money. For example if you note down that you spend £300 a month on food shopping, you could have a look at money saving recipes or start shopping at a cheaper supermarket.
Manage any debts
Keep in mind each month if you have any debts that you might want to allocate part of your monthly income towards tackling this.
Check your bank balance
The happiest people we spoke to check their bank balance daily. This means that you can keep track of what you're spending and notice sooner rather than later if that balance is getting a bit too low for your liking!
Spend your spare cash wisely
Now you've figured out what money needs to go where, you'll know how much spare cash you have each month. Spending this cash wisely is a great way to ensure that you and your family are as happy as possible. Check out our Cash Happy blog to see what the nation's happiest people spend their spare cash on.
If you found this article interesting, you may also like Mind the Savings Generation Gap or The Great British Inheritance Tug of War.
Research conducted by Charterhouse Research April 2017, commissioned by SunLife.
SunLife offers a range of straightforward and affordable products including over 50s life insurance, funeral plans, equity release, home insurance, car insurance, ISAs and Will writing services.