Remember your first day at school?
Posted on 5 September 2018
Memories of PE in pants and flying blackboard rubbers
It's that time of year again. Kids everywhere are getting ready to head back to school and the younger ones are preparing themselves for their very first day. Good or bad, school is such a big part of growing up and seeing a new generation starting out can take you back to your own school days – and all the things you loved (or hated!) about them.
Do you remember how you felt on that very first day? Who your best mates were and the fun you had at playtime? Can you ever forget the name of your most formidable teacher and their punishment of choice?
The bell's gone so it must be time to sit down, pay attention and find out if any of your memories match ours.
First day nerves
Sporting a brand new uniform and shiny brown satchel (or some well-worn hand-me-downs), the day finally came to start school. Most of us had no idea what to expect and had never been away from our mums before, so the first day was often a tearful event for all concerned.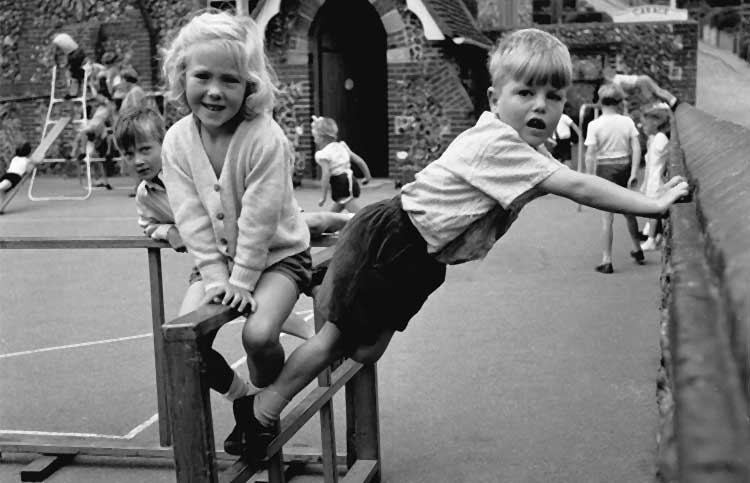 School style
Regulation wear seemed to be a dress and knitted cardigan for the girls, probably lovingly made by mum or granny. And for the boys it was a shirt and grey shorts – even in winter when their scrawny legs would be bright red from the cold! A pristine pair of Start-rite shoes completed the look, although they got scuffed within minutes.
The assembly ritual
Each day started with everyone packed into the hall in neat rows, trying not to fidget. Then it was a couple of hymns and a very serious talk from the Head. The grand finale was mumbling through the Lord's Prayer, before shuffling out in silence. Get stuck at the back and you had the 'honour' of stacking the teachers' chairs on your way out.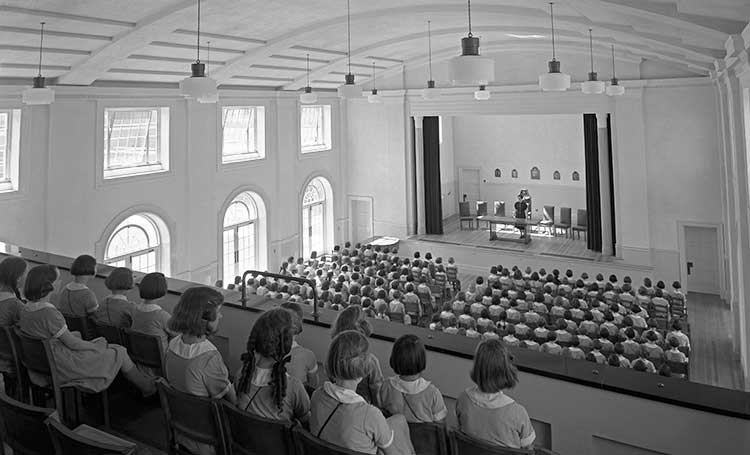 A third of a pint
Another honour was to be made milk monitor. Fetching the crate of miniature bottles and handing them out to your class mates, with a waxed paper straw. Rarely was it the right temperature. In winter it was often frozen and in summer it could be so warm it made you gag. Put many a child off milk for life!
PE in your pants
Be it indoors or outdoors, rain or shine, PE meant stripping down to your vest and pants or not much more. And there was no such thing as snazzy trainers! You wore those little pumps from Woolies, your school shoes or went bare foot. A lack of appropriate footwear was no excuse not to shimmy up a rope or climb the wooden wall bars. What was the point of them?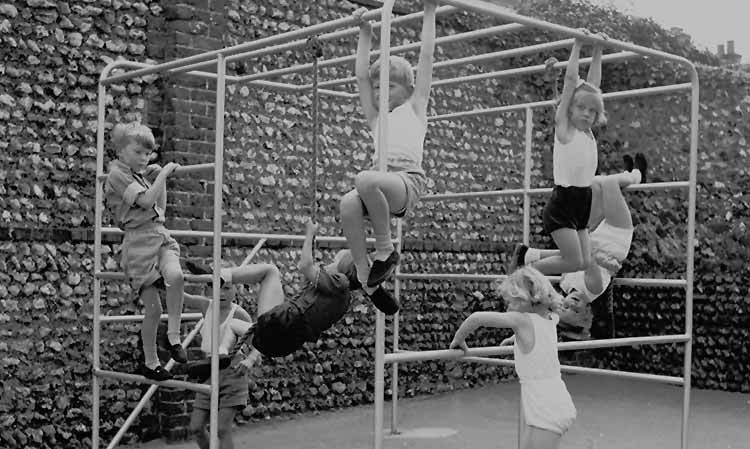 Lining up in single file
Whatever the occasion it usually involved lining up neatly in single file. From getting on a bus for a rare outing, to getting the dreaded spoonful of cod liver oil in winter. But was there any queue worse than waiting for Nitty Nora to inspect your head for lice with her vicious, metal comb? Makes me itch just thinking about it.
Desk lids and compasses
Those wooden desks with the little ink well and recess for your pencil and ruler presented no end of opportunities for mischief. With the lid up you could whisper secrets or pass notes ­– and a compass was perfect for scratching your sweetheart's name into the wooden surface. Great fun until a blackboard rubber came flying straight at you.
Lumpy mash and boiled cabbage
Some kids went home for lunch, but most had school dinners. Yet another queue, this time clutching a plate, ready for the dinner ladies to ladle on lumpy mash, a small piece of meat and some cabbage that must have been boiling all morning. But do you remember the jam roly-poly and custard? Now that was delicious.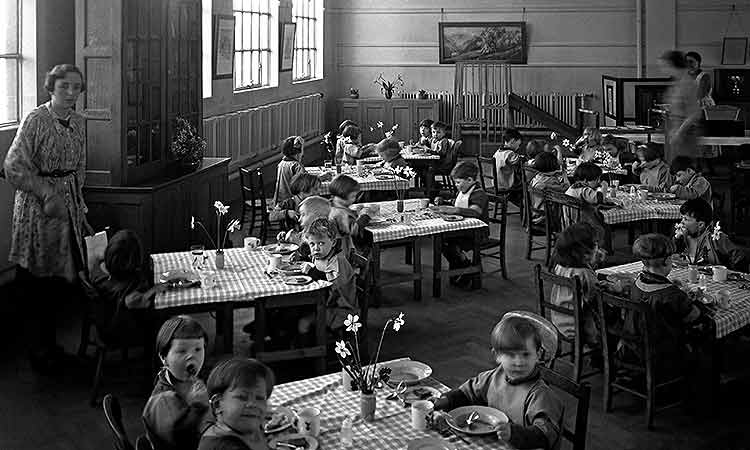 And finally, the bell for break
This was the sound you lived for. As soon as the bell rang, kids would charge out into the playground, delighted to make some noise at last. You could take your pick from snail racing, British bulldog, football and skipping – or maybe hang upside down on the climbing frame over a patch of solid concrete. It's a good job that health and safety wasn't a big deal then!
The years flew by and before you knew it, it was time for 'big school' and a whole new set of challenges and experiences – but let's save that for another day. If you enjoyed our memories of starting school, you may also enjoy these memories of family life in the 1950s and earning your first bob and post war holidays.
SunLife offers a range of straightforward and affordable products including over 50s life insurance, funeral plans, equity release, home insurance.