Why you should go on three holidays a year
Posted on 6 November 2017
Happy Brits Abroad
It's no surprise that holidays make us happy. You might even think that quitting your job and heading off to live on a remote island on a permanent holiday is the ultimate pipedream, but unfortunately most of us can't afford to do that (though we're wishing you the best of luck on the lottery draw this week). We've taken a look at what us Brits can realistically do in order to make ourselves happier throughout the year.
In our latest Cash Happy report where we looked at how Brits spend their money, holidays were high up on the list of what we like to spend spare money on. That makes sense, sure. But what was surprising is that the happiest 10% of all Brits asked managed to take at least three holidays a year. That works out at a holiday every four months, which isn't a bad way to break up the year at all.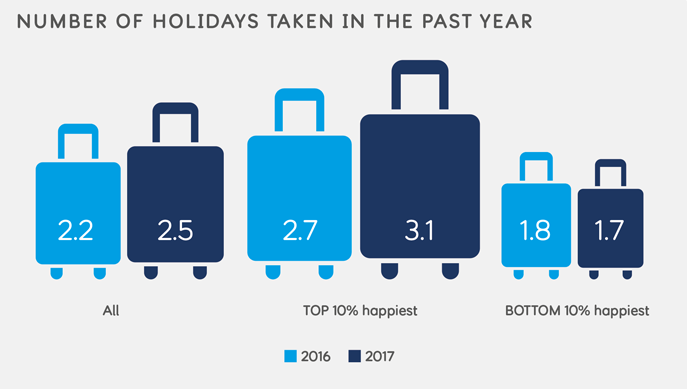 If taking three holidays a year means that we could be happier than ever, it's something that we can get on board with. From staycations to city breaks and even long haul destinations, each break could mean that you end the year feeling happier than when you started. It might sound like a lot of holidays to take, but when you break it down it might not be as hard to do as you originally thought.
Top tips to take that extra break
Set a goal
Once you know where you want to go and how much the holiday is going to cost, keep that goal in mind and work out exactly how you're going to get there. This may be a mixture of putting away part of your monthly income or even selling your unwanted, dust collecting items online or at a car boot. Whatever way you do it, planning is key, and budgeting for a holiday that is realistic and doable is important.
Decide your timeline
When you've figured out how much you need to save, you can put a better timeline of how long it will take to save up - and figure out how many paydays you're going to need! Again, make it realistic and try booking through a holiday provider that allows you to book with a deposit and pay a bit off each month, that way you're not tempted to spend your savings.
Every penny counts
Think about how you can make savings each month to put a little bit extra towards your getaway budget. Sometimes you just have to stop and think, do I actually need this? Use our savings calculator to see how much your takeaway coffee habit could be costing you.
If you found this article interesting, you may also like The cost of a kids birthday party or What the Tooth Fairy pays in UK.
*Source Research conducted by Charterhouse Research April 2017, commissioned by SunLife.
This article was first published in November 2017.
SunLife offers a range of straightforward and affordable products including over 50s life insurance, funeral plans, equity release, home insurance, car insurance, ISAs and Will writing services.