How much does a funeral cost in the UK today?
Posted on 12 September 2017
Average funeral costs in the UK rise again to £4,078
According to our latest research the average cost of dying is now £8,905 – a 1.2% rise in a year and a rise of more than 50% since we first started tracking the cost of dying ten years ago.

The average cost of a basic funeral now stands at £4,078, up nearly 5% since the 2016 Cost of Dying survey. However, while funeral costs are rising, the amount being spent on the 'send-off' has actually dropped for the second year in a row from £2,000, in 2015, to £1,976 in 2016 to £1,928 today. Could this suggest people have to spend less on the send-off because of the ever-rising funeral costs?
The total cost of dying is made up of the cost of a basic funeral, the send-off (flowers, venue hire, catering, limos, memorial etc.) and hiring a professional to administer the estate.
How cost of dying adds up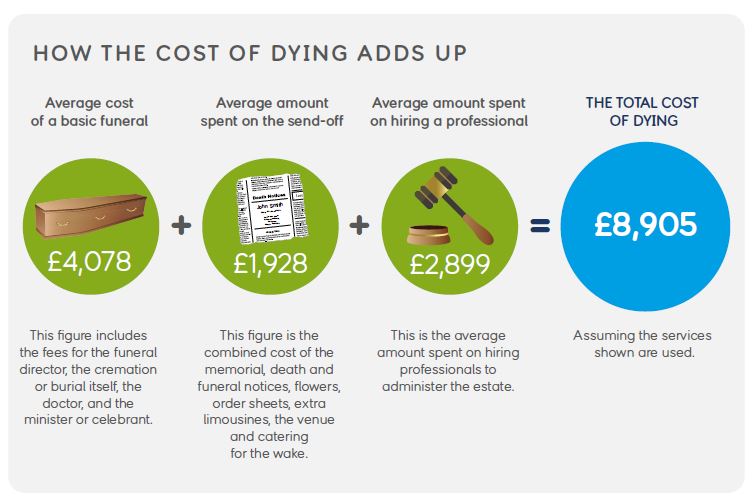 Funeral costs make up the largest slice
Funeral costs are the largest slice of the overall cost of dying. The cost of a funeral is made up of the fees for the cremation or burial, the funeral director, the doctor and the person conducting the funeral. On average a burial funeral costs over £1000 more than a cremation funeral.
Average cost of a funeral in the UK
| | Average cost |
| --- | --- |
| Basic funeral | £4,078 |
| Average cost of a burial | £4,561 |
| Average cost of a cremation | £3,596 |
How much does a funeral cost in your area?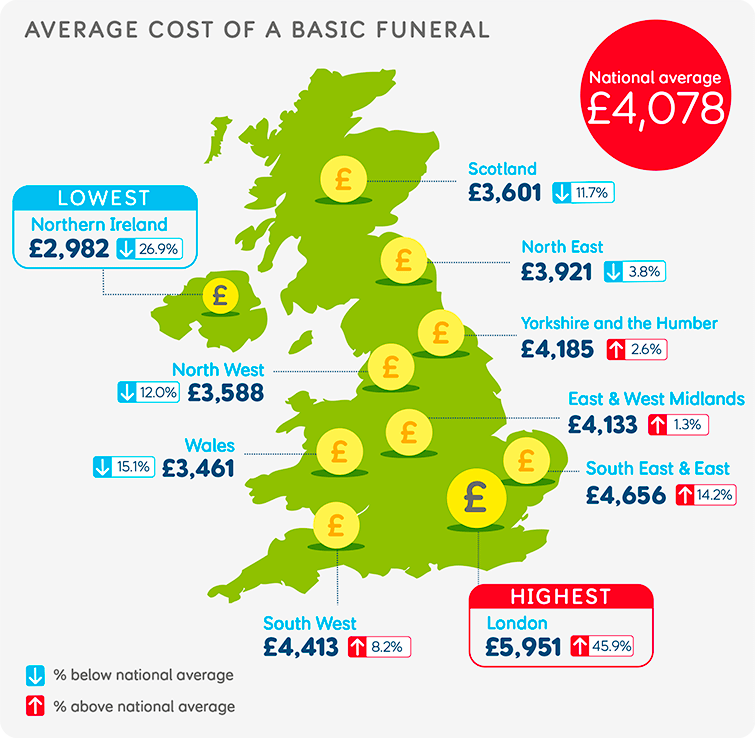 How much does a funeral cost in your region
The average cost of a funeral can vary dramatically depending on where we live. Calculate how much a funeral costs in your region
Londoners are once again forking out the most, with the average cost of a funeral working out at £5,951
The South East and East of England is the next most expensive region at £4,656
The South East and East of England also saw the biggest percentage increase in the average cost of a funeral, with costs up nearly 14% on 2016
Northern Ireland now has the lowest average cost of a funeral at £2,982, almost 27% below the national average
The North East has seen the smallest rise in funeral costs compared to 2016, at 4.7%
The cost of a burial varies most across regions
So why are average funeral costs so different across the country? According to our research, regional differences are heavily influenced by the average cost of having a burial funeral. The gulf in burial funeral costs between regions is almost £4,500 at its most extreme – costing an average £7,311 in London and £2,985 in Northern Ireland; with the UK average now standing at £4,561.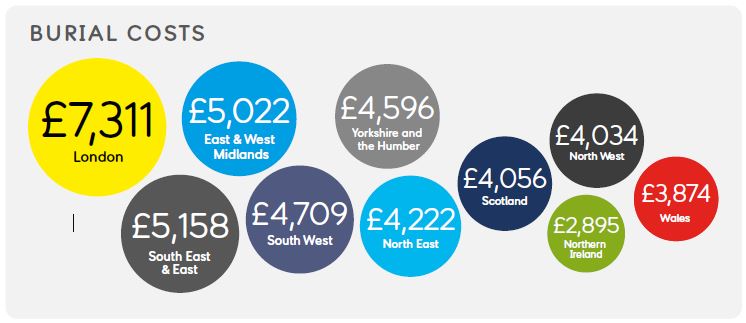 Regional cremation prices
The average price for a cremation is £3,596, much less than a burial. There's also a less dramatic variation in cremation costs across the country, ranging from £4,591 in London to £3,049 in Wales.

Direct cremations
Significantly cheaper than both a burial and traditional cremation is a direct cremation. A direct cremation is where the body is cremated immediately after death, without a funeral service. The average cost of a typical direct cremation in the UK is £1,835, almost half the cost of a standard cremation. There is a growing trend for direct cremations, which is thought is to be down to them being the more affordable option, which the deceased had asked for.
Average funeral costs - past, present and future
Since our first report in 2004, funeral costs in the UK have risen a staggering 112%. If they continue to rise at the same rate, by 2021 we'll be forking out an average of £4,773 to cover the cost of a funeral.
Making funeral plans
With funeral costs as they are, making some financial plans to help pay your funeral costs can be a great help to those left behind, when the time comes. Whatever you do, it's important to discuss your funeral plans, to make sure people know what to do when the time comes. To make this difficult task a little easier, use our Perfect Send-Off planner to record your funeral wishes ready for when they're needed.
SunLife offers a range of straightforward and affordable products including over 50s life insurance, funeral plans, equity release, pet insurance, home insurance, car insurance, ISAs and Will writing services.