Our guide to funeral plans
All you need to know about making funeral plans
Last updated 21st May 2019
It's natural to put off thinking about death, but facing up to it sooner rather than later can actually be a weight off your mind. No one's getting any younger and if illness or a condition like dementia were to strike it could be harder, or even impossible, to make funeral plans and arrangements yourself.
Time's also of the essence when it comes to costs. Funerals can be expensive – the average cost of a funeral in the UK is £4,2711 – and someone close to you will have to pay the bill. Having a funeral plan can protect you against further price rises and ultimately ease the financial pressure on them or your estate.
The benefits of funeral planning in advance can be priceless. Not only will you be supporting the people you love even when you can't be there, you'll also be rewarded with peace of mind to continue enjoying life to the full now.
What is a funeral plan?
It's a straightforward way to pay for and arrange aspects of your funeral in advance, lightening the financial and practical load on loved ones when the time comes. A funeral plan does not cover all costs associated with a funeral so always check what's included and how much the extras could cost for your family.
So if you've ever wondered how your loved ones might cope with arranging your funeral, or you have a view on the kind of send-off you'd like, a funeral plan could make sense.
Making funeral plans – what to think about
1. Rising funeral costs
The average cost of a funeral in 2018 was £4,2711 – up a massive 122% since 2004
And that figure is before extras like catering, venue hire, flowers, notices and memorials have been factored in, which on average add over £2,000 more to the final funeral bill.
2. The type of funeral you'd like
Your choice of a cremation or burial can also make a difference to the cost of a funeral. The average cost of a burial is £4,978, over £1,234 more expensive than the average cremation cost of £3,744.
3. How much you can afford
Remember, any contribution you make to the cost of your funeral will be a help when it's most needed. Funeral plans often come with a range of options to work within your budget.
4. Your own wishes
Is there anything you want to make your funeral more personal? Like your favourite song or an item of clothing to be sent off in? Anything goes these days, from Hawaiian shirts to wellies.
The cost of a funeral in your area
This map shows you the difference in average funeral costs across the country.
The cost of a basic funeral is made up of the cremation or burial fees plus the cost of the funeral director, the doctor and the person conducting the funeral.
Use our free funeral cost calculator to find the average cost of a funeral where you live.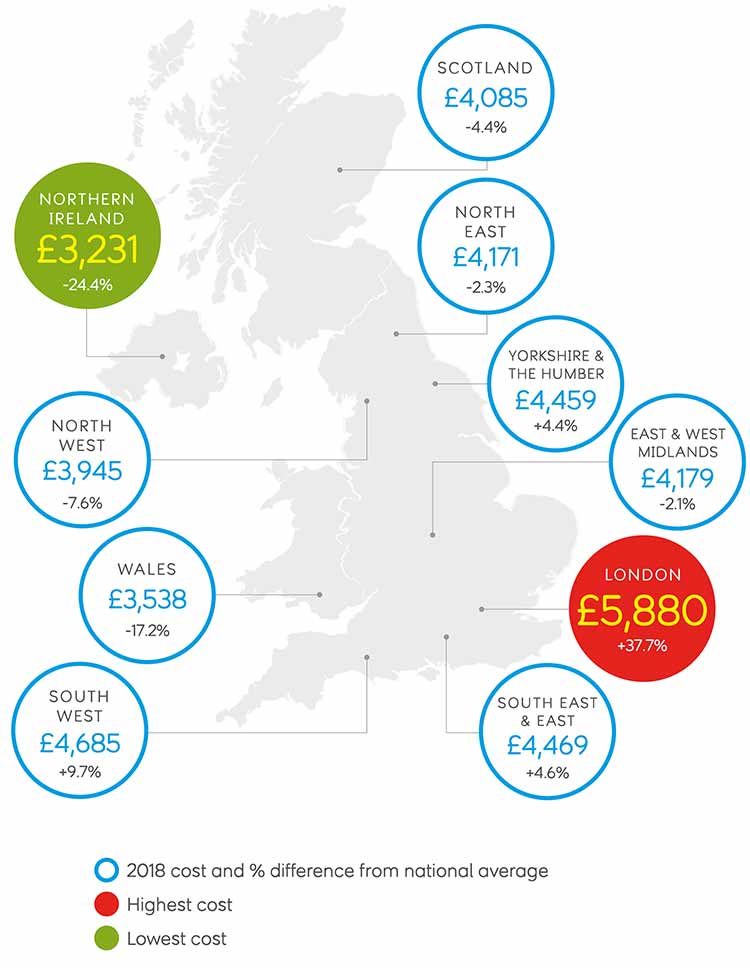 How our funeral plans work
Guaranteed funeral plan – even if funeral costs rise, our plans guarantee to cover the cost of your chosen funeral services
We offer one of the most affordable funeral plans – beginning from just £9.25 a month2
Our funeral plan offers a safer way to pay - it's one of the few plans where the cover which pays for your chosen funeral services has Financial Services Compensation Scheme (FSCS) protection. This is because your monthly payments will be paid into a life insurance policy provided by Phoenix Life Limited. Once you've had your plan for at least two years, the cost of your chosen funeral services will be covered whenever you pass away, as long as you fully pay all your premiums when due
We offer a choice of funeral plans to suit you and your budget
An easier way to get sorted – simply get in touch with our friendly team and they can get you covered in minutes
Why funeral planning makes sense
Funeral prices have risen massively over the years. With a funeral plan, your chosen funeral is sorted no matter how much prices rise, leaving loved ones with less to pay for at the time.
Also, by making funeral plans in advance, you're more likely to get the send off you want because you decide as many of the specifics as you like. And, your loved ones won't be left to make lots of difficult decisions as they try to second guess your wishes.
And finally, taking positive steps to ease the financial burden and worry of your funeral for loved ones whenever that may be, will give you all peace of mind to get on with living now.
Things you should know
Make sure you understand the different plans – we offer plans to suit your budget and funeral preferences. Make sure you're happy with the cost and funeral services covered by your chosen funeral plan
Choose a monthly payment you're comfortable with – it's important that you're comfortable with the monthly cost of your plan as if you stop paying your premiums when due, your funeral cover will end. The amount you pay each month will increase slightly each year for a maximum of 20 years – our advisors will talk you through how this works.
Make sure you understand how it works – our funeral plans guarantee to cover the cost of your chosen funeral services, but only after you've had your plan for at least two years. It's worth noting that you could pay in more than the cost of your funeral services.
The funeral services will be provided by Dignity Funerals Ltd, who are one of the UK's leading funeral providers, with more than 800 funeral directors all over the country.
Help to plan your funeral
My Perfect Send-Off is our free planner that guides you through some of the choices you can make now for your funeral. It also documents your wishes so you have a lasting record to keep safe and share with loved ones.
Straightforward answers to your questions
1. Can I choose my funeral director?
All funeral services are provided by Dignity Funerals Ltd. Dignity are one of the UK's leading funeral providers and have over 800 funeral directors all over the country. When you call our friendly team, they'll let you know where your nearest Dignity funeral director is and will allocate a funeral director there when the time comes.
2. When the time comes, how does my family make a claim?
When you take out a funeral plan, we will send you a welcome pack with contact details for Dignity Funerals Ltd. It's important you let a family member know where this is kept for when they need it. You family can just give Dignity a call and they'll advise on the next steps.
The smallest print
1. Source: SunLife Cost of Dying Report 2018.
2. For a 50 year old buying our most affordable plan. Premiums increase each year for a maximum of 20 years.