How much does a funeral cost in the UK today?
Posted on 28 September 2018
The average cost of a funeral in the UK has soared to £4,271
According to our 2018 Cost of Dying research, the average cost of a funeral in the UK now stands at £4,271. We've been doing this research for the last 15 years and, since we started, we've seen a steady rise in costs.
This year, we've also calculated that the total cost of dying is at an all-time high of £9,204 and this figure is only set to grow.
But what does it all really mean?
What does the cost of dying include?
The cost of dying might seem like a scary thing, but we're here to break it down for you.
When we say the cost of dying, we're referring to a few different things that make up a whole funeral, as well as the service and additional professional fees. These include:
The price of a basic funeral – fees for the cremation or burial itself, the funeral director, doctor and minister or celebrant
The send-off – which includes things like flowers, order sheets, extra limos, a venue, and catering for the gathering afterwards
But how can it cost so much?
It doesn't seem like those parts should add up to so much money, but they can.
Here's how it works: The most expensive part of the cost of dying comes from the funeral itself, which makes up nearly half of the total expense.
The funeral, be it a burial or cremation, also needs to cover the costs of the funeral director, doctor and the person conducting the funeral.
In 2018's report, the fees for all of these elements of a funeral have risen.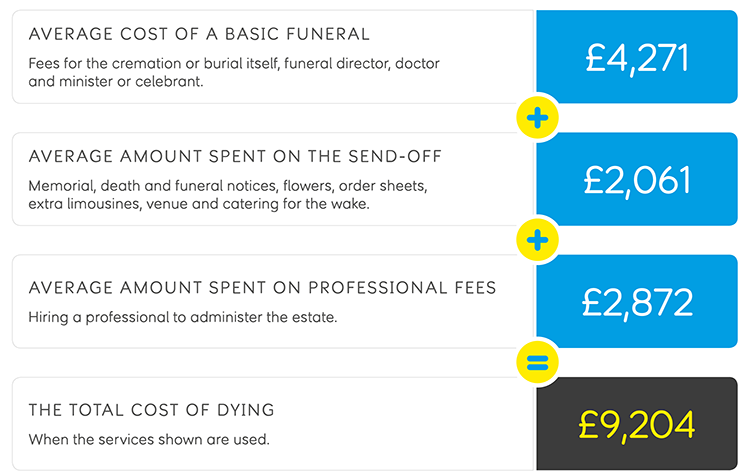 This means that this year, the average cost of even a basic funeral has risen by 4.7%.
Along with this, the average amount spent on a send-off has risen by 6.9%.
Has the cost of anything gone down this year?
While the majority of costs have gone up, there has been a slight fall in the average cost of professional fees, which have fallen by 0.9% from last year.
However, these costs are still quite significant and make up over 30% of the total cost of dying.
The cost of a direct cremation has also gone down this year. This is where the body is cremated without a funeral service, and these cost on average £1,712, – 6.7% less than last year.
Does it make a difference where I live?
Where you live can make a big difference in the cost of a funeral.
In 2018, London is still the most expensive place to die with the average funeral cost being £5,880, which is 25% higher than the next most expensive region.
Why does it vary so much?
The main reason behind the dramatic regional differences is down to the average cost of burials.
In London, the most expensive region, the average cost is £7,538, while the cost is lowest in Northern Ireland at £3,240.
The difference in these two areas is huge, however, for Northern Ireland, it's still an 11.9% increase, which is one of the biggest regional increases overall.
Similarly, the cost of cremations differs across the UK, and in 2018 it has risen in 8 out of 10 regions, with the South West being the most expensive at £4,365.
What about the actual send-off?
For many people, the send-off is the most important part of an entire funeral ceremony.
It includes all the touches that can make a funeral really special, like the flowers, venue and catering for the wake.
Unfortunately, these costs have also gone up again this year and have reached an average of £2,061.
| Year | Average send-off (Discretionary) cost | % Change |
| --- | --- | --- |
| 2008 | £2,097 | +3.5% |
| 2009 | £2,156 | +2.8% |
| 2010 | £1,745 | -19.1% |
| 2011 | £1,864 | +6.8% |
| 2012 | £1,923 | +3.2% |
| 2013 | £2,006 | +4.3% |
| 2014 | £1,833 | -8.6% |
| 2015 | £2,000 | +9.1% |
| 2016 | £1,976 | -1.2% |
| 2017 | £1,928 | -2.4% |
| 2018 | £2,061 | +6.9% |
On the rise again?
We started our research in 2004 and have seen costs dramatically rise over the years.
If these costs continue to rise in the same way they have been since 2008, the average cost of dying could reach over £10,000 in just five years' time. How many of us have a spare £10,000 put aside?
2008

2009

2010

2011

2012

2013

2014

2015

2016

2017

2018
---
2019

2020

2021

2022

2023
The average cost of a funeral in 2018
£9,204
How are we covering these costs?
Only 62% of people surveyed organised a funeral for someone who had put money aside to pay for their funeral before they passed away.
However, of those 62%, not even two thirds put enough money away to cover the entire cost, meaning over a third of families had to make up the shortfall.
Thinking ahead
Planning for your funeral can really help the loved ones left behind, though this isn't the only thing you can do to help.
Not enough of us talk about our funeral wishes; of those surveyed, only 1% knew all the funeral wishes of the deceased.
Highly personalised funerals, and 'celebration of life' funerals appear to be on the rise.
So with trends changing, it's really important to talk to your loved ones about what you want, or what they want, in order to make the day as personal as possible.
And to ensure there are plans in place to be able to afford it.

Making funeral plans
With costs on the rise, making some financial plans to help pay your funeral costs can be a great help to those left behind.
Whatever you decide, it's important to discuss your funeral plans, to make sure people know what to do when the time comes.
To make things a little easier, use our Perfect Send-Off planner to record your funeral wishes so they're ready for when they're needed.
SunLife offers a range of straightforward and affordable products including over 50s life insurance, funeral plans, equity release, pet insurance, home insurance, car insurance, ISAs and Will writing services.