You don't need to be a millionaire to be happy - just £82 spare a week!
Posted on 23 October 2017
Annual 'Cash Happy' research of 3,000 UK households shows strong link between happiness and how much 'spare cash' we have.
Average person has £44 spare per week; the happiest have £82
To be amongst the happiest in the UK we only need to find an extra fiver a day!
Spending our spare cash on going to the theatre and bowling gives our happiness a further boost
The latest research from SunLife reveals that, while cash and happiness are related, you don't need to be a millionaire to be happy – just £82 spare per week.
Cash Happy is an annual report which studies the day to day finances of more than 3,000 UK households. In its first Cash Happy report in 2015, SunLife proved a strong link between happiness1 and how much 'spare cash' households2 have, i.e. the money left to spend however we want each month, after our regular outgoings are paid for.
And while happiness does increase with spare cash, there is a point when it starts to slow down, and it is not as high as you might think, as Ian Atkinson, Marketing Director explains:
"Our research shows a strong link between happiness and spare cash – stronger than the link between happiness and income – and the good news is, you really don't need to be a millionaire to be happy.
"Even better news is that the happiest households3 have £194 spare per week, which per person, is £82. This means that if the average household wants to become one of the cash happiest, it doesn't need thousands – just an extra £91 per week, which works out as less than £40 extra per person per week, or just over a fiver a day. This may sound like a lot, but when you think, buying a takeaway coffee and sandwich every day can cost around £5, it doesn't sound quite so challenging."
Who is the 'cash' happiest?
Though spare cash is £447 per month in the 'average household', this varies hugely by household type. In absolute terms, over 50s have considerably less than under 50s, (£391 per month compared to £480) but in terms of spare cash as a percentage of their income, they actually have more (32% compared to 31%), which could be one of the reasons they are happier on the whole.
Those living with a partner have the most, both in term of absolute amount (£878) and as a percentage of net income (43%), and are therefore one of the happiest types of household.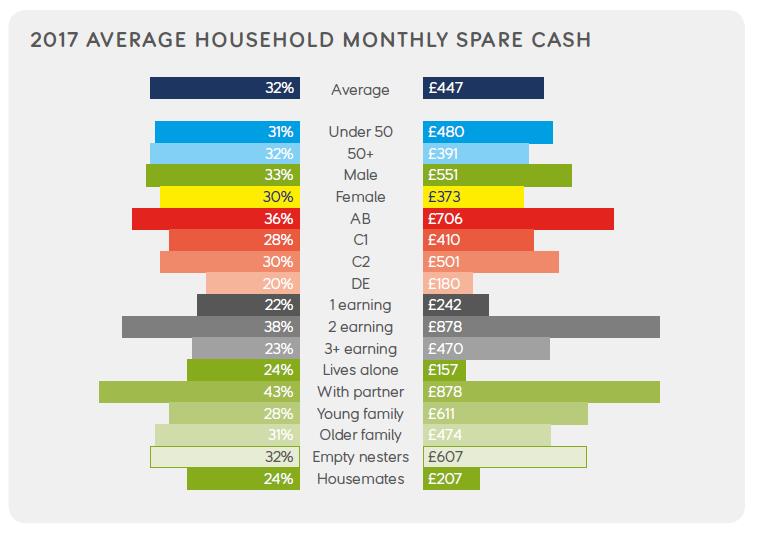 For some households there is no spare cash at all - one in four live beyond their means (5% between £0 and £100 in the red, and 21% more than £100 in the red each month) At the other end of the scale, 23% have between £800 and £2,000 spare each month, while 13% have more than £2,000, showing there is a huge divide between the richest and poorest households.
Based on the amount of spare cash they have left over, we have categorised UK households into six main groups: Struggling, Just About Managing (JAM), Indebtors, Comfortable, Well Off and Affluent: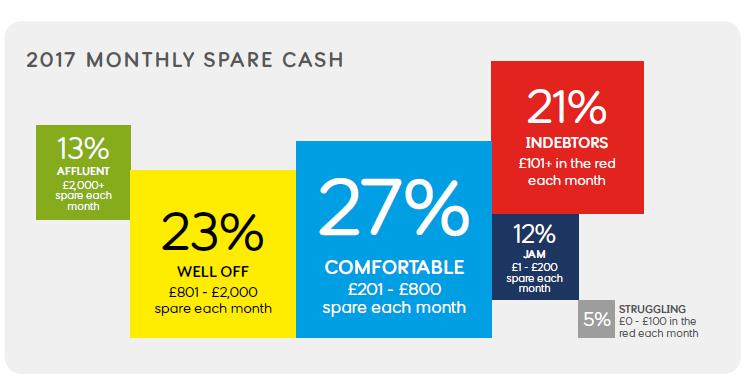 What should we spend our extra money on to be happy?
According to the research, when asked how we would spend any money we have left over each week, more than half of us say would save at least some of it, while more than a third would spend it on clothes.
But when we looked at what type of spending makes us happiest, we can see that the happiest households spend their spare money on experiences rather than material things, with going to the theatre or bowling the top choice for happy spending! We can also see that households with children at home are happier when they give their spare pennies to the kids!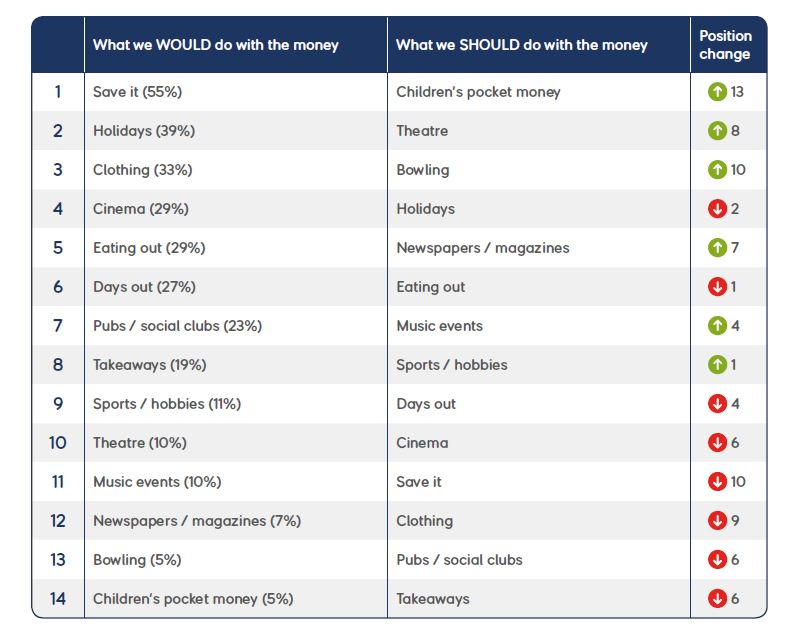 Ian concludes: "Does money make us happy? Well, happiness and money are linked, that is clear, but the good news is that it is spare cash rather than income that has the greatest effect on our happiness.
"It is great to see that households in the UK are 'Cash Happier' than last year but even better to discover that you don't need to be a millionaire for money to 'buy you' more happiness.
"To be amongst the happiest in the UK, we need to find an extra £38 per week in spare cash, that's just over £5 a day.
"And knowing that the decisions we make about how we spend that spare cash can impact our happiness even further means that achieving true cash happiness is a lot easier than you might think."
Sources
To calculate happiness, respondents were asked the following three questions and asked to scale them between 1 and 10, with 1 being not at all satisfied/happy and 10 being extremely satisfied/happy:
– All things considered, how satisfied are you with your life as a whole nowadays?
– How happy did you feel yesterday?
– Thinking forward to the next 5 years or so, how happy do you feel about your future?
3,013 online interviews with UK adults aged between 18 and 85 able to answer questions about the household or individual finances.
Interviews lasted 25-30 mins.
All respondents were financial decision makers.
All were responsible for paying bills & other household expenses.
Cash Happy studies household finance – To calculate individual figures, we have divided household cash by 2.36 which is the ONS figure for adults per household. The results were then averaged, to give an overall happiness index scaled from 1 to 10. In 2015, average happiness was 6.63, in 2016 is was 6.64, in 2017 it is 6.7.
The happiest households are the top 10% in terms of their happiness score.