Tap into the enormous energy of Caroline Billington, 55, she's on a mission to give the people she meets more to look forward to every single day.
Meet Caroline
Hitting the magic 50 can set life off on a whole new course. One woman who knows just how to make the most of this exciting time is Caroline Billington, 55, who packs so much into her days that she's a walking inspiration. As well as learning something new every year, she pours endless time, love and energy into her charity, Community Christmas, which helps older people make connections in their neighbourhoods. Find out what motivates her to keep making a difference.
Tell us a bit about yourself Caroline
Where do I start?
I'm 55 and if you were to ask how old I feel, I'd say that depends on the day!
I've worked as a speech therapist and an accountant, but today my life is built around an idea I have of making sure older people are connected with their communities.
What do you think is the best part about getting older?
Gaining a sense of freedom and confidence. As the years pass, I care less about what others think and more about what's right. That's quite common for many of the older people I meet.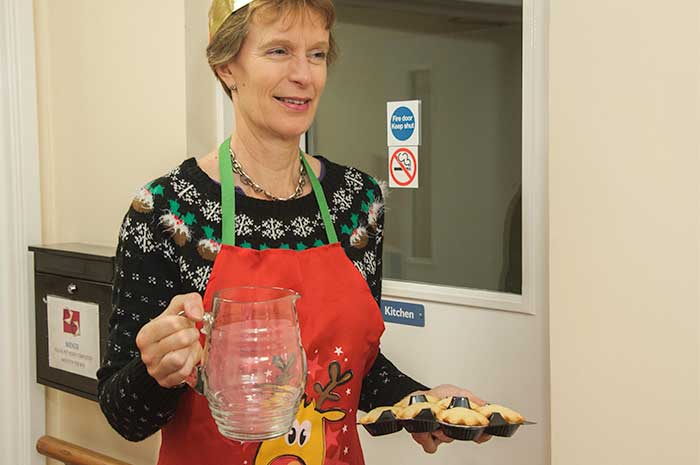 What's a typical day like for you during the festive period?
Community Christmas helps older people get together on Christmas Day, so in the run-up to the big day I hardly stop. I try to fit in a swim before breakfast, then head to the office where I manage a team of around five. It's non-stop and I sometimes don't get home till nine. By then I'm very happy to have a glass of wine with my wonderful and supportive partner Nick. For the rest of the year, work is a bit more varied because I also spend time on another enterprise, Coffee Companions.
Sounds hectic! What do you do to relax?
I like to try and learn one new thing each year... this year it was the scooter and a skid pan! I enjoy the contacts I make when volunteering at the local theatre and soup kitchen. I also drive the local community bus when I can.
What inspired you to start Community Christmas?
The idea first came to me in 2007 when I gave some older ladies a lift to a community Christmas lunch in a minibus. On the way home there was a phenomenal buzz. Everyone was chatting, swapping numbers and arranging to meet up again, making longer term connections. I started thinking – if one lunch could do that for a few people, imagine what more lunches could do. Community Christmas started officially in 2011 and keeps growing.
Tell us a bit more about Coffee Companions
It started when I noticed that people of all ages would sit alone in coffee shops, but no one would talk to each other. Some are happy with this, however some want to talk, but don't want to intrude. As we're not mind readers, I thought of the idea of 'Chat Mats' – the green side says you're happy to chat with your coffee, red side for a bit of privacy. This is about cultural change, helping people connect and talk in everyday scenarios.
What's the best life lesson you've learnt?
If you spot an opportunity, follow it. You never know where it might lead. And also, if you don't ask, you don't get. I'm never afraid to pick up the phone to share ideas.
Have you ever had that 'life begins at…' feeling?
Constantly! I'm someone who's always reviewing my life and thinking about what's next. I like to make sure that every day counts. I want to know that if I died tomorrow, my last day would be as good as it could have been. However, I hope I have a long time ahead of me, so I want to be enjoying a varied life.
Have you thought about your funeral?
I have. And I've put some funeral arrangements in, although this reminds me that I need to update them. Spending time with older people, I've been to quite a few funerals in recent years. It's made me think that, if possible, I'd like to get everyone together to have a good time before I die. Then my funeral would be a simple sign-off to that. I think it's important to plan for what you want for your funeral rather than just going with the crowd.
What are the highlights of your life so far?
I've been to fantastic places and met fantastic people in my 55 years. I often think that I could well have another 50 to go. There's so much that I want to do with that time – from an Open University degree to helping small businesses overseas and getting Coffee Companions up and running for starters.
Many people will be inspired by reading about your work – how can they help?
There are lots of things. Obviously getting involved in Community Christmas or Coffee Companions or telling people about them is a great start, but really, it's just about reaching out to make older people feel included, from something simple like a cup of tea with a neighbour, to organising mince pies down the pub on Christmas morning. One simple spark can help people be involved, active and happy for years to come.
Nearly half a million older people are at risk of spending Christmas Day alone and many are lonely all year round. If you would like to help older people in your area make new connections, Community Christmas could be a good place to start.
Posted on 12 December 2016
SunLife offers a range of straightforward and affordable products including over 50s life insurance, funeral plans, equity release, home insurance.