Training man's best friend at 55
55-year-old Jay knew from a young age that dogs really are man's best friend. That's why she's dedicated the last 35 years to working with them.
She's trained thousands of dogs and puppies, working to make them the best service dogs they can be to help other people live a better life.
"Don't let anyone tell you - you can't do what you want to do!" Jay says to us and it's clear that's the advice she's followed throughout her life.
"I was one of those annoying children, warned not to touch dogs. I would ignore mum and go play!' says Jay. "I just wanted to be around dogs all the time. It snowballed from there."
Jay always did what she could to make sure dogs were part of her life. "I worked in kennels, with dogs in the military, with guide dogs. Something in me says I want to be around dogs and do the best for them."
Jay's love for animals began at young age, probably in part due to a difficult childhood.
"I was in seven homes before I was three," Jay tells us. "It gave me some issues about trust and not building relationships with people."
Thankfully, things changed for Jay when she was four years old. "I was adopted by a brilliant family."
Remembering fondly a time when her mum threw her a birthday party, she laughs, "Mum threw a great birthday party. All my friends came round, but I spent all my time with a dog who had just had puppies!"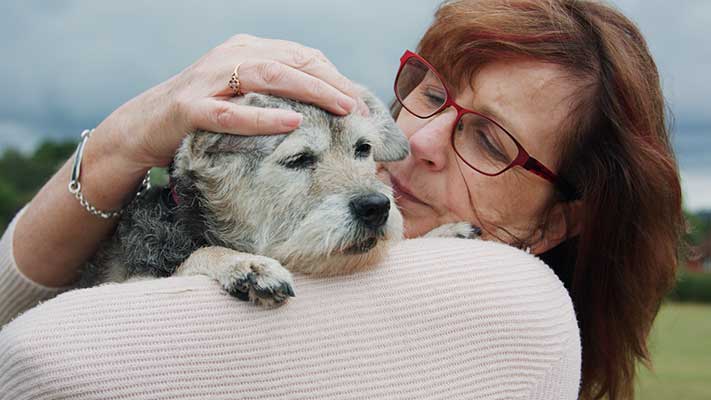 Jay tells us that dogs gave her "the trust and confidence" she lacked when she was younger. "The human and dog interaction is one of unconditional love. They don't judge. Dogs take you for what you are. They make you feel better."
As a child, Jay says she was a complete tomboy, following her brothers up trees and then into the military, where she formed a new family – one that included dogs. "It gave me a family. Everybody is there, together."
Whilst working with dogs in the military, Jay wanted to test herself further and signed up to a course looking at wolf behaviour.
"They put us in with the wolves, we learnt how to communicate with them."
The course finale involved getting the wolves to accept Jay into the pack.
"We went in alone to the pack and had to get the alpha to acknowledge us. It was one of the scariest things in my career!' She tells us.
When Jay left the military, she wanted to do something different. She'd been visiting her sister who was a puppy walker and decided to try that.
Two weeks later she started working with guide dogs. Despite her experience, she had to go back to basics, working in the kennels and grooming the dogs.
From then she learnt to be a trainer, teaching guiding tasks. "I've been a puppy supervisor for the last 10 years," she tells us.
Training pups is a full-time job. "Everything you do in daily life, we'd have to do with the pups."
This extends to everything from cooking dinner to going out to the theatre – the pups have to go everywhere.
"It's a very practical job," she says, "I'm out and about a lot. I'm on my feet. It keeps me really young!"
"I probably think I'm only about forty, but my body tells me I'm a bit older by the end of the week."
Feeling younger is a part of the job, she explains. "To work with young dogs you have to feel younger. Their want for life, their enthusiasm – you have to buy into that to do the job that I do."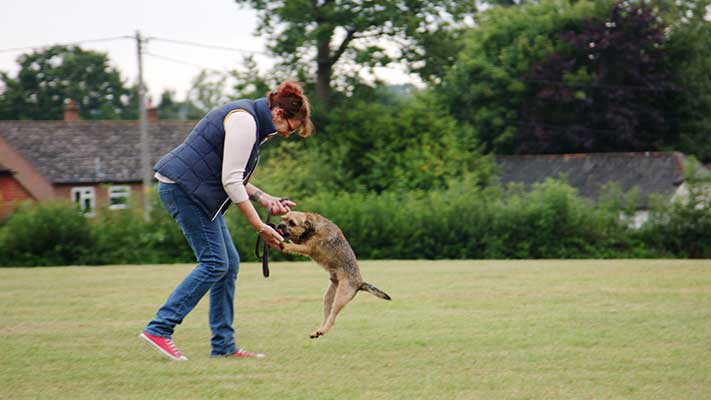 "If I felt old I wouldn't be out there playing, sitting on the floor and teaching them to have fun and social skills."
Not only does working with dogs keep Jay young, it also helps people. "We work with isolated people. Giving them a dog gives them social interaction as people talk to the dog or about it. It makes people involved in society."
Jay couldn't be happier with her career and hasn't looked back. "If I were to give my younger self advice it would be, be more confident. I was told I'd never make a dog trainer as I didn't have the aptitude for it."
"I stuck to my guns and said no this is what I am and 35 years down the line I'm still training dogs."
When we ask about the future, Jay knows exactly what to expect. "My retirement doesn't worry me, I'll still be doing something with dogs somewhere!"
Related articles