Eight years of walking towards a healthier life
4 min read
After several heart surgeries, Liz and Gary Glazerman realised it was time to get healthier, Liz suggested they take up walking together. Eight years later they're still striding side by side and have never been fitter.
A few years ago, Gary, 65, was set free from employment and found himself sitting around the house, doing nothing. "I was becoming a couch potato, putting on weight," he tells us.
Despite wearing double XL shirts, neither Liz nor Gary had realised how big he'd become. His weight had ballooned to over 18 stone before he retired, and after he finished working, he had no real incentive to do any activity – "I just sat around and sent emails."
Luckily, Liz, 68, had always been quite active. "I used to go and walk first thing in the morning,' she explains. So it was natural to try and encourage Gary to do the same.
Gary wasn't as easily convinced until Liz used a bit of tough love on him. "I didn't want to find that I was going to be a widow" she told him one day.
The tough love worked, and Gary knew it was "time to get up and start." "The first month was hell," he admits, "I just wanted to sit at the computer."
Gary and Liz started going on short walks, building up Gary's stamina first. They started with the local park.
"We knew that was a mile." They tell us. "Liz was up and away, and I'd be huffing and puffing in the background."
After a month, Gary had already begun losing weight, and the realisation had kicked in that this was actually a pleasant pastime for them both to do together.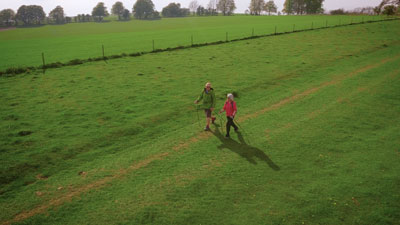 "Without you, I don't think I'd have ever gotten into it!"
From then, Liz and Gary were unstoppable. They'd go on walks together seven days a week and volunteered in the local walking scheme – both becoming walk leaders, running walks and training others in the area to lead walks. "It helped keep our weight down and made us more healthy."
"Once we'd been walking for a period of time, I volunteered for Nordic walking. I was looking to improve cardiovascular activity," Gary explains.
Nordic walking involves the use of poles, allowing you to "increase intensity of the workout through the use of upper body. "It's a full body workout," Liz tells us, "it's really good for your flabby arms!"
Liz and Gary became so passionate about the sport, Gary trained to be an instructor. "There were no groups in the area, so I decided to make a new one. " He trained 15 people and runs three walks a week, in addition to all the other walks.
"It's a very healthy activity," Gary says, "I can't stress the benefits of a whole body workout. I don't care if people don't get the technique 100% but I am keen to get older people out and exercising."
With these walks, Gary and Liz don't just have a healthier life, they have a greater social circle too. "For older people, social isolation is an issue - people our age who are on their own. I know that by getting people together, by the end of our walks we can chat and we hear about their aches and pains."
"It's a very social thing. We get together for coffees afterwards." Their walking WhatsApp group has taken on a life of its own. The groups keep going on walks even when they can't make it."
For Gary, it's also a very therapeutic activity. "The rhythm and method of Nordic walking is very cathartic. I can lose myself on a walk."
"It isn't a highly technical sport. Everyone has a natural momentum to their walk. Whether you realise you're in sync. All we do with Nordic walking is exaggerate that."
Walking has been crucial in Gary's health issues. "I was born with a congenital heart defect. two holes in the heart."
"At the age of five, I had open heart surgery. That enabled me to start walking." At 15, Gary endured further surgery to repair one of the holes in his heart.
That lasted him until age 56 when he had to have another intensive heart surgery. Because he was so fit and healthy thanks to all his walking, Gary was able to recover in half the anticipated time.
He recovered so well in fact that at his eight week check-up, he told the surprised doctor that he was up and about and managing six mile walks."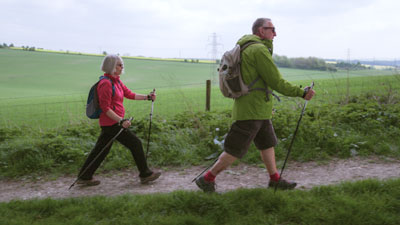 Once Liz got him up and moving, it became a way of life. "We walk in all weathers. We'll walk 52 weeks a year," they tell us.
When we ask their views on getting older "You never stand still," they tell us.
"Nothing ever remains the same – don't expect it to. The best thing is more time to do the things that you want to. The time to spend with friends and family."
"It's never the wrong time to make the right decision. Never look back. Never say 'what if?'.
"Just move forward!"
Related articles
SunLife offers a range of straightforward and affordable products including over 50s life insurance, funeral plans, equity release, home insurance.