3 min read
Meet Jo
With a life as colourful as her rainbow hair, Jo had always dreamed of owning a shop. Starting from absolutely nothing, her wish became real two and a half years ago and she now owns a toy shop on her local high street where children and people in the local community come to buy traditional toys.
Jo Webster-Green lives a colourful life. She is a trained Steiner teacher and worked as a carer for over 30 years, mainly with disabled children. Then two and a half years ago she put her arts and crafts skills to use and began making wedding favours which she sold online. Up against big players, she struggled to make it work long term. With her online business failing, she decided to pursue her real dream of owning a toy shop. Jo tells us that it was time to 'get real' and either have a presence on the high street or pack up her dream of owning a shop altogether.
A shop was the dream, but a Toy Shop was the 'fantastic dream'. Once Jo had decided to take the leap, things seemed to fall into place. Jo's daughter spotted an ad on gumtree for a store to rent in Bristol that was perfect for Jo's budget. She told her Mum immediately and within two weeks, Little Treasures was open. 'I'd opened my first ever shop, it took two weeks, it was nuts!' she tells us. The business has been a real success and since opening she has moved into a bigger property in a better location.
Even though owning a shop had been a lifelong dream for Jo, she says she's so glad that she waited until she was over 50 to do it, 'I have the patience and the courage to do it now' which is something that comes with age, she says. Her best advice is to take life by the horns, 'it doesn't matter how old you are, it doesn't actually matter that you've hit 50 or 60 or whatever age you are, take what you want out of life because you only get one chance' she adds.
Just because you're 50 doesn't mean that you can't do anything, and it doesn't mean you have to get into a little box and fade away. Do whatever you like.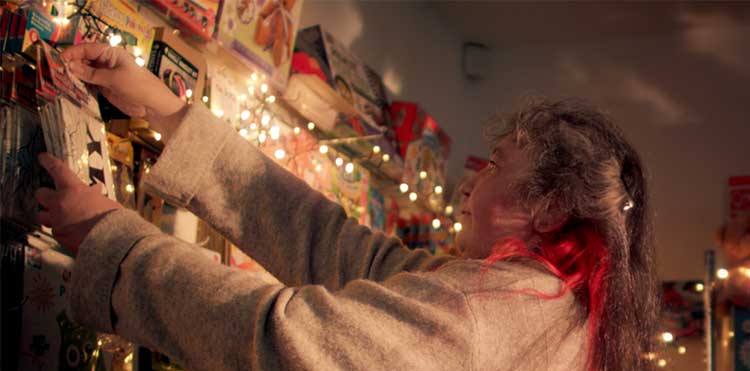 Ahead of her busiest time of year, Jo has transformed her shop into Santa's Grotto for local kids. 'Christmas is the most magical time to own a toy shop and I absolutely love it. I go to all the toy fairs and spend far too much money and can't wait to get back to put them in my shop." Jo says that her shop is full of toys that she loves personally, and she always makes sure that her toys encourage play and creativity without the use of technology.
Owning a toy shop means that Jo continues to work with children, which is something that brings her massive joy. She tells us that 'helping them choose their toys and find exactly the right thing for them, that's probably the best fun that there is.'
Posted on 20 December 2017
Related articles
SunLife offers a range of straightforward and affordable products including over 50s life insurance, funeral plans, equity release, home insurance.