6 min read
Meet Elaine
Christmas can be a bittersweet time of year for some, particularly when you are older and, through no fault of your own, are lonely.
We stopped by Elaine's house in Bristol for a cup of tea and a crumpet to ask her why she continually helps her 89 year old neighbour Beryl, why she has her over for Christmas every year, and how we can help tackle loneliness in our own local communities.
Introduce yourself to us, Elaine!
My name is Elaine Gibson, I'm 64 years old, but inside I still feel 17!
I think you've got to be in tune with yourself, and I knew who I was at 17 because I started nursing and you had to grow up pretty quick.
I just love having fun and embarrassing my daughter by the way I dress or the way I look. I don't do make up, I don't do modern. I just do me.
Talk us through your typical day with Beryl
Beryl has been coming for Christmas dinner for 13 years. When Beryl's Mum died, I just wondered what she'd be doing. She said she'd be on her own so I didn't even think twice about having her over – one Christmas she came over in leather trousers! She's quite trendy.
So from then on, I started to help Beryl with her shopping, but now I run errands with her and we go out for meals together. We have a chat, and she gives me her shopping list, which always says at the end 'P.S. Have I forgotten anything?'! I'll cook her meals, in particular every Sunday. She eats lots of frozen meals so when I cook for her I know she's getting a balanced meal. She'll eat anything even though she's pushing 90!
Unless you've lived alone, how can you know what it feels like to be in your home 24 hours a day, with nobody there, just the television blasting out for company? She enjoys being with me and having the company and I enjoy hers too. I love older people. They're like walking history books. You can sit and talk to them about anything!
What would you tell someone who is thinking about helping someone who could be lonely?
I think we should all take responsibility for who is living next door. You don't have to be old to be lonely, you can be young and lonely too. We all are so busy with our lives, we don't actually see each other, properly see each other.
If I was living here by myself, would anyone bother me? They probably wouldn't and I think that's where society is going wrong, isn't it? Nobody looks around, you're too busy, you're running to work, getting to the nursery, you're doing this and that but, even when I was too busy doing all that, I still found five minutes to go and be nice to somebody.
When I first moved in, I knocked on all my neighbours doors to say hello. It's about building your own community and not many people do that kind of thing these days, so people are more lonely now than ever before. And it doesn't take much to say hello and smile at someone on the street.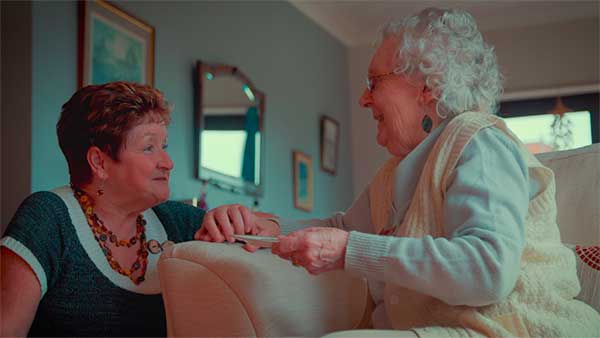 Now tell us more about you! When did life begin again for you and why?
When I left my first husband and met Michael. We got married in 1999 and in those years I've been happier than ever. When you're young you want love and romance and flamboyance. But when you grow up, it's a different kind of love. You want more companionship, to be loved for who you are and not who you're expected to be. When you're in love before, you're young and had children and worked and life was a little harder than it is when you're older.
What's the best life lessons you've learnt?
I've worked in care roles my entire life. My whole career since I was 17 is with older people. They've taught me you need to be open and honest and actually try to understand each other and think about what it must be like to be in that other person's shoes.
Have you talked about your funeral?
I've got it all written down in a drawer in my front room. Michael and my daughter don't like talking about it. What I want is for my body to go to research. I do not want a pompous coffin, I want something simple. And I don't want flowers. I want to be cremated and I'm thinking about where I'd like the ashes to go… Either my garden or the beach in Sunderland. I'd like a service of remembrance, not a funeral service thank you very much. I've written a letter to be read out of what I thought and how I've perceived my life. I'll add to it if I live a long time. There's special messages for people in there, if they're still alive. I've filled out My Perfect Send-Off too!
Why have you made all these plans?
Because you don't know when you're going to die. You could die at any age. I realised I wasn't getting any younger and funeral planning was playing on my mind. I've made it to 64, what if I don't make it to 74? It doesn't matter that I'm dead, I want to make my own choice about what happens to my body. Why should somebody else make that decision for me about what I want? Even in death, I want what I want, and if they don't do it, they'll be haunted! (laughs) I wouldn't mind being turned into a tree actually.
Best thing about getting older?
The best thing is your life experiences. You naturally sit here and think 'what I was like when I was my kids' age?'. It's reliving those memories through what you see around you. Like when you see the grandchildren doing things you used to do as a child – it's like reincarnation.
Highlights of your life so far?
There's got to be three: births of children, getting married to my current husband and the births of my grandchildren. Being at the birth of my grandchild… you just can't believe it when it happens!
What do you wish you'd done 10 years earlier?
Got divorced! (laughs) Sorry, but it's the truth! But then again, I might not have met the love of my life when I did.
What would you tell your younger self?
Be honest and true to yourself, and enjoy life.
Any Regrets?
No. Sometimes you can go through life and when you've had pain, at the time it's bloody awful, but then you get over it, you look back and you realise you wouldn't have been able to progress in life.
An estimated 51% of all older people live alone in the UK. If you've been inspired by Elaine's story, and are looking for a way to help loneliness in your local area, Community Christmas may be able to help. Started in 2007, the charity helps elderly people, who are alone on Christmas day, connect with organisations who are putting on a Christmas day dinner in different communities up and down the country.
So if you fancy giving up some of your Christmas day, head to Community Christmas for more information on how you can help fend off loneliness in the older generation over a slice of turkey and some Christmas pudding.
Posted on 9 December 2016
SunLife offers a range of straightforward and affordable products including over 50s life insurance, funeral plans, equity release, home insurance.