20 famous celebrity resting places
Last updated 15th September 2023
Visiting celebrity resting places might seem like an odd thing to do.
But for lots of us, going on a pilgrimage to celebrity graves is a way of paying our respects.
After all, these people changed the course of history – and they often changed our lives in the process.
Our map shows 20 of the most famous celebrity resting places around the world.
From Elvis Presley's grave (visited by 600,000 fans a year), to David Bowie's secret resting place in Bali, there's a grave-side haunt for everyone.
Who would you most like to pay tribute to?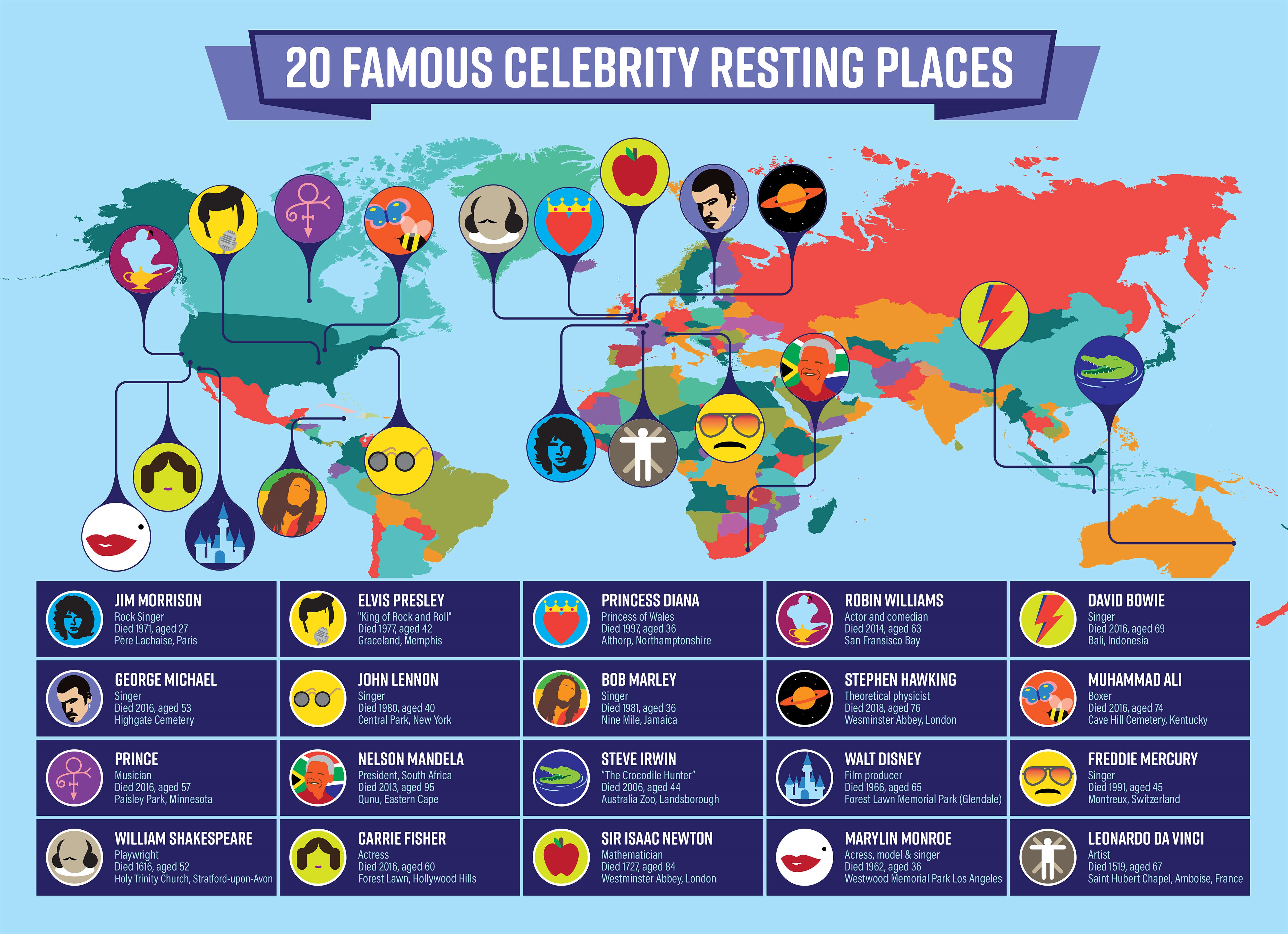 1. Jim Morrsion – Père Lachaise Cemetery, Paris
The Doors' singer lies in France's most famous graveyard, alongside other celebrities like Oscar Wilde.
Over the years, visiting fans have left tributes and affectionately graffitied the grave. Someone even stole the bust of Morrison's head that rested there.
Now it's protected by a metal fence, but you can still pay your respects from a distance.
2. Elvis Presley – Graceland, Memphis
It may have been over 40 years since Elvis passed away, but clearly people still can't help falling in love with The King.
His grave is one of the most visited resting places in the world. Over 600,000 people a year turn up to pay their respects.
The site is always surrounded by flowers, teddy bears and other mementos. And it's not unusual to see fans nearby singing his songs in dedication.
3. Princess Diana – Althorp, Northamptonshire
Princess Diana had a special place in the hearts of the British people. The UK went into national mourning when she died tragically in 1997.
Her resting place sits in her family estate, Althorp, on a small island in the middle of a lake called Round Oval.
While no one is allowed to set foot on the island, there's a memorial nearby that people can visit in summer.
4. Robin Williams – San Francisco Bay
Williams' ashes were scattered by his family in San Francisco Bay, off the coast of Marin County.
He dearly loved the area, which he had lived in for almost 50 years. So it's a fitting final resting place for the actor and comedian.
5. David Bowie – Bali, Indonesia
Ever since Space Oddity hit the radio waves in 1969, David Bowie has inspired millions with his era-defining music and wild fashion.
We weren't surprised to hear that his final resting place was anything but standard.
Bowie's ashes were laid to rest somewhere on the Indonesian island of Bali, in line with Buddhist rituals. Only his wife and children know exactly where he now lies.
6. George Michael – Highgate Cemetery, London
Wham! star George Michael is buried next to his mother, Leslie, in a prestigious cemetery close to his home.
His grave is off-limits, even on the cemetery's paid tours. His family chose a plot behind a brick wall and thick trees, so it can stay private.
Fans have instead resorted to building shrines outside their hero's home in Highgate.
7. John Lennon – Central Park, New York
This beloved Beatle didn't have an official funeral. His wife, Yoko Ono, scattered his ashes in Central Park.
In 1985, five years after his death, the park opened a 2.5-acre area called Strawberry Fields as a tribute to Lennon.
The memorial is lined with elms, and is a quiet zone where fans can pay their respects.
8. Bob Marley – Nine Mile, Jamaica
Marley's resting place isn't quite like other any other. It's his childhood home, a museum and a grave all in one.
Thousands of fans flock there every year. Especially on his birthday in February, which was named a national holiday by the Jamaican government.
Every year, a music festival is held at the site in his honour, helping the reggae icon's legacy to live on.
9. Stephen Hawking – Westminster Abbey, London
Professor Hawking was one of the world's most famous theoretical physicists. So it seems right that his ashes were laid to rest between Sir Isaac Newton and Charles Darwin.
After his service, scientists even beamed a recording of him talking about peace and hope to our nearest black hole.
25,000 members of the public applied to go to his funeral. 1,000 of them attended, along with a host of scientists, politicians, musicians and actors.
10. Muhammad Ali – Cave Hill Cemetery, Kentucky
Muhammad Ali's family thoughtfully placed his grave on a hill facing the sunrise, in his home town of Louisville.
His resting place is visited by around 150 people a day. The two benches either side mean that fans can sit and pay their respects to the legendary boxing champion.
11. Prince – Paisley Park, Minnesota
When Prince died in 2016, fans around the world were left bereft. Thankfully they can now visit his Paisley Park estate, where his ashes are kept.
His urn was co-designed by the music legend's sister and nephew. It's a miniature replica of the Park, decorated with his famous 'love' symbol (which is purple, of course).
12. Nelson Mandela – Qunu, Eastern Cape
Mandela inspired countless people around the world to fight for freedom. When he passed away at age 95, millions of people went into mourning.
He was laid to rest in Qunu, at the home of his ancestors. For a while, his grave was only open to close family and friends.
As a celebration of 100 years since Mandela's birth, his resting place was opened to visitors for the first time.
13. Steve Irwin – Australia Zoo, Landsborough
The Crocodile Hunter taught countless people about some of the world's deadliest animals.
When he was killed by a stingray barb at age 44, his body was buried at his beloved Australia Zoo.
The Prime Minister suggested holding a state funeral for the wildlife guru, but his family decided not to. Irwin's father said his son would rather be remembered as an 'ordinary bloke'.
14. Walt Disney – Forest Lawn Memorial Park, Glendale
Some people believe that Walt Disney had his body frozen, waiting for the day when medical science could reanimate him.
In fact, he was cremated and his ashes laid to rest in Glendale, California.
While the modest site is hidden away, fans often seek it out and leave touching tributes to the animation star.
15. Freddie Mercury – Montreux, Switzerland
This powerful statue of one of pop's greatest legends isn't actually a grave.
It's the Swiss town's tribute to the singer, who settled and recorded his last album there.
Freddie Mercury's actual grave is still one of music's biggest secrets. Only his ex-girlfriend, Mary Austin, knows where it is.
However, after fans found a plaque in Kensal Green Cemetery in West London, the site is now considered by some to be his resting place. But this has never been officially confirmed.
16. William Shakespeare – Holy Trinity Church, Stratford-upon-Avon
Shakespeare's grave is unique on this list – it's the only one that has a curse on it.
In the Bard's day, relic hunting was common. He knew that his fame might encourage people to dig up his bones.
So he wrote "Blessed be the man that spares these stones, And cursed be he that moves my bones" to be placed on the grave as a warning.
17. Carrie Fisher – Forest Lawn, Hollywood Hills
Carrie Fisher's ashes were buried with another celebrity – her mother and 'Singing in the Rain' star, Debbie Reynolds.
The Star Wars icon was never one to follow the herd, so her sister chose an urn in the shape of a giant Prozac pill.
Meanwhile, fans made their own memorial for her on the Hollywood walk of fame, with the words "May The Force Be With You, Always".
18. Sir Isaac Newton – Westminster Abbey, London
One of the world's most renowned mathematicians lies just a few paces away from Stephen Hawking.
The abbey had a monument built for him in 1731, four years after his death.
It's an extravagant affair, with mathematical pictures, cherubs and a huge globe to represent his scientific achievements.
19. Marylin Monroe – Westwood Memorial Park, Los Angeles
Monroe's on and off partner Jo DiMaggio made sure the screen star's funeral was a private affair. At the time, Westwood Memorial Park was a quiet resting place.
But because of Monroe's presence, it became a popular choice for celebrity burials.
Her tomb is easy to spot, too. It's a different colour to the others, thanks to lipstick marks left by thousands of adoring fans.
20. Leonardo da Vinci – Chapel of Saint-Hubert, Amboise
One of the world's most renowned artists lies in a tiny chapel in France.
When he died in 1519, da Vinci was buried in the church of Saint-Florentin, but it was demolished.
In 1863, his bones were moved to the chapel of Saint-Hubert, which is still visited by admirers from around the world.
The thoughts and opinions expressed in the page are those of the authors, intended to be informative, and do not necessarily reflect the official policy or position of SunLife. See our Terms of Use for more info.