You still own your own home with a lifetime mortgage
Lowest rate of 2.97% available^
It's simple, really. Equity release lets you get cash from the value that's tied up in your home. And you don't have to move house or downsize. It's a popular way to get the money you need to enjoy the retirement you deserve.
5 key reasons why equity release is becoming
so popular:
The money you release is tax free
You can still own your home
There's no need for monthly repayments
You can use the money however you wish
You can take the money in one lump sum or smaller installments
To find out how much equity you could release tax-free, call our helpline today.
Friendly UK team
Find out if you qualify
No obligation to purchase
Or if you prefer, you can request a free guide that tells you everything you need to know about equity release.
How much equity could
I release?
The amount of equity you can release depends on your age, house value, and on how much of your mortgage is paid off. Most people release between 20-50% of the equity in their home, typically between £10,000-£100,000.
Because house prices have risen over the years, the equity you have in yours could be significant.
For example, if your home is worth £250,000 and you have an outstanding mortgage of £50,000, you would have £200,000 equity.
To find out how much equity you could release, try our 60 second calculator below.
What are the different types of equity release?
Lifetime mortgage
The most popular way to release equity is with a lifetime mortgage.
This is a loan secued on your home. You still own your house and there is no requirement to make monthly repayments.
Instead, the loan and interest are repaid when your home is sold, which is usually when you pass away or move into permanent care.
The are different types of lifetime mortgages.
Roll-up lifetime mortgage
This gives you a cash sum with no monthly payments.
Drawdown lifetime mortgage
This lets you release your cash over time rather than just taking one lump sum. So you can access your cash when you need it, and interest is only charged on the amount you've taken.
Interest-only lifetime mortgage
This lets you access a cash lump from your home, but rather than rolling up interest over the years, you pay off a certain amount of interest monthly.
There are other types of lifetime mortgages available, plus home reversion (where you sell all or part of your home).
What are equity release interest rates?
At the moment, equity release interest rates are at the lowest rate in five years. On average, people who use the SunLife Equity Release Service access an interest rate of 3.68%, however depending on your circumstances rates can be lower than 3%.
This table shows an example of how interest could grow on a roll-up lifetime mortgage, where interest compounds yearly.
The original loan is £50,000 and the interest rate is 4%.
| Year | Loan | Interest at 4% | Total owed |
| --- | --- | --- | --- |
| 1 | £50,000 | £2,000 | £52,000 |
| 2 | £52,000 | £2,080 | £54,080 |
| 3 | £54,080 | £2,163 | £56,243 |
| 4 | £56,243 | £2,250 | £58,493 |
| 5 | £58,493 | £2,340 | £60,833 |
This loan will be repaid from the sale of your home, either when you pass away or move into permanent care.
Interest rates depend on your age and circumstances, and with some plans give you the option to make repayments. Call us on
0800 633 55 66 to talk to an expert adviser about your options.
You might be reassured to know that today's equity release market is regulated by the Financial Conduct Authority.
Our expert partner, Age Lifetime, is also a member of the Equity Release Council. They are a trade body whose members must follow a strict code of conduct.
Their safeguards include:
A 'no negative equity' guarantee, meaning you'll never owe more than your house is worth – so you won't leave your family in debt.
The right to live in your home for life or until you move into permanent care.
Could equity release leave my family in debt?
There's no need to worry. The amount owed will never be greater than the value of your house, so you can't leave your family in debt with equity release (even if your house falls in value). The debt will be repaid from the sale of your home, either when you pass away or move into long-term care.
In fact, you could ringfence some of your home's value to leave as a legacy. So while you can't leave your loved ones your property, you could leave them a cash inheritance, just make sure to tell your financial adviser you'd like to do this.
The pros and cons of
equity release
Equity release isn't right for everyone, so it's important to understand the pros and cons. We've outlined a few of them below, but it's important to get advice from a financial adviser before making any decisions.
Pros
Tax-free cash for retirement
Stay in your own home
No need for monthly repayments, although you can choose to with some plans available
You can't owe more than the value of your home, so you won't pass on debt
Cons
Reduced inheritance for your family
Interest is added and can grow quickly
Benefits may be affected as your income and/or savings will increase
There may be fees to pay (You can use some of the money you release to cover this)
Releasing equity with SunLife usually takes around 8-12 weeks. There are just five simple steps:
Call our friendly team on 0800 633 5566 for your free eligibility check.
Speak to a qualified financial adviser.
Fill in your application – your adviser can help you with this.
Talk to a solicitor.
Get your money to spend as you wish.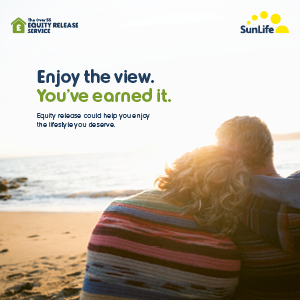 SunLife's equity
release guide
Our simple guide to releasing equity tells you everything you need to know. Simply, request your guide below.
Important information
90% of lifetime mortgage customers release equity within £10,000 – £100,000 or more. The amount released will depend on your age and value of your property.
You continue to own your house with a lifetime mortgage which is a debt secured against it. The value of equity released, plus accrued interest, is to be repaid upon death or moving into permanent long-term care.
If you have an existing mortgage, you must use the money you release to pay it off first.
With over 200 years' experience we know what makes great service. That's why we're a Feefo Gold Trusted Service Provider for the fourth year running.
But don't take our word for it, see why people like you have given us 4.8 stars for our service. Based on 3954 reviews over the past year.
Explore more on
equity release
Our best tips and tools will help you consider equity release and plan for your future.
Answers to your questions
To find out how much equity you could release tax-free, call our friendly UK team today.