10 hobbies for a happy, healthy retirement
Last updated 17th February 2023
5 min read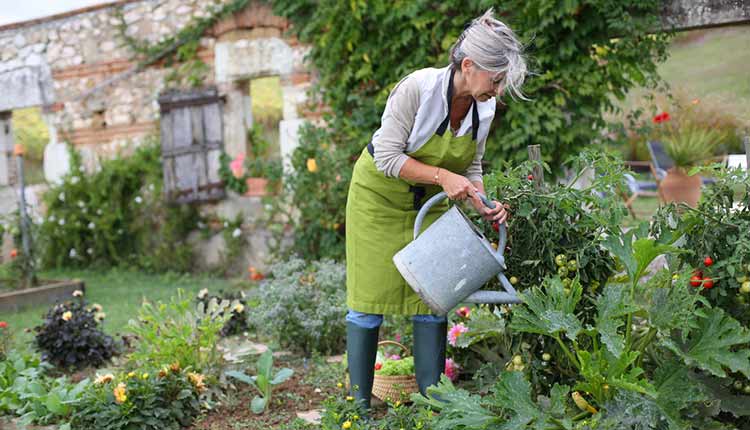 Reaching retirement age opens up a whole new chapter in life. There are fresh experiences to be had, friends to be made and new hobbies to explore. Even better, choosing the right pastimes can keep you in good shape, both physically and mentally.
Not only do they let you connect regularly with family and friends, but they give you an excuse to get out of the house and feel you've achieved something. In short, they can be great for your overall wellbeing and happiness.
To give you some inspiration, we've put together a list of activities you might want to consider exploring. So let's get started...
1. Gardening
Getting some dirt under your nails is a relaxing way to benefit both your mental and physical health. It can be hugely satisfying, too. Imagine biting into a sweet cherry tomato ripened in your garden, or arranging some scented home-grown flowers in a vase.
Convinced you don't have green fingers? Don't let it put you off. These days, there are so many online tutorials (try searching on YouTube). Start small, and see where it takes you. You can also get the grandkids involved, perhaps planting something like sunflower seeds or cress.
If you enjoy gardening, you could even rent an allotment from your local council, or join a local gardening club. Community gardening is a great way to combine your new favourite activity with a chance to get out and meet new people. The Royal Horticultural Society (RHS) website(opens in a new tab) has a handy tool to help you find a group near you.
2. Walking
Walking is a great way to get some fresh air and exercise. As well as helping you maintain a healthy weight, it's a fantastic mood-booster. Best of all, it costs nothing – and you can make it as brisk or sedate as you like.
There are many ways to fit walking into your daily life, but you can also turn it into a fun activity with friends. Walking groups are becoming more and more popular, due to the appeal of both exercising and socialising combined.
Why not make your walk more challenging by choosing a rambling route, or break your journey with a stop at a local pub for some good old pub grub? And don't let the good old British weather spoil your plans – keep some waterproofs at the ready, lace up your hiking boots, and go!
And if you'd like a little extra support while you walk, you could always try 'Nordic walking' – like Gary, 65, and Liz, 68...
3. Musical instruments
Learning how to play a musical instrument takes time and dedication, but it can be really rewarding. It could also help to increase your confidence, patience and your memory.
Whether you've had music lessons before, or you don't know your brass from your oboe, there'll be a teacher to suit your level.
As with many other hobbies, learning an instrument can also be a social activity. While learning, you'll get plenty of time to get to know your tutor. And once you've got a bit of practice under your belt, you could think about joining a band or an orchestra.
4. Pub quizzes
What better way to spend an evening than at a pub quiz? It's a perfect excuse to catch up with friends, grab a pint if you like and test your general knowledge. (It's not Mastermind, so an expert knowledge of 90s pop stars or World Cup history is completely optional).
Get together and come up with a funny group name. The best part is that you can do it every week – and you might even win a prize.
5. Puzzles
Puzzles are perfect for giving your grey cells a good workout. They're also great activities to share with friends or family members. Choose from crossword puzzles, word searches, or give a jigsaw a go.
You could even download some puzzle games to play on your tablet or smartphone. Many of these apps will let you play with, or against, your friends. Warning: if you've got a competitive streak, you might find you enjoy them a bit too much…
6. Exercise classes
We all know regular exercise can boost circulation and immunity, improve our mood, and reduce stress levels. You might already be a seasoned gym-goer – or perhaps you haven't done an exercise class since you sweated along to a Jane Fonda workout video sometime back in the 80's. It doesn't matter.
Just head down to your local gym or pool and pick a class to try. Salsa, water aerobics and yoga are all excellent, low-impact sports for a more active lifestyle. You might be surprised by how good they can make you feel.
7. Arts and crafts
Creating something from scratch can help to increase your self esteem, and you'll feel a sense of pride and satisfaction when you finish each of your projects. You could join a sewing class, learn how to embroider, or get involved in your local community centre and create decorations for events.
Crafting is also a great way to spend time with grandkids. Most children love to get creative with hands-on activities. Go online and check out Pinterest for some age-appropriate ideas.
8. Board game night
If you enjoy a good board game, why not set up a board game night with your friends? Ask everyone to bring a game and a snack, and settle down for the evening. From chess to Monopoly to Pictionary, there's something for everyone, and you can make it a regular date in the diary. These kinds of nights can be great fun – and give you an excuse to check in with others.
9. Pen pals
Remember the excitement of getting a letter from a friend through the post? These days, very few people use a pen and paper to communicate. Emails and texts don't quite have the same personal touch, do they?
You can find pen pals online through a website like Global Pen Friends(opens in a new tab), and write to them either weekly or monthly. It's a great way to feel connected to others whilst giving you the chance to write about how you're feeling.
10. Cooking
Cooking is a great retirement hobby, giving you the opportunity to hone your skills and enjoy a tasty meal at the end. Websites like BBC Good Food(opens in a new tab) can be a good place to find simple recipes.
You could try cooking with friends and family, and even host a dinner party to show off your cooking skills. Not only will you learn how to put together delicious new dishes, but it can also bring you closer to the people you love. Even if your efforts end in culinary disaster, you can laugh about it over a glass of wine - and try again next time!
How SunLife can help
This guide has offered some tips on retirement hobbies that have been shown to help with your mental health and overall life satisfaction. If you've found this post useful, take a look at some of our other guides:
As you approach retirement and beyond, SunLife offers a range of services that may be of use to you:
The thoughts and opinions expressed in the page are those of the authors, intended to be informative, and do not necessarily reflect the official policy or position of SunLife. See our Terms of Use for more info.