How to have a happy retirement
Last updated 16th September 2022
6 min read
Retirement is a big adjustment for anyone, and it's natural to feel a bit lost or unsure of what to do with your new free time. Of course, there's no right or wrong way to spend retirement, but there are ways to make sure you're getting the most from your golden years.
If you're worried about financing your retirement, you might be interested in managing your money more carefully in later life, or how to make money in retirement.
Think retirement is boring? Maybe you're doing it wrong
Whether you're retiring early or have worked way longer than you imagined, retirement can be what you want it to be.
For some, that's winding down and relaxing, for others it's being busier and doing more than you've ever done.
Make it an enjoyable adventure spent doing the things you love, exploring the places you always dreamed of, and keeping your calendar topped up.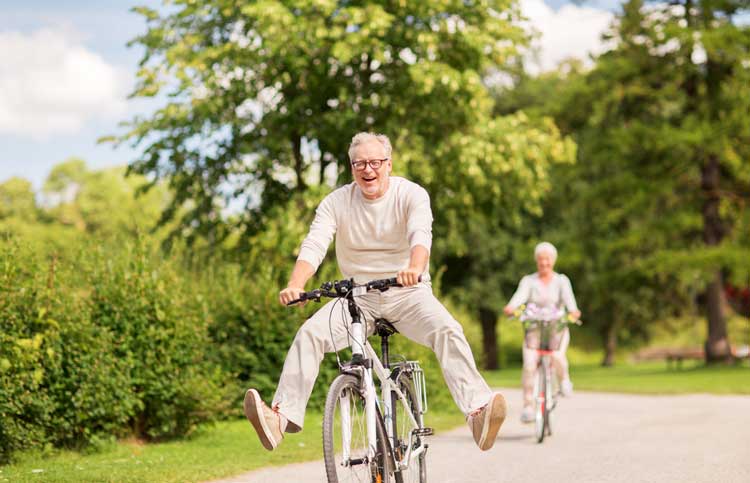 What's the secret to happiness in retirement?
Retirement can be daunting.
It's a time when you'll need to be good with your money and spending. And not going to work everyday can make you feel like you've lost a sense of purpose.
But, retirement isn't what it used to be.
Nowadays, retirement is seen as a new, exciting chapter in our lives.
For a lot of us, retirement is the first time (in a long time) where we can do what we want, no questions asked.
We're healthier and living longer than ever, so it's the perfect opportunity get stuck into new things.
As this new chapter arrives, you should be looking forward to happiness in retirement.
Here are our top 5 tips for making the most of your retirement:
1. Plan your retirement paydays
Planning your paydays will help you worry less about running out of money in retirement.
By estimating your likely retirement income(www.moneyhelper.org.uk opens in a new tab), and making a budget for your regular expenses, you can judge how much you can afford to spend on things like hobbies, activities or trips.
If you're not sure what kind of new hobbies you might want to take up, knowing your budget can be a great place to start, to help narrow down the options.
2. Discover new hobbies
Hobbies not only fill up your time but can also keep you physically and mentally healthy.
The more hobbies you have, the wider your social circle will become.
You might want a hobby that keeps you active, like a sport or walking group. Or perhaps something that exercises your mind, like learning a new skill or language, or even taking a course in a topic that interests you. Maybe you just want to relax and meet people with something like a cinema club or Knit and Natter group.
Maybe there's something you've always wanted to try but never had the chance. From BMX racing to scuba diving, we've met many retirees whose hobbies may surprise you.
3. Set goals for yourself
Having goals in place will help you focus your mind and give you something to aim towards.
Do you want to learn a new skill, travel, or get back into an old hobby?
Think about what you want to achieve, write it down, and make plans for the next year and beyond.
4. Keep your diary busy
Having things to look forward to is always important in life.
Keep your dairy booked up with days out and quality time with friends and family. You can even schedule days for yourself, setting aside time to see a show or visit somewhere new, or even just relax in the garden.
A happy retirement is a busy one!
5. Embrace adventure
Retirement's the time to finally tick off those bucket list items you couldn't do before, because of work or family commitments.
If you don't do them now, when will you? Create new memories and follow wherever adventure takes you.
What to do in retirement
This new period in your life is about enjoyment and exploration.
Make time to visit family, discover new places, and find new hobbies, and you'll be well on your way to a happy retirement.
Bucket list ideas
During our working years, it's hard to find time for adventure.
Now you're retired, though, there are no excuses. No 'ifs', no 'buts'.
Here are a few examples if you're in search of some bucket list inspiration:
Take a leap of faith
Why not give a bungee jump a go in your retirement?
Get your heart racing with an exhilarating fall and show the grandkids your daredevil side.
Head below the surface
Visit a recognised scuba site and explore life under the sea.
If you don't fancy going through the training of scuba diving, snorkelling can be just as rewarding.
Meet Maureen, a 59 year old diving and extreme sports enthusiast.
Visit a faraway land
The world is an extraordinary place, so spend your retirement exploring its far-flung wonders.
You can't say you don't have the time!
Great jobs to do during retirement
The idea that you need to stop working after retirement is wrong.
According to the Office of National Statistics(www.ons.gov.uk opens in a new tab), almost 1.5 million Brits over state pension age are still working after retirement.
It doesn't have to be the job you had before retirement age, but it can be healthy to keep working in some capacity.
It could be volunteering or putting a long-held business plan into action.
Use your skills and experience to make some extra cash.
Volunteering
The experiences you've had throughout your life can be used to offer support to charities or communities.
It's a great way to meet new people and can be incredibly rewarding.
Coaching or mentoring
Everything you learnt in your career is invaluable.
Using your professional knowledge, you could help others develop their own careers and businesses.
The government even encourages mentoring to help economic growth, as they appreciate the value of retirees.
Starting a business
You might have always wanted to start your own business, and it's never too late to realise that dream.
Being that little bit older, wiser, and more experienced gives you an advantage too.
Meet Jo, a toy-shop owner who pursued her dream of opening a shop at 54 years old.
Childcare
Expensive childcare costs make your help as a grandparent priceless.
Spending quality time with your grandchildren will be sure to keep you on your feet.
Did you know you could earn money looking after your grandchildren too?
Grandparents who provide regular childcare and support could be entitled to childcare credit(www.gov.uk opens in a new tab).
Best places to visit in retirement
Nowhere in the world is off limits.
Some retirees spend their new freedom and time exploring the world, while others choose to live at home over summer and venture abroad somewhere warmer during winter.
The best places to retire to in the UK
The UK offers something different at every turn.
Why not make a change and move somewhere different in your retirement(www.unbiased.co.uk opens in a new tab)?
Witshire has been named one of the happiest places to retire(metro.co.uk opens in a new tab), with low crime rates and great affordability. Not to mention the beautiful countryside and historic towns.
In the north, Liverpool is considered a great spot, down to its choice of pubs and cafes for socialising, as well as cheap living.
The best places to retire in Europe
If you're in search of something abroad, there are a few things to consider.
When retiring in Europe, think about cost, life expectancy, weather, and crime rate.
Portugal is considered the best country to spend your golden years(www.forbes.com opens in a new tab), with its hot climate and low cost of living.
While Switzerland isn't far behind with one of the lowest crime rates in Europe and the highest life expectancy.
Retirement hobbies to take up
In retirement, you can begin to enjoy the things you never had much time for when you were younger.
It's also a great time to take up some new hobbies and find talents you never knew you had.
Here's some hobby ideas that'll help you stay active and keep your mind sharp.
Active hobbies
Yoga or Pilates
Golf
Salsa or ballet
Hiking
Cycling
Fishing
Running
Horse riding
Open-water swimming
Tennis
Squash
Rowing
Join a gym
Gardening
Surfing or paddle boarding
Camping trips
DIY
Healthy mind hobbies
Learn a new language
Brain teasers
Jigsaw puzzles
Draw or paint
Pub quiz
Knitting
Write a book
Learn to play an instrument
Meditation
Reading
Boardgames
Baking
Colouring
Pottery
Card games
Our final retirement tips
Here's our final tips for a long and happy retirement:
Do what you want
Do things for others
Have a positive mindset
Challenge yourself
Do something new
Relax and unwind
Always have something to look forward to
Set yourself goals
At SunLife, we embrace getting older.
That's why we've met and filmed and amazing over 50s who are living life to the full.
Watch our welcome to life after 50 video and get inspired today.
Where to get retirement advice
Retirement isn't always easy to adjust to.
There are plenty of things to think about, but also a lot to look forward to.
Before making the decision to retire, it's worth speaking to your family and seeking advice.
To get advice you can:
As you get older, there are loads of ways you can save money, from discounts to freebies.
Read our guide to the best freebies and discounts for over 50s and get started today.
The thoughts and opinions expressed in the page are those of the authors, intended to be informative, and do not necessarily reflect the official policy or position of SunLife. See our Terms of Use for more info.