Modern Slavery and Human Trafficking
The Phoenix Group remains committed to addressing modern slavery, servitude, forced labour; and human trafficking in all its forms and carrying out our business in a fair, honest, ethical and open manner. The Group's sourcing and procurement policy requires that all colleagues understand all potential modern slavery and human trafficking risks related to our business and act to address these risks. In addition, the Group operates a number of employee policies to address the risk of modern slavery and human trafficking within our business.
As required by the Modern Slavery Act 2015 (the "Act"), this statement describes the steps that the Phoenix Group has taken during the financial year ended 31 December 2019 to prevent modern slavery from taking place in our supply chains and within our own business.
About Phoenix
As the largest life and pensions consolidator in Europe, Phoenix specialises in the acquisition and management of closed life insurance and pension funds. This is our Heritage business. Transactions in the bulk purchase annuity market offer a complementary source of growth for the Group and the management actions we deliver help increase and accelerate cash flows.
Alongside this, we have an open business which manufactures and underwrites new products and policies to support people saving for their future in areas such as workplace pensions and self-invested personal pensions.
This open business is supported by the strategic partnership with Standard Life Aberdeen plc. We also have a market leading brand – SunLife – which sells a range of financial products specifically for the over 50's market.
Scope of our review
Following the acquisition of Standard Life, the enlarged Phoenix Group has harmonised its human resources and procurement processes. As a result, our holistic approach encompasses and covers all wholly owned business as well as the Group's supply chain.
The Group operates a high degree of strategic partnerships and has a highly outsourced operating model as a result, that said, the risk of modern slavery in our supply chain is considered low due to the nature of our business. We are not however complacent to the risks in our supply chain as a result of this assessment. The Group's policies are targeted toward the prevention of modern slavery in our supply chain as well as our own business. Significant focus is placed on the appropriate management and oversight of our suppliers and outsourced partners; with a focus on those regarded as strategic or critical to the successful operation of our business.
We appreciate that there may be risks we cannot simply ignore within those suppliers we consider to be less critical to the business. As a result, we will be exploring how we can actively assess and mitigate risks in these smaller suppliers during 2020 and 2021.
Our policies and controls
Our employees continue to be subject to, and benefit from, a wide range of policies including, disciplinary, grievance, non-discrimination, remuneration and numerous compliance policies. The policies and frameworks that we have in place limit the risk of modern slavery and human trafficking in the workplace and encourage all staff to work and act ethically.
Our policies also reflect our commitments to pay employees fairly and properly for their work, act with integrity and ethically in all of our relationships and to corroborate the same level of commitment within our supply base.
Our employees and suppliers are encouraged to speak out should they encounter any wrongdoing, including any concerns in respect of modern slavery. They are further supported by the Group's whistleblowing policy which provides a number of channels for concerns to be reported confidentially with appropriate action taken.
The risk of modern slavery is addressed and controlled specifically by our supplier management model, our code of business ethics and our corporate responsibility policy.
Key performance indicators
Newly implemented during this reporting period, The Phoenix Group now track key performance indicators relating to modern slavery and will continue to develop and implement further KPI's over time.
Staff trained to identify and address modern slavery concerns: All key stakeholders have undergone appropriate training to identify and address any modern slavery concerns. This will be rolled out to all members of staff by the end of 2020.
Cases of modern slavery discovered internally or in our supply chain: To date, no instances of modern slavery have been identified.
On site risk assessments conducted for material partners: To be reported from 2021.
Tackling modern slavery through due diligence and ongoing risk assessments
The Group operates a highly outsourced operating model and the risk of modern slavery in our supply chain is considered low due to the nature of our business. However, this assessment does not give rise to complacency. The Phoenix Group employs three routes to assess the risk of modern slavery within our supply chain:
Route one – Our due diligence guidelines require that any potential suppliers with an annual turnover in excess of £36m have a published modern slavery statement and policy
Route two – Even though those suppliers with an annual turnover below £36m are not obliged to publish their own transparency statement, we require that they provide a copy of their modern slavery statement for review prior to appointment
Route three – These business relationships are then appropriately monitored, proportionally to their potential risk. Additional reviews are conducted whenever material changes which may increase the risk profile are implemented.
Treatment – If any indications that modern slavery is taking place within our supply chain are identified, we will take appropriate steps to eliminate the risk
Securing our business against the threat of modern slavery in the future
To ensure our business continues to prevent modern slavery in the future we will take a number of key steps to improve our processes and risk assessments:
Step 1 – We will ensure that 100% of our UK staff are trained to identify instances of modern slavery and to report their concerns
Step 2 – We will begin conducting on site risk assessments on our supply base from 2021 for material partners
Step 3 – We will review our approach to determine whether any of our processes need to change to meet the challenges of a post-COVID19 environment
Step 4 – We will consider the application of enhanced reporting tools for monitoring our supply base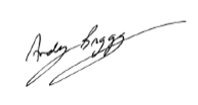 Andy Briggs
Group Chief Executive Officer
30th June 2020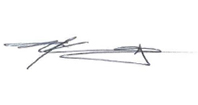 Tony Kassimiotis
Group Chief Operating Officer
30th June 2020