Over 50s football: benefits and how to get started
Last updated 17th March 2023
4 min read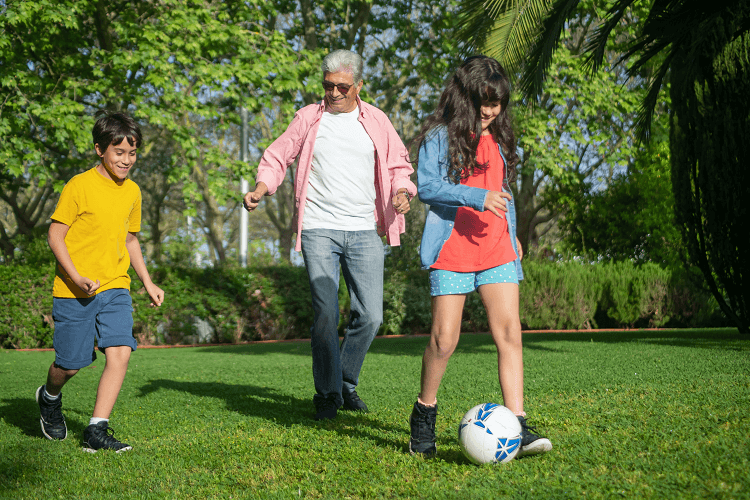 Over 50s football is a great way to get healthy, have fun with friends and try an exciting new hobby in later life.
Whether you hung up your boots some time ago, or you're wanting to try it for the first time, there are many ways to find the perfect football club for you.
In this guide, we discuss the health benefits of football after 50 and how you can get started – including the increasingly popular walking football.
The benefits of football in later life
Football is a fantastic form of physical exercise. Whether you want to play and train regularly or just play casually on the weekend, football can help to keep you fit and healthy(www.nhsinform.scot opens in a new tab). It can also boost your mental health and social skills.
Physical health benefits of football
If you're wanting to lose some weight, football can be a terrific sport to choose. A half-hour game of football can burn up to 260 calories(www.pushdoctor.co.uk opens in a new tab). And there are lots of other physical health benefits of football(www.nhsinform.scot opens in a new tab), including:
Improved cardiovascular health
Reduced body fat
Improved muscle mass and bone strength
Increased strength, stamina and speed
Mental health benefits of football
At the heart of football is teamwork and socialising. It gives us the chance to connect with like-minded people, helping us to make new friends and reduce loneliness in later life.
There are lots of other mental health benefits to football(www.nhsinform.scot opens in a new tab), including:
Improved depression symptoms
Stress release
Increased confidence and self-esteem
Reduced anxiety
How to get started with over 50s football
Football is a great game to play no matter your age, and it can make you feel like a kid again.
Whether you're a beginner, or haven't played in a few years, getting started with over 50s football can be easy if you know where to look.
Find a local football club you can join
You can find a local football team online or by looking locally.
There are many different websites that let you to search for football clubs by postcode. Here are a couple of sites you could try:
If that's not successful, typing 'football clubs near me' into a search engine can bring up local club sites and the training they offer.
Searching locally through word of mouth, social media or your community can be just as successful in finding football clubs.
Try asking your friends and family, or someone at your local sports clubs. You can also post on your favourite social media site. You'll be sure to find a club you can try to join.
Try walking football
Walking football is tailored to those over 50. People of all levels can play, and as the name suggests, you're not allowed to run or jog!
Its many benefits(thewfa.co.uk opens in a new tab) are similar to regular football, but there's much less pressure and less chance of discomfort and injury.
The Walking Football Association(opens in a new tab) is the only National Governing Body (NGB) for walking football in England. They have over 500 clubs in their club directory(thewfa.co.uk opens in a new tab) where you can find and get in touch with local walking clubs near you.
Play at home
Not everyone has the time or desire to join a football club or create a team, so playing at home can be a great way to get your football fill.
Simply by playing in your own or a friend's back garden, you can get all the benefits of football, without having to get involved with a team.
To play at home, it helps to have a few footballs, a football net and some cones – but the football is the only essential thing. Simply kicking about can be a great activity with grandchildren or friends.
If you're more focused on the health benefits than the competitive game, you can try doing some dribbling drills(www.youtube.com opens in a new tab) using cones.
Continue reading
If you've found this post useful, take a look at some of our other guides:
As you approach retirement and beyond, SunLife offers a range of services that may be of use to you:
The thoughts and opinions expressed in the page are those of the authors, intended to be informative, and do not necessarily reflect the official policy or position of SunLife. See our Terms of Use for more info.