The best friendship sites and groups for over 50s
Last updated 4th January 2023
5 min read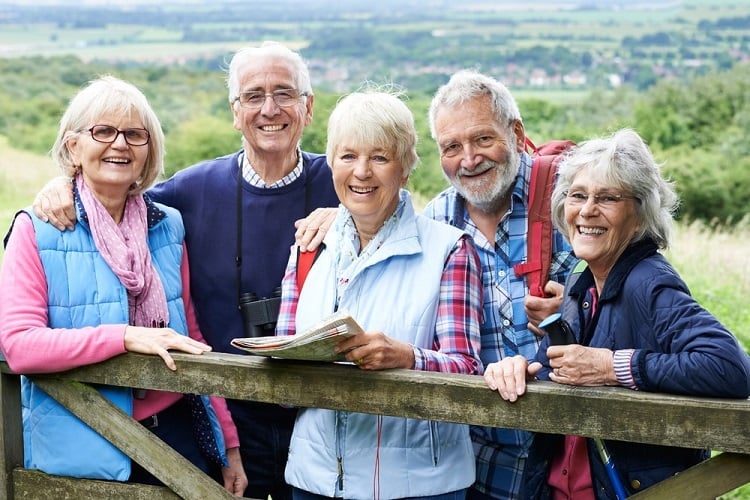 Making friends at any age is important, but it can be especially important as we get older. Some of us lose touch with old friends and family members in our later years, and making new friends can help us feel connected and supported. Friends can also provide companionship, help us stay active, and give us someone to talk to about the things that matter to us.
To help boost your confidence and empower you to build your own network of friends, this post explores exactly why over 50s friendships are so important and offers some tips for making friends in later life. It also highlights some of the best friendship sites for over 50s and discusses some alternative ways to find friends at this age.
Why are over 50s friendships important?
Social participation for older adults is one of the most important aspects of healthy ageing and has been directly linked to mental health and wellbeing.
According to a study(link.springer.com opens in a new tab), half of individuals over 60 are at risk of social isolation, with a third experiencing loneliness later in life. Unfortunately, this has been linked to cases of depression and dementia(evidence.nihr.ac.uk opens in a new tab).
While those figures sound daunting, feelings of loneliness and social isolation are reversible. There are plenty of things you can do to build a thriving social network, many of which we have listed below.
How to meet new friends over 50
There's no rulebook to follow when building friendships over 50 – however, we do have some general tips that may help if you're feeling a little anxious. Remember that everyone is just a person like you, and there's no reason to be nervous.
1. Talk to people you don't know
One way to make new friends is to simply be open and friendly when you're out and about, and challenge yourself to talk to people you don't know. Smile at people, strike up conversations, and be yourself. The more approachable you are, the more likely people will want to stop and talk to you.
And don't forget to make eye contact. Studies have shown that direct eye contact can help strangers feel closer(tandfonline.com opens in a new tab) and more similar to each other, which in turn can help facilitate the start of a blossoming friendship.
2. Ask your family and friends to introduce you to their friends
An excellent way to expand your social network and make new friends over 50 is by asking your existing friends and family to introduce you to their friends.
Making friends this way can often feel much easier as you will already have something in common to talk about, and your friend or family member can tag along to support you if you're feeling nervous.
3. Be yourself
When it comes to making friends, the best approach is to be yourself. Be friendly and open, and try to find common ground with the people you meet.
It's okay to be a little nervous at first, but don't try to be someone you're not. Your new friends will appreciate you for who you are, and you'll be much happier in the long run if you embrace your own unique personality.
This is a useful one to remember as you form friendships at any age, but is especially helpful when meeting new friends over 50.
4. Find common interests and things to talk about
One way to build confidence when talking to people you don't know is to think about what you want to accomplish in the conversation and what topics you're comfortable talking about.
Find something in common to talk about, such as a shared interest or something that is happening around you. It can also help to have a few icebreaker questions in mind that you can use to start the conversation.
10 friendship sites for over 50s
If you're struggling to meet new people in your local area, you might want to try a friendship site for over 50s. Online friendships can be just as meaningful as offline friendships, and in some cases, they can be even more meaningful because you can connect with people from all over the world.
It can also be much easier to find people with similar interests online than it is in real life. This is because there are a variety of online communities dedicated to different interests, some of which include:
Alternative ways to find friendship after 50
Find a hobby group or activity that you enjoy
A great way to meet new friends over 50 is to find a new hobby that you're passionate about. When you're passionate about something, you're more likely to put yourself out there and meet new people who share your same interests. Once you find a group of friends who share your hobby, you'll likely have a lot in common and be able to bond over your shared interests.
Tracey and Lui are a couple in their 50s whose enjoyment of dancing has taken them across Europe and introduced them to new lifelong friends.
You can read more about retirement hobbies for better mental health in our article.
Volunteer in your community
Volunteering in your community is a great way to get to know people who share your values. It can be an easy way to make new friends, learn new skills, and make a difference in your community.
There are many different ways to volunteer, so there is sure to be something that interests you. Whether you are interested in volunteering at a local food bank or helping to clean up your local park, there are many ways to get involved and make a difference.
You can learn more about volunteering over the age of 50 on the Volunteering Matters website(volunteeringmatters.org.uk opens in a new tab).
Learn a new skill
There are many benefits to learning a new skill after age 50. One benefit is that it can help you to keep your mind sharp and stay mentally active. Additionally, learning a new skill can help you stay physically active, which is important for maintaining your overall health and well-being.
Importantly, it can also be a great way to meet new people and make new friends. Plenty of studies(www.sciencedirect.com opens in a new tab) have found that individuals can build a sense of community in an educational environment, helping to reduce isolation and increase cognitive learning.
More from SunLife
It can be difficult to step out of your comfort zone, but we hope this article has helped give you a little more confidence when it comes to making friends after 50.
If you enjoyed this article, you might want to read some of our other articles giving friendly advice on life after 50, including:
SunLife also offers a number of different products that you may find helpful as you plan ahead. Visit our dedicated pages to learn more about over 50s life insurance, equity release, and our Guaranteed Inheritance Plan.
The thoughts and opinions expressed in the page are those of the authors, intended to be informative, and do not necessarily reflect the official policy or position of SunLife. See our Terms of Use for more info.