Exercises for staying healthy and active after 50
Last updated 17th February 2023
5 min read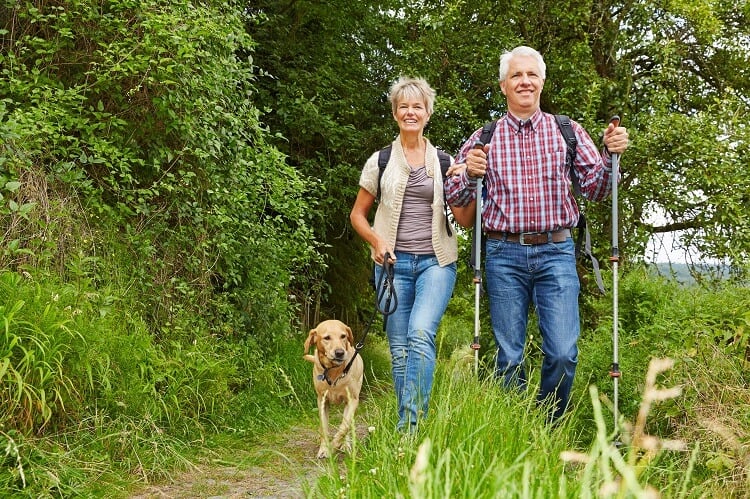 Choosing to stay active in your 50s is one of the best ways to stay healthy and happy in later life.
Even gentle exercises after the age of 50 can have a positive impact on your health. They can help you maintain your mobility, reduce tiredness and improve your mental health.
In this guide, we explain some of the best exercises for staying healthy after 50, as well as the benefits of an active lifestyle, and how to keep up the motivation...
The best exercises for the over 50s
There are plenty of exercises that are suitable for people over 50 – from walking to dancing. Here's what some of these exercises typically involve, how you can get started, and the pros and cons involved...
1. Walking
Walking is a low-intensity exercise that you can do on a daily basis, strengthening your muscles and improving your cardiovascular system(www.arthritis.org opens in a new tab). And all you need is a reliable pair of shoes!
If you'd like to see the benefits of walking, watch Gary and Liz's story.
Even though walking is low-impact, there's still a chance you could fall or strain your muscles if you do too much, too soon. So it's important to build up your stamina slowly.
2. Water exercises
Water exercises are very popular with people over 50, as the buoyancy of the water puts less stress on your joints(blog.davidlloyd.co.uk opens in a new tab) than some other forms of exercise.
This makes it ideal if you have conditions such as arthritis(www.versusarthritis.org opens in a new tab) and osteoporosis, as water exercises like swimming are known to improve bone mineral density(blog.davidlloyd.co.uk opens in a new tab).
A great place to start is an aqua aerobics class, which will take you through all kinds of water exercises. You can find a class near you here(www.better.org.uk opens in a new tab).
If you'd like to see more of the benefits of swimming, take a look at Jim's story...
3. Simple weight training
Simple weight training can help to build muscle and prevent muscle atrophy(fitbod.me opens in a new tab). This can help you keep your mobility and fitness in later years.
It's also cheap, since it can be done at home – and you'll only need a pair of lightweight dumbbells or your own body. It's often best to stick to lightweight training, as heavier wight training comes with more risks.
Some lightweight training exercises include calf raises, tricep dips and lunges – all of which you can do in your own home. Dr Rangan Chaterjee has a simple how-to guide and video you can watch here(opens in a new tab).
4. Stretching exercises
Stretching exercises can help to improve your flexibility, maintain your posture(www.torbayandsouthdevon.nhs.uk opens in a new tab), and make you more coordinated.
It's important to not overstretch, as this can cause injuries(www.healthline.com opens in a new tab) and issues for your flexibility.
Gentle yoga or Pilates classes can be great ways to learn how to stretch properly. There are also lots of guided stretch routines on Youtube – just remember not to push yourself too far!
5. Chair exercises
Chair exercises can be ideal for people over 50. They're low-impact and help to improve posture, lubricate joints and enhance flexibility(www.webmd.com opens in a new tab).
Exercising from a chair can also mean less risk of injury compared to other activities. Some chair exercises include ankle and wrist rolls, seated torso twists and heel slides. To help, you can watch this step-by-step guide(opens in a new tab) from the NHS.
6. Dance exercises
Dance-based exercises can have lots of benefits(www.bupa.co.uk opens in a new tab) for people over 50, such as strengthening muscles, improving balance and reducing stress.
As with stretching exercises, it's important to properly warm up and cool down to avoid pulling a muscle or falling over.
Many communities have some form of dance-based exercise class, whether it's ballroom, Latin, ballet or seated dancing – so have a look around your local area.
How to get motivated to exercise
There are lots of benefits to exercising after 50, but change to your routine can be challenging.
You may find there are days where it's hard to get motivated and commit to being active. So here are some ways to keep up your motivation and get the most out of exercising...
Find an exercise you love to do
One of the most important things to remember when deciding on your exercise, is to choose something you genuinely love to do.
Loving your new activity means you'll enjoy the process and engage with it more, which means you'll see more health benefits. Plus, you'll be more likely to keep it up in the long run.
Make it a social habit
Meeting a friend or group to exercise with can make you more motivated(www.axahealth.co.uk opens in a new tab), since you can encourage each other and enjoy each other's company while you work out.
This can be particularly useful if you're just starting out, as you can bond with other beginners and have more experienced people around to offer guidance.
Set achievable goals
Having goals can give you something to aim for and help you to track progress, giving you a sense of accomplishment as you improve your fitness. But it's important to make these goals realistic for your level and ability.
For example, if you want to start walking then maybe try to walk half a mile every day for the first month. This will let you build up your base fitness, and then you can gradually increase the amount of exercise you do when you feel ready.
By making exercise a long-term lifestyle change, you can work towards your exercise goals bit by bit – whether your goal is to improve your health, stamina or balance.
Health benefits of exercise for the over 50s
From physical health to mental health, exercise can positively benefit people over 50 in plenty of ways...
Reduce risks of certain illnesses
Exercise has been directly linked(www.cdc.gov opens in a new tab) to reducing the risk of illnesses and diseases such as cancer, heart disease and diabetes. As people get older, the risk of these medical issues can increase, so exercising can be a good way to increase your life expectancy.
Improves mental health
Exercise is also noted to improve your mental health and cognitive functions(www.mind.org.uk opens in a new tab), which can help to reduce depression, improve sleep and reduce stress and anxiety.
What's more, exercising outside and with a group can also help with loneliness, as you can easily make new friends and socialise with like-minded people.
Overall improved physical health
Exercising can strengthen(www.cdc.gov opens in a new tab) your muscles, bones and cardiovascular system. This helps protect against potential diseases, and also means your overall mobility and strength is improved – which could help you live longer.
Promotes good balance
Good balance help us to live day-to-day life with ease. Yoga and stretching exercises can be especially good for strengthening muscles(www.health.harvard.edu opens in a new tab) and improving coordination.
Speak to your doctor
Starting a new exercise routine can be a fantastic way to step out of your comfort zone, make new friends and improve your overall health. But it's always best to ask your doctor if it's safe for you to start an exercise regimen. They can also help you decide what kind of exercise is safe for you.
More from SunLife
If you would like to learn more about SunLife's offers and services, you may also be interested in reading about:
The thoughts and opinions expressed in the page are those of the authors, intended to be informative, and do not necessarily reflect the official policy or position of SunLife. See our Terms of Use for more info.