10 inspirational retirement party ideas
Last updated 18th August 2023
5 min read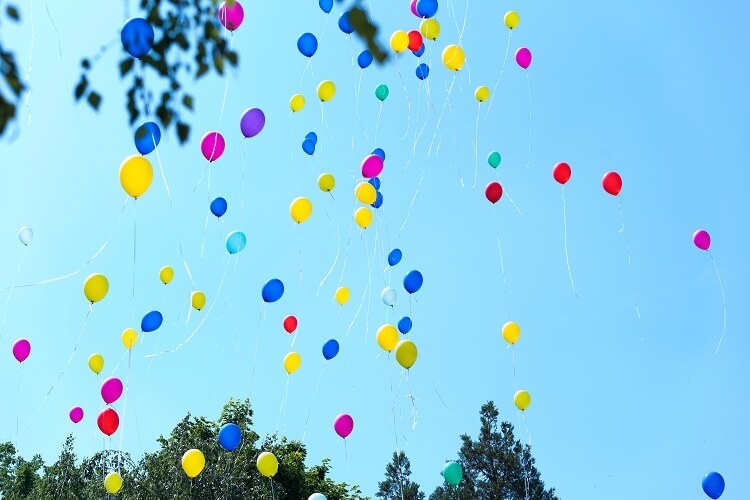 Retiring from the world of work is an exciting yet emotional time, and many people mark the occasion with a retirement party. Whether you're planning a celebration for a friend, family member or coworker, you want to make sure the event is special enough to honour a lifetime's work, while also being a lot of fun.
We've put together some retirement party ideas to help you make sure the celebration is a memory they will cherish forever.
1. Choose a memorable retirement party venue
The venue can make or break any kind of party, and this momentous occasion deserves a special location.
Rather than holding the retirement celebration at their place of work, opt for something more special like an opulent country manor, or hire an Airbnb cottage in the countryside for a little rural relaxation. For something more out there, consider renting a yacht or enjoying an exciting track day. If the retiree would prefer a low-key celebration, opt for a picnic in the park or hire out the function room at their favourite pub or restaurant.
2. Throw a themed retirement party
Adding a theme to a retirement celebration is an easy way to make things fun and exciting. You can easily tie the theme into the food, music and activities for a celebration to remember and some amazing photo opportunities. Make sure to encourage guests to dress up in appropriate outfits or costumes for the full effect.
Here are some retirement party theme ideas to get you started:
The year or decade the retiree was born
The year or decade they started their job
Cruise, travel, tropical beach or luau
A country they've always wanted to visit
Their favourite hobby or sport
3. Go all out with the retirement party decorations
Don't forget to incorporate your chosen theme into your retirement party decorations. Whether you make your own, purchase them or rent them from a party supply store, it's quick and easy to transform any venue into an exciting space.
For a tropical beach theme, hang up an island backdrop and grab some deck chairs, inflatable palm trees and a paddling pool to set the scene. If the retiree is a football fan, hang black, white and green balloons, lay down some fake grass and add a set of children's goalposts for a little football fun.
4. Invite guests from outside work
When someone leaves a job, they often organise a small get-together with just their colleagues. However, retirement is a big life event, so inviting their family and friends will help to make the celebration feel even more special.
Ask if there's anyone they would like you to invite, including former colleagues who may have also retired or taken another job. If you're planning a surprise retirement party, drawing up a guest list might be a little more difficult but well worth the effort for an emotional reaction when the guest of honour arrives.
5. An afternoon of family-friendly retirement party games
One of the best things to look forward to about retiring is spending more time with your family. Get the ball rolling with a family-friendly retirement party packed with games for both children and adults.
Give a cheeky nod to the retirement home cliché with a few rounds of bingo. It's easy enough for children to play, and you can add a competitive twist by having a few prizes up for grabs. If the party is outdoors, croquet, boules and mini golf are just a few crowd pleasers that are suitable for older and younger guests alike.
6. Treat them to a spa day
After so many years working, the guest of honour has certainly earned a little rest and relaxation. Gather a few of their closest friends, family members or colleagues for a luxurious pampering session at a spa.
Whether you book for a half-day session, a full-day visit with afternoon tea or an all-inclusive spa weekend, the retiree is sure to be grateful for the chance to do absolutely nothing and focus on themselves for a change.
7. Honour the retiree's achievements
The focus of the retirement party should of course be the person who is retiring. As well as wishing them well for the future, make sure the celebration honours their achievements.
Prepare a slideshow of photos from throughout their career, set out a guest book for people to sign and share their favourite memories, and offer an open mic approach to speeches so anyone can say a few words about the retiree if they would like.
8. Compile a bucket list
Whether as part of the retirement party games or prepared beforehand to be revealed at the event, ask guests to come up with a selection of bucket list ideas to keep the retiree occupied after leaving the world of work.
This could be anything from visiting certain countries, cities or famous landmarks to reading a classic novel or learning to cook a particular meal. You could also present them with a photo album or set up a blog for them to record and share their bucket list adventures.
9. Give them a great retirement gift
Choosing the right retirement gift can be tricky. As well as wanting to give something meaningful, it's nice to make sure the gift is something that the recipient can use and enjoy.
Classic retirement gifts like an engraved watch or pen are starting to lose favour as they aren't as useful as they once were. Instead, consider something relating to their hobbies like a Kindle, a new set of golf clubs or some foreign currency for their post-retirement travels.
10. Inexpensive retirement celebration ideas
Leaving the world of work means relying on a pension and savings, so we've put together a few inexpensive retirement celebration ideas for more budget-conscious retirees:
Instead of hiring a venue, hold the retirement party at a friend's house
Opt for buffet-style food, and ask guests to each bring a dish to share
Make your own decorations. You can find lots of inspiration online
Send invitations via email instead of getting them printed
Play your own playlist instead of hiring a band or live entertainment
Next steps
This guide has offered some inspirational retirement party ideas to help plan the day and ensure a good time is had by all. If you've enjoyed reading this post, you might also be interested in:
SunLife offers a range of services that may be of use to you as you approach retirement age and beyond:
The thoughts and opinions expressed in the page are those of the authors, intended to be informative, and do not necessarily reflect the official policy or position of SunLife. See our Terms of Use for more info.