Best free UK walking apps
Last updated 28th March 2023
6 min read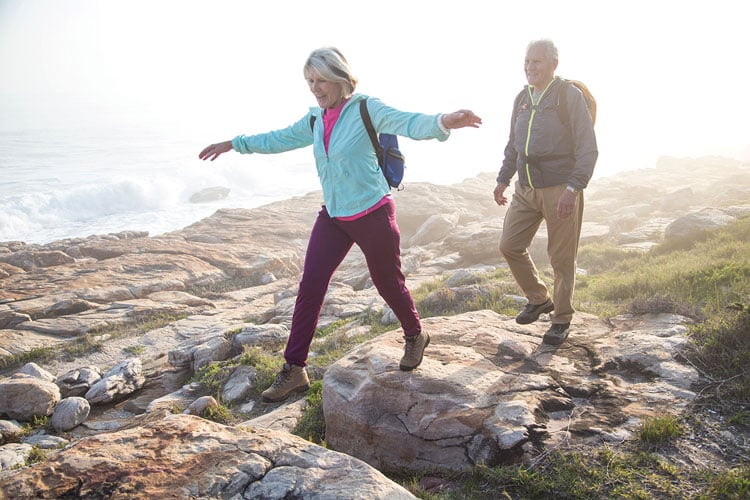 Walking apps make finding walks and tracking your steps easier for everyone, which can lead to a healthier and more active life(www.nhs.uk opens in a new tab). The best free walking apps make finding new routes simple, whilst tracking your progress as you walk. Some can even track your speed, distance and calories burned.
But how do you pick the right walking app for your goals? Some apps, like NHS Active 10, focus on tracking your steps day-to-day. Whereas other free apps focus on specific walking trails.
Whether you're just looking to get a few extra steps in, or you want to discover new walking routes, these 10 free UK walking apps should help you on your journey.
1. Strava
Strava(www.strava.com opens in a new tab) is a hassle-free walking, running and cycling app. It has reliable tracking and your walks are recorded, so you can see the calories you've burnt, your distance travelled, and even elevation changes.
Strava also lets you share your walks on social media sites like Facebook. And you can also share your live location with friends and family – a handy feature if you ever get lost.
2. MapMyWalk
MapMyWalk's(www.mapmywalk.com opens in a new tab) main purpose is to be a walking companion. The app shows you your walking route, along with useful statistics such as your pace, distance and calories burned.
The app also shows you nearby routes, and you can share routes with other users too. And as an added bonus, you can sync Apple Health, Google Fit and Strava with MapMyWalk.
3. Go Jauntly
Go Jauntly(www.gojauntly.com opens in a new tab) lets users share their own walking routes with others to encourage people to try them out for themselves. You can even add photos and landmarks from your route to make navigation easier.
There's a great variety of walks on Go Jauntly, such as city walks, dog walks and 'green' routes. The app also displays walks accessible from tube stations, which is great if you live in the city.
The free version of Go Jauntly comes with step-by-step instructions, so there's less chance of getting lost on your walks. The only downside to this app is you'll have to pay for the premium version if you want to use the maps offline.
4. Fitbit
You don't need a Fitbit watch to use the Fitbit walking app(www.fitbit.com opens in a new tab). Without a Fitbit watch, the app can still use your phone's built-in sensors to track your steps and some health statistics – but you do need a Fitbit watch to get the most out of the app.
Fitbit mostly focuses on your physical activity during a walk, rather than what routes there are to discover in your area. But with all the metrics available for the app to track, it's a great tool to provide an overall picture of your health and fitness.
5. OS Maps
By far the best feature of the OS Maps(explore.osmaps.com opens in a new tab) app is how detailed the maps and walking routes are.
Like other walking apps, it can track your walk, but it can also show you new and existing trails in your area. This is great if you're exploring a new place on a campervan holiday and want to check out the local walks.
One downside to the OS Maps app is that some key features offered by other apps for free are only available if you pay for them. For example, topographic maps, offline maps and importing or exporting routes are only available with the premium version.
6. Komoot
Komoot(www.komoot.com opens in a new tab) has lots of great features, like walking route highlights(www.cyclinguk.org opens in a new tab) and turn-by-turn voice navigation. This can help keep you focused on the surroundings rather than looking down at your phone for the whole walk.
But the most useful feature of Komoot is their route planner, which can be accessed either through the mobile app, or from their website. You can select your activity type and fitness level, as well as your route type – so you can really personalise your walk.
You can also view established routes, including pictures, a description of what to expect, and other walkers' comments about it.
The downside to Komoot is you can only unlock one region for free on the app before you have to pay for more. And lots of useful features, like the voice navigation and offline maps, are only available if you pay.
7. Outdooractive
The Outdooractive(www.outdooractive.com opens in a new tab) walking app has some similar features to Komoot, such as the route planner and difficulty level filters. But it also offers challenges, which can be great for building your fitness level.
Another handy feature is the constant update on trail conditions, closures and hazards.
The free version of Outdooractive comes with ads. But premium subscriptions are very reasonable, starting at £2.23 a month, with their most expensive subscription coming in at £4.45.
8. AllTrails
AllTrails(www.alltrails.com opens in a new tab) focuses on introducing you to new walks. There are now over 400,000 trails on the app, so you'll never run out of new places to explore. What's more, it uses a vast database that allows you to filter the trails by location, length and even difficulty.
Some of the better features are only included in the AllTrails+ subscription(www.alltrails.com opens in a new tab). Offline maps, wrong turn alerts and extra planning features can all be unlocked for £2.50 a month.
9. Wikiloc
When it comes to free walking apps in the UK, Wikiloc(www.wikiloc.com opens in a new tab) is hard to beat. The free version even comes with offline trails – a feature you have to pay for on most other apps in this list. It also has detailed trail information, including distance, elevation and trail conditions.
Offline trails allow you to follow your walking route without the need for internet connection. This comes in handy when adventuring in isolated places.
Although offline maps are free to use, you'll need to upgrade to the premium version to gain access to live tracking, and to browse other users' trails.
10. NHS Active 10 Walking Tracker
The Active 10 app(www.nhs.uk opens in a new tab) is an NHS-recommended walking app. It logs your steps and separates normal walking from brisk walking. You're then rewarded for all the brisk walking you do in one day.
It can help you set walking goals and keep you motivated day-to-day. The app also contains hints and tips on how to achieve a healthier and active lifestyle.
The only downside to this free walking app is that its focus is on tracking your walking rather than discovering new walking routes. But it's a great app to start your journey to a healthier lifestyle.
Get started on your walking journey
According to some studies, walking at a quicker pace(www.bhf.org.uk opens in a new tab) is more beneficial than how far you walk – and walking up to 10,000 steps a day at a quick pace is associated with a lower risk of developing cardiovascular disease or cancer.
Walking regularly has also been linked to reducing the risk of a heart attack(www.nhs.uk opens in a new tab), as well as other health benefits(www.health.harvard.edu opens in a new tab) such as easing joint pain and boosting immune function. The NHS recommends getting started with a daily 10 minute walk(www.nhs.uk opens in a new tab) or a brisk stroll. And comfortable footwear and water is a must.
You could also consider joining a walking group to help with motivation and make new friends.
Discover how walking has helped Gary and Liz lose weight and socialise with fellow walkers in our video…
Continue reading
If this article has inspired you to discover the great outdoors, you might be interested in some of our other articles on life after 50:
The thoughts and opinions expressed in the page are those of the authors, intended to be informative, and do not necessarily reflect the official policy or position of SunLife. See our Terms of Use for more info.