Memorable 60th birthday party ideas
Last updated 5th May 2022
4 min read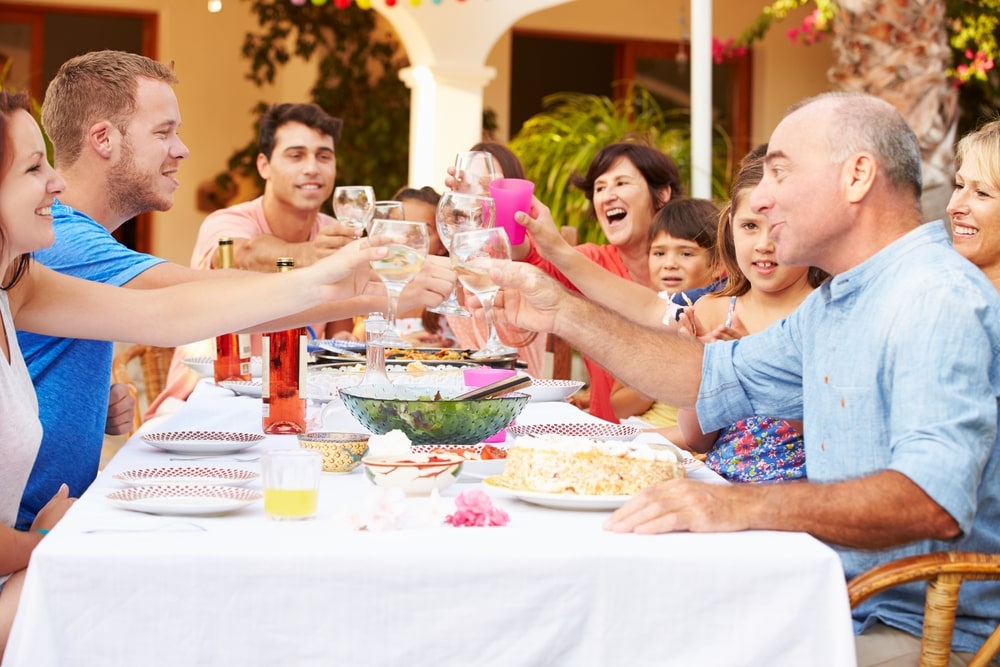 Reaching 60 is certainly a milestone, so it's only right that it should be celebrated properly. Whether you're looking for 60th birthday party ideas for a family member, friend or even yourself, we've selected our favourite, most memorable ideas to get you in the party mood and help you plan.
How to plan a 60th birthday party
Whether you want to have an intimate gathering with family and friends or a big party, the first step towards planning a 60th birthday party is to figure out how you want to celebrate the occasion.
Simple gatherings need less effort ahead of time, while more elaborate affairs may involve months of planning and even the involvement of a professional party planner.
Don't feel pressured to put on a large get-together if that's not your thing. Your 60th birthday is yours to enjoy however you'd like to play it.
If you're hosting a big event, you may want to start the planning process three to four months in advance. This makes it easier to get everything in order and get rid of any pre-event stresses. For a simpler celebration, you could start planning anywhere from a week to a month in advance.
You may want to pick a theme for the occasion. Whether it's fancy dress, black tie or a decade party, themed parties can add a touch of fun and make the rest of the decision making a little easier.
Once you have a theme in mind, you can coordinate decorations, invitations, food and party favours to match. This will give you much less to think about for the rest of the planning process.
60th birthday party ideas
Here, we've pulled together the most memorable 60th celebration party ideas to help inspire your plans for the big day – from a cocktail masterclass to a costume soirée.
1. Cocktail making
Whether it's a martini, a spritz or an old fashioned, there's nothing quite like a refreshing cocktail to get you in the party spirit. Why not gather your loved ones around you and try making your own?
Organise a masterclass at one of your favourite bars and learn to make, mix and shake your perfect cocktails, or create your own concoctions at home.
You could even get your guests to make different cocktails with ingredients that suit your personality – could it be something sweet, refined or even have a caffeine kick?
2. Surprise party
If you're taking the lead with the party planning for a friend or family member's 60th birthday party, why not organise a surprise party for them?
Give them a night to remember by inviting all of their closest friends and family members to what they think is an intimate birthday dinner or drinks. The look of surprise on their face will be worth it!
Despite the difficulty of keeping the party a secret, organising something for your loved one can take the stress off them. So they'll be able to enjoy the celebrations more freely and catch up with everyone.
And of course, you'll know already if this isn't likely to be their cup of tea!
3. Host a BBQ
Planning a summer celebration? Celebrate the big six-oh with a casual barbecue. It's a perfect party option for those turning 60 in the summer months, or those who simply love the warm, laid-back feel of this summer tradition.
Weather permitting, choose a variety of mouth-watering dishes to try on the grill, or pack some tasty treats into your picnic hamper for a small party in the park.
4.Costume party
A themed costume party is a great way to celebrate turning 60 – whether you want to transform into your favourite celebrity, a flapper girl or hark back to your disco days.
A popular option for a 60th party is to choose an era from your youth to turn into a theme. Whether that's a 70s theme, a Saturday Night Fever theme or an 80s pop star theme, you can have lots of fun with the outfit and decoration planning.
Another great theme to consider is recreating childhood pictures as adults, which can be both sentimental and fun.
5. Go on a mini-break
If the sound of a big celebration isn't for you, why not book yourself a mini-break or a staycation? It can be a more relaxing alternative 60th birthday celebration.
Plan a visit to your favourite city (or somewhere completely new) to absorb the atmosphere, try the local food and let your hair down.
A mini-break can be the perfect backdrop for an unforgettable birthday. And it also allows for a more intimate celebration with close family and friends.
6. Small dinner with friends
Why not keep things laid back by having a small gathering with the people you hold closest to your heart?
This type of party allows you to really thank those people who have added love and joy to your life in the past 60 years.
A small dinner emphasises connection rather than spectacle. You can share funny stories from over the years, cook your favourite dishes, and celebrate the relationships you have formed.
Next steps
Hopefully you've now got plenty of ideas about things to do for a 60th birthday celebration. Want to keep reading? You might also enjoy some of our other lifestyle blogs.
At SunLife, we also offer a range of services to help you make the most of life after 50:
The thoughts and opinions expressed in the page are those of the authors, intended to be informative, and do not necessarily reflect the official policy or position of SunLife. See our Terms of Use for more info.