How to sell your items online
Last reviewed 3rd November 2023
7 min read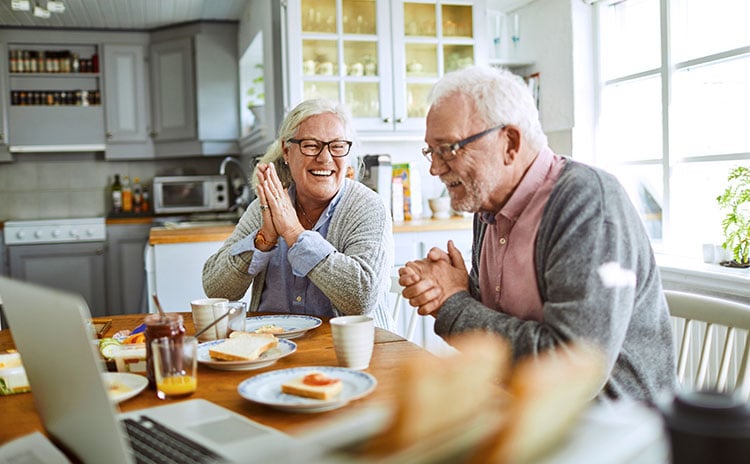 These days, any extra cash you can make could be a big help. And one way to make some extra pennies is to sell your unwanted belongings online.
Not only is selling items online usually free – it's also a great way to declutter. And it's easy to do.
To help you get started, we've laid out everything you need to know about where and how to sell your things online.
What can I sell online?
You can sell almost anything you own online, as long as the items are safe, hygienic and in good shape. Here are just a few ideas of what to sell online:
Clothes, shoes and accessories
Toys, games and childcare items
Unopened makeup and beauty gadgets
Small tech, such as phones, smartwatches and headphones
Larger tech, such as TVs, games consoles and speakers
Homeware, such as curtains, bedding and crockery
Pet accessories and toys
White goods, such as fridges and washing machines
Furniture
Collectables, including magazines, books and records
Cars
Every selling website has different rules around what you can and can't sell. So it's always worth checking their rules before you put your items up for sale.
Where can I sell online
There are lots of websites that let you sell your things online for free. Some of them are more suited to certain items or to local communities. Here's a quick run-through of the most popular free selling sites:
You can also sell on sites such as Etsy(www.etsy.com opens in a new tab), which are geared towards selling handmade or custom items.
How do I sell my things online?
Selling items online doesn't have to be complicated. Here's our step-by-step guide on how to sell your stuff quickly:
1. Create your seller profile
Whichever website you choose to sell your items through, it's a good idea to put some information on your profile.
Start by uploading a profile picture and writing a sentence or two about yourself. This can reassure potential buyers that you're a trustworthy seller.
2. Get your items organised
Decide what you'd like to sell. Whether you want to get rid of furniture or smaller items, it can help to make a list of what you'll be selling, either on paper or in a spreadsheet. This will help you keep track of everything – including how much money you make!
Just remember to only list items that are in good condition. For example, there isn't much point in listing torn or stained clothes.
Top tip: clean and steam
It's always a good idea to give your items a clean before you put them up for sale. Give them a wipe down, and iron or steam any clothes to make them look as fabulous as possible.
3. Take pictures of your items
The more images you can include for each item, the better. Good-quality pictures can help to sell your things faster, and for more money.
Taking photos on your phone is usually fine, as long as you follow these simple tips on how to take great pictures:
If you can, set up the item in natural light so the colours look true to life
Try to place objects against a plain background so there aren't any other distractions in the photo
Don't use your camera's flash or any phone filters
Take a photo of the whole item
Take photos of the item from lots of different angles
Take photos of any nice details that show the item's material/quality
If it has a brand label/care label, take a close-up picture
Take photos of any imperfections, so the buyer doesn't get any nasty surprises and try to return the item
Crop and adjust your pictures to remove any unnecessary space. (It helps to imagine how it might look on a small mobile screen.)
Top tip: show tech at its best
If you're selling electronics, take a picture of the back of the item. This is essential, as it shows the inputs and power sockets. It could save you having to answers lots of questions from potential buyers.
4. Decide on the price
When it comes to deciding how much you'd like to charge for each item, a bit of research goes a long way.
If you're not sure how much to sell for, search the site for similar items to get an idea of what to charge. (And remember to make sure you've checked how much the item will cost to post before you set the postage price.)
It can also help to look at popular search terms for the items you're selling. A good way to do this is to type the item's name into Google and see what comes up in the 'auto suggest' field – like in the picture below.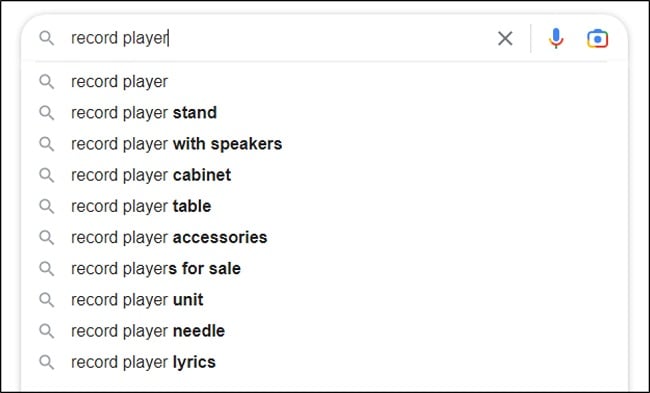 5. Upload your items for sale
To help your things sell faster online, write a description of each item when you upload it for sale. It helps to include:
A title that mentions the state, colour, brand and type of item. E.g. 'New grey Asda photo frame', or 'Good condition wooden B&Q garden chair'
The item's measurements and/or size
The materials that the item is made from
Any imperfections, like stains, tears, scratches etc.
If it's tech, list the types of input, plus which chargers and adapters are compatible
Try and keep your descriptions short, and include the best features of the item in order of importance. For example, if you're selling something that's only been used twice, say so – it lets potential buyers know it's more likely to work as it should.
You can also reassure potential buyers by telling them more about the item's environment, e.g. 'from a dust-free/smoke-free/pet-free home'.
Offering free postage is also a good incentive for potential buyers.
Top tip: know your acronyms
There are a lot of acronyms(medium.com opens in a new tab) people use when selling things online. These help to quickly describe the item without taking up too much space in the title. For example, 'BNWT' stands for 'brand-new with tags', whereas 'BNWOT' means 'brand-new without tags'.
Communicate
Try to respond to messages and questions about your items quickly, before a potential buyer loses interest. If you're selling locally, make it easy for the customer – suggest a date and time that suits them to increase your chance of making a sale.
6. Pack your items properly
If you need to post an item you've sold online, here are some simple tips to make sure it gets delivered quickly and safely:
Choose the right packaging, e.g. a padded envelope for small items that aren't fragile, or a cardboard box for larger objects
If you're reusing packaging, remove any old postal stickers
If the packaging isn't watertight, wrap the items inside in an old plastic bag to keep the moisture out
Unless the item is clothing, you may need extra padding in the package. Bubble wrap, newspaper or old paper usually does the trick. Just make sure fragile items can't move around inside the package
Seal the package and stick on the shipping label using Gaffa or duct tape (sticky tape often isn't strong enough). Make sure not to cover any barcodes or QR codes
Top tip: watch the weight of your items
Unnecessary bulk will eat into your profit margins when it comes to posting. For example, if you can package a small item for under 100g (like some video games, blu-rays and CDs) you can save more on postage by sending as a large letter rather than a parcel.
7. Leave feedback
Once your buyer receives their item, you might be asked to leave feedback. If everything went smoothly, giving them a good review could make them more likely to leave you one too. And the more positive reviews you have, the more people will trust you as a seller.
More ways to make money after 50
Want even more ideas on how to make money in later life? Find all sorts of top tips, handy guides and expert articles at our Money after 50 and Cost of living hubs.
The thoughts and opinions expressed in the page are those of the authors, intended to be informative, and do not necessarily reflect the official policy or position of SunLife. See our Terms of Use for more info.