5 min read
What's Retiring Ageism about?
At SunLife, we believe that life after 50 is something to celebrate.
In our 2020 report, we highlight the misrepresentation of the over 50s in Britain, both in society and the media.
We ask the questions: when and why do the over 50s begin to feel misrepresented in society?
Our aim: to challenge outdated stereotypes, and encourage people to reconsider how they represent the over 50s.
By doing this, we hope to get one step closer to retiring ageism in the UK once and for all.
Ready to find out more? Scroll down to explore some key take-outs from the report.
Ageism refers to the discrimination, stereotypes and unfair treatment of someone (or groups of people) because of their age.
Ageism is everywhere, especially in magazine, TV and social media campaigns.
Even in 2020, very few sectors actively champion the over 50s. They still often fail to recognise this age bracket at all.
If over 50s are included in an advertising campaign, it's often at their expense. Just think of negative phrases such as 'anti-aging' and 'anti-wrinkle'.
Key findings from the report
35% of Brits revealed they began to feel neglected or invisible in society at age 50.
People over 50 who feel neglected or invisible in society said this made them feel underappreciated (67%), let down (39%) and even depressed or anxious (36%).
Brits over 50 said the top three reasons for them feeling neglected or invisible in society were:

brands don't advertise to people their age (36%)
they can't apply for jobs due to their age (35%)
there's no one their age featured in magazines (21%)
29% of Brits over 50 admitted this feeling of neglect made them less inclined to try new things.
Brits over 50 don't feel they are positively represented in the media, with just 15% saying they felt national newspapers represented their age bracket well.
Why is misrepresentation an issue?
As we know from our 2019 report, ageism can have real-life consequences – from memory loss, to a shorter lifespan.
According to the Royal Society For Public Health (RSPH), society starts telling us that growing old is a bad thing when we're six. So it's no wonder this negative attitude is reflected in almost all our media.
Just look the phrase 'anti-aging'. Even if you do see someone over 50 in an advert, they are often accompanied by this or a similar term.
It's easy to see how a lifetime of exposure to this misrepresentation can undermine someone's sense of self-worth.
In fact, 35% of people said they began to feel neglected or invisible in society when they were just 50 years old. 9% of these people even said it affected them physically and made them feel unwell.
The Centre for Ageing Better describes this effect as a self-fulfilling prophecy, with ageist stereotypes and misrepresentation leading older people to internalise society's views of their age and affect their own capabilities.
This means we're likely to keep applying these misconceptions to ourselves as we age. And according to the RSPH's research, this makes us more susceptible to negative health outcomes, such as breakdown of physical function and increased risk of dementia.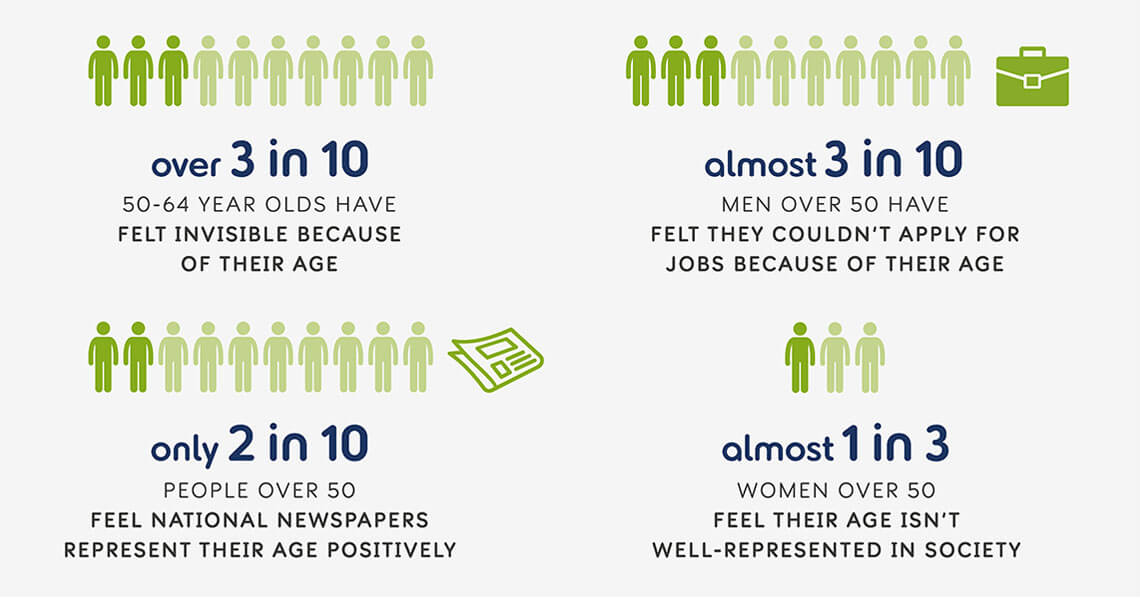 Image transcript

Over 3 in 10 50-64 year olds have felt invisible because of their age
Only 2 in 10 people over 50 feel national newspapers represent their age positively
Almost 3 in 10 men over 50 have felt they couldn't apply for jobs because of their age
Almost 1 in 3 women over 50 feel their age isn't well-represented in society
Who is misrepresenting the over 50s?
78% of Brits over 50 said they haven't seen an accurate representation of their age bracket from companies or celebrities in the past year.
While certain products are aimed at people over 50, like over 50s life insurance, equity release and funeral plans, they are few and far between.
Overall, Brits over 50 said they felt most misrepresented by the fashion industry (56%), the sports industry (52%) and the employment/business industry (43%).
The good news is, 29% of Brits over 50 say representation of their age has improved over the last five years.
Who is championing the over 50s?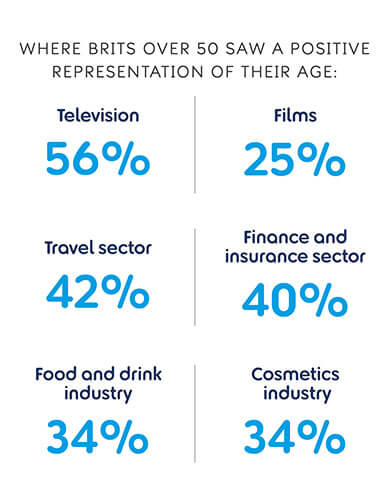 Image transcript

Where brits over 50 saw a positive representation of their age

Television - 56%
Films - 25%
Travel sector - 42%
Finance and insurance sector - 40%
Food and drink industry - 34%
Cosmetics industry - 34%
The three brands that Brits over 50 feel champion their age the best:
Marks & Spencer
L'Oréal
Age UK
We also compiled a 'top 10 league table' of brands according to how well they represented the over 50s in their social media posts, advertising and UK media coverage between 1st January–31st December 2019:
| Index score | Brand |
| --- | --- |
| 1 | Dove |
| 2 | No.7 |
| 3 | L'Oréal |
| 4 | Barclays |
| 5 | B&Q |
| 6 | John Lewis |
| 7 | Apple |
| 8 | Estee Lauder |
| 9 | Next |
| 10 | M&S |
Dove, No.7 and L'Oréal were found to be the top three brands that represent the over 50s on their social media feeds.
Retiring ageist stereotypes
Our report includes case studies on inspiring people who prove life after 50 is anything but dull – like John and Jill who both decided to start their own business in their 50s:
John Parkinson's story
When John Parkinson, 65, retired from teaching, he had no intention of slowing down.
Retirement was his chance to tick everything off his bucket list – from launching a picture framing business with his wife, to climbing the Delago Tower in the Italian Dolomites.
John even learnt how to snowboard. And, to top it all off, he qualified as a Bob Ross landscape painter and floral artist – proving that life after 50 is anything but dull.
"I was surprised at people's reactions when I decided to pursue new skills, such as snowboarding, after I turned 50. I was just doing what I wanted to do! To me, age is just a number."
Jill White's story
While working in the corporate world for 30 years, Jill White, 59, realised two things: she'd reached a glass ceiling due to her age, and the clothes she wanted didn't exist for women over 50.
So, after retiring, she decided to take a leap of faith and turn her hand to fashion. Her aim? To remove ageism from the clothing industry.
She launched Distinctively Me – now a successful clothing business fuelled by her passion for made-to-measure womenswear.
"My original retirement plan was to travel and volunteer, as I felt as though my 'useful life' was over after I turned 50. But being made redundant encouraged me to take a risk and start something new."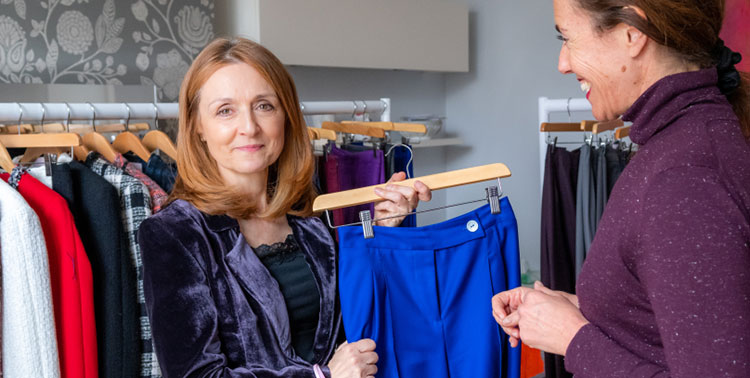 After all, with age comes experience, confidence and knowledge – something often overlooked by the UK's biggest brands.
Thankfully, companies such as Dove are featuring a wider range of people over 50 in their media, and are actively celebrating aging. Vogue even worked with L'Oréal to produce a magazine dedicated to normalising aging and tackling ageism.
With negative attitudes to aging making countless people feel undervalued, these are welcome steps on the way to retiring ageism for good.
Download our full report for more data, case studies, and our research methodology.