Grandparents are saving families £96bn a year in equivalent childcare costs
29th August 2023
3 min read
New research from SunLife shows that more than half of grandparents in the UK provide childcare for their grandparents during the working week, giving up more than four hours a day on average.
The study also found:
More than a third look after their grandchildren in the school holidays.
Not only are grandparents not being paid to provide childcare, but it's actually costing them £80 a week – that's more than £4k a year.
Grandparents providing care could be entitled to thousands in NI credits, according to Martin Lewis' Money Saving Expert.
SunLife's Grandparent Salary calculator works out how much grandparents would earn if they were paid the market average for the jobs they're doing – on average, they'd be on more than £13,000 a year!
Grandparents spend an average of 22 hours a week providing free childcare
More than half of the UK's grandparents are providing some form of free childcare for their grandchildren – and saving families thousands of pounds a year as a result – according to research from over 50s experts SunLife.
SunLife polled more than 2,000 grandparents and found that 52% provide some sort of childcare during the working week.
Of those, 68% provide before- and after-school care, 80% are spending an average of two hours and 37 minutes a week cooking and providing meals for their grandkids, more than half (56%) do the school run, and 42% chauffeur their grandchildren to clubs and hobbies. Furthermore, 69% are babysitting in the evenings and 63% are called on if their grandchildren are ill.
When you also include the amount of time grandparents spend helping with homework, cleaning up after their grandkids and shopping for essentials, overall, the UK's grandparents are spending an average of 22 hours and 19 minutes a week providing free childcare.
| How many hours a week do you spend doing the following? | % of grandparents that offer support* | Average hours/week |
| --- | --- | --- |
| Cooking/Providing meals | 80% | 2.62 |
| Cleaning up after grandchildren | 76% | 2.31 |
| Babysitting in the evening | 69% | 3.34 |
| Before- or after-school care | 68% | 3.57 |
| Looking after grandchildren when they're ill/off school | 63% | 3.56 |
| School run | 56% | 1.65 |
| Taking/picking up from clubs/hobbies | 42% | 1.12 |
| Helping with homework | 40% | 1.10 |
| Shopping for essentials (e.g. school uniform, books, equipment for hobbies) | 38% | 0.95 |
| Volunteering at school/hobbies/clubs | 18% | 0.57 |
| Other | 25% | 1.56 |
| Any childcare | 100% | 22.32 |
*Base: the 52% of grandparents offering any childcare
The research also found that more than one in three (37%) grandparents are relied upon to look after their grandchildren during the school holidays and on inset days, giving up 16 hours and 32 minutes of their time each week – equivalent to two working days a week.
Grandparents spend £80 a week on food, activities and equipment for grandchildren
SunLife's research has found that, not only are 52% of grandparents providing childcare for free, but the 81% are regularly spending their own money on them.
More than two thirds (66%) pay for food and snacks for their grandkids (£24.81 per week), four in ten (40%) pay for materials for activities at home such as crafts or baking (£11.04), while more than half (56%) pay for activities out and about (£28.49).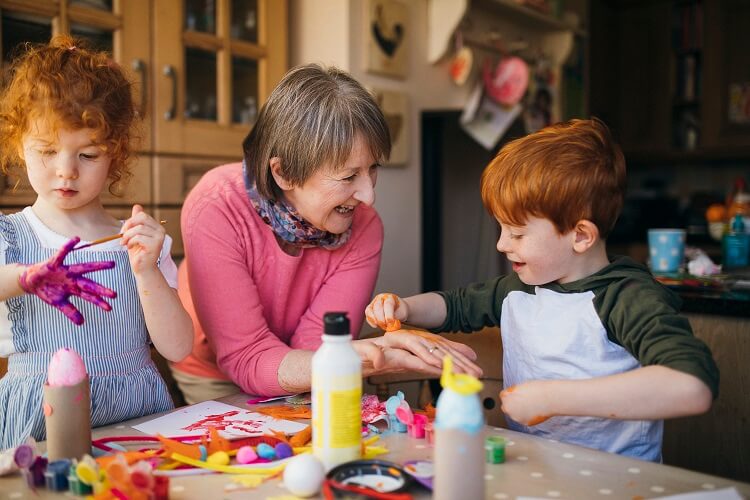 One in eight (13%) pay for hobbies and clubs (£16.07) and one in five (18%) cover the cost of the kit needed for those hobbies (£81.01), while more than one in four (27%) pay for the transport costs of ferrying their grandchildren around (£32.35). When averaged out, it's a total of £79.57 a week – more than £4k a year. For grandchildren aged 1–3, this average is even more, rising to £113.91.
While most (59%) say they are more than happy to do it – and don't mind spending their own money doing so – 12% say they love doing it but can't really afford the extra expense that comes with it.
What if grandparents were paid?
One in five (19%) grandparents say their grandkids parents would not cope financially without their help – so just how much are the UK's grandparents saving young families in childcare costs?
SunLife's Grandparent Salary calculator uses the average pay for the many roles grandparents are taking on (including childminder, tutor, taxi driver and nurse). So, grandparents can calculate what their 'grandparent salary' would be based on the market value of their unpaid labour, and parents can see just how much they are saving on childcare costs.
And using the Grandparent Salary calculator, we can see that if grandparents were paid for the 22 hours a week (the average amount spent providing childcare) they would receive an annual salary of £13,188 – that's more than getting the state pension again!
There are around 14 million grandparents in the UK, over 7 million of whom provide regular childcare. This means that collectively, grandparents are saving their families £96bn in childcare costs every year.
And when you add on the amount grandparents are spending to look after their grandkids, that's another £46bn families are saving by letting grandparents cover the costs of transport, food and more.
A SunLife spokesperson said:
"Grandparents are often real heroes in a family, spending hours helping with childcare, offering practical and emotional support and saving parents thousands in childcare costs.
"Our research suggests grandparents are saving their grandkids' parents around £250 a week in childcare costs on average, so it's no wonder one in five grandparents say their grandkids' parents would struggle financially without their help.
"And as we might expect, the research shows that most grandparents are very happy to offer the level of support they do to help their children (and getting to spend more time with their grandchildren as a result)."
Grandparents could be missing out on thousands in childcare credits
According to Martin Lewis' Money Saving Expert(www.moneysavingexpert.com opens in a new tab), grandparents who care (or cared) for grandchildren before reaching the state pension age could be entitled to additional National Insurance credits to boost their state pension.
Try the Grandparent Salary calculator here
Sources
Gov.uk(www.gov.uk opens in a new tab) – The current state pension is £203.85 per week
InformationNow.org(www.informationnow.org.uk opens in a new tab) – There are approximately 14,000,000 grandparents in the UK
The thoughts and opinions expressed in the page are those of the authors, intended to be informative, and do not necessarily reflect the official policy or position of SunLife. See our Terms of Use for more info.