30 memorial sayings for the loss of a pet
Last updated 29th March 2023
4 min read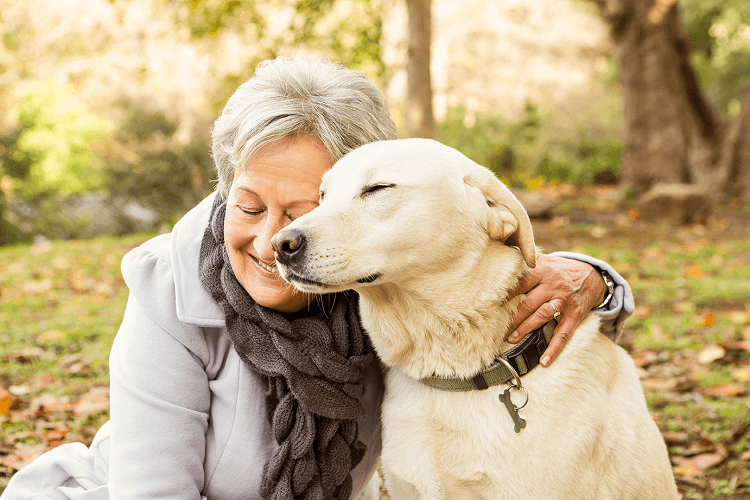 Dogs, cats and our other cherished animal friends become a huge part of our family, and their passing can have a profound effect. Quotes and sayings for the loss of a pet can help guide us and our loved ones through this sorrowful time in our lives.
Whether it's words of comfort or those that encourage and inspire, pet memorial quotes can be the rock that we need to lean on, or a welcome gesture of friendship for a loved one when they need it most.
That's why we've compiled a complete list of sayings for pet loss below, including meaningful quotes for pet sympathy cards and uplifting memorial sayings to soothe your own heart.
Pet memorial quotes
We hope that these memorial sayings for loss of a pet will help you reflect on the beloved memories you shared with your furry best friend.
"Dogs are not our whole life, but they make our lives whole." – Roger Caras
"How lucky I am to have something that makes saying goodbye so hard." – Winnie The Pooh
"If there are no dogs in heaven, then when I die, I want to go where they went." – Will Rogers
"Grief is like the ocean; it comes on waves ebbing and flowing. Sometimes the water is calm, and sometimes it is overwhelming. All we can do is learn to swim." – Vicki Harrison
"Everyone is taught that angels have wings. The lucky ones of us find that they have four paws." – Jury Nel
"If there is a heaven, it's certain our animals are to be there. Their lives become so interwoven with our own, it would take more than an archangel to detangle them." – Pam Brown
"A pet is never truly forgotten until it is no longer remembered." – Lacie Petitt
"Our animal friends teach us more than we could have expected, and love us more than we could have hoped. That's why we miss them more than we could have imagined." – Unknown
"The world would be a nicer place if everyone had the ability to love as unconditionally as a dog." – M.K. Clinton
"No amount of time can erase the memory of a good cat." – Leo Dworkin
"Like a bird singing in the rain, let grateful memories survive in times of sorrow." – Robert Louis Stevenson
"Heaven goes by favour. If it went by merit, you would stay out and your dog would go in." – Mark Twain
"They bring us love and happiness and comfort without end. It's hard to face such sadness without your furry friend." – Unknown
"Don't cry because it is over; smile because it happened." – Dr. Seuss
"Until one has loved an animal, a part of one's soul remains unawakened." – Anatole France
Sympathy sayings for a loss of pet card
A simple way to help alleviate the grief of a passing pet is a sympathy card with a heartfelt message. Here are a few animal remembrance sayings that you can copy or use to inspire a message of your own.
"Losing a loyal and true friend isn't easy. Please know that I'm thinking of you, and if you need to talk or share memories of [him/her], know that I'm here for you."
"Losing such a big part of your family is never easy. Thinking of you and your family in this difficult time."
"A companion is gone, but the memory lives on. We are so sorry to hear about the passing of [pet's name]."
"You and [pet's name] were so lucky to have found each other. [He/she] will be greatly missed."
"No greater companion, no better friend. So sorry for your loss. My thoughts are with you."
"[Pet's name] left paw prints of love on everyone who knew [him/her]."
"[Pet's name] will always be by your side, watching over you – my sincere condolences to you and your family during this difficult time."
"I was sorry to hear of your loss. I hope the pain in your heart will be eased by the beautiful memories you have of [pet's name]."
"Losing such an important part of the family is never easy. I'm thinking about you."
"[Pet's name] was taken from us far too soon. We can only hope we made their lives happy for the short time we were blessed with their presence. My condolences during a difficult time."
"Best friends come in all breeds. I'm sorry for your loss – our thoughts are with you."
"A pet's love is never replaced but always remembered. My condolences on your loss."
"Dogs are really the sweetest, purest things in our lives. We're so sorry to hear about the loss of your furry friend. You're in our thoughts."
"May loving memories of your beloved [pet's name] stay warm in your heart forever."
"You are in all our thoughts as we mourn the passing of [pet's name]. [He/she] was one of a kind, and we were blessed to have had [him/her] in our lives. Sending our love and deepest sympathy."
Continue reading
We hope this guide has helped you find the right comforting or inspiring memorial sayings for the loss of a pet. If you found this article helpful, you may want to keep reading:
The thoughts and opinions expressed in the page are those of the authors, intended to be informative, and do not necessarily reflect the official policy or position of SunLife. See our Terms of Use for more info.