The most expensive celebrity funerals
Last updated 14th June 2022
4 min read
We've seen some seriously expensive celebrity funerals over the years, from presidents of the United States to the King of Rock. After leading such luxurious and lavish lifestyles whilst alive, there's no wonder they had equally extravagant funerals. Here's just a few of the most expensive celebrity funerals to date.
1. Ronald Reagan – $400 million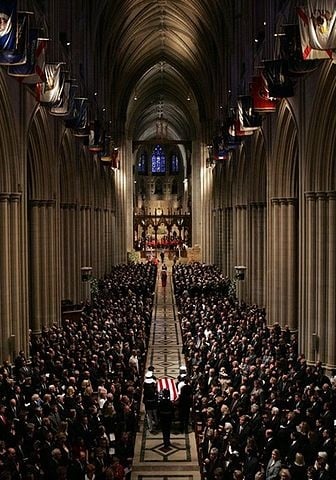 In 2004 it was announced that the United States' beloved president, Ronald Reagan, had died. His casket was laid in the U.S Capitol for two days, where over 200,000 mourners came to pay their respects. The public funeral was held at Washington National Cathedral and he was laid to rest at a private funeral in California.
Ronald Reagan's funeral lasted a full 7 days, but that's not why it was so expensive. George W. Bush declared a national day of mourning, which closed the stock markets and gave federal employees the day off. This caused the internal expenses to skyrocket, and ultimately made it the most expensive funeral in the world.
2. John F. Kennedy – $15 million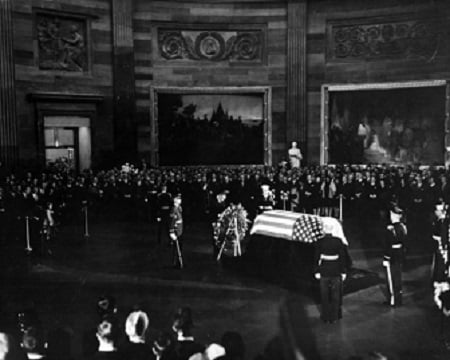 The entire world was shocked when US President John F. Kennedy was assassinated in 1963, and many people remember it vividly today. JFK's burial plot at Arlington National Cemetery in Washington D.C alone cost $13 million, so there's no wonder his entire funeral cost a total of $15 million.
3. Princess Diana – £5 million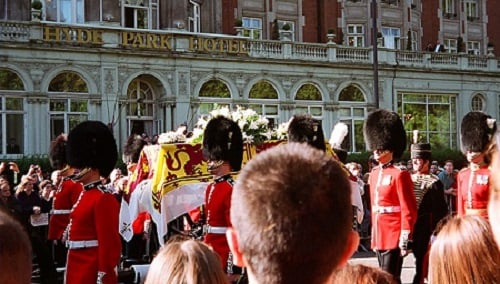 In the early hours of the 31st of August 1997, Princess Diana of Wales, died from the injuries she sustained in a car crash in Paris, France. Her sudden death affected millions around the world, with seas of flowers and shrines to commemorate her everywhere.
She was given a form of ceremonial royal funeral, despite not being still married to Prince Charles. Policing costs alone for the day came to around £2.2 million, with the total cost estimated between £3 to £5 million pounds – which would be around £7 million today.
4. The Queen Mother – £5.4 million
The Queen Mother, mother of Queen Elizabeth II, died in 2002 at the great age of 101. It was largely televised, and many mourned as she was given a ceremonial funeral in London's Westminster Abbey. Her lying in state alone cost £825,000, whilst policing efforts for the day cost roughly £4.3 million.
5. Pope John Paul II – €9 million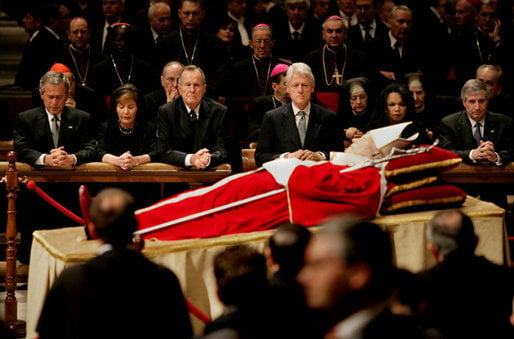 Pope John Paul II was considered one of the most influential religious figures in recent history. He is credited with helping to end the cold war and improving relations between the Catholic church and other faiths.
In 2005, his death and funeral brought together the largest gathering of lead figures, from Tony Blair to the Queen of Denmark. His funeral spanned seven days and the overall figure came to a massive 9 million euros.
6. Margaret Thatcher – £1.2 million
Baroness Margaret Thatcher died in 2013, 23 years after her time as Prime Minister of the UK. The entire funeral cost £1.2 million, even though it had been expected to cost around £1.6 million at the time. The fee for St. Paul's Cathedral service alone was £67,908.
Because Thatcher divided opinions in the country, there was also a hefty spend on security to protect the service from the risk of protesters.
7. Michael Jackson – $1 million
One of the most significant musical figures of the 21st century, Michael Jackson, died on 25th June 2009. His extravagant memorial was held twelve days later, although his body was not buried for weeks. He was laid to rest at Los Angeles' Forest Lawn Cemetery, at a cost of $855,730.
His casket, named 'The Promethean', was made from solid bronze and cost $25,000 alone. It was plated with 14 carat gold and lined with blue velvet. He was buried with some of his most treasured possessions, including his iconic white gloves. His family even had his casket entombed in concrete so it could not be disturbed.
8. Elvis Presley – $25,000
The King of Rock was announced dead at the young age of 42 on August 16th 1977. Less than 24 hours later, over 80,000 people watched as a single white hearse took Elvis to his resting place in Memphis. Although it may not sound like a lot, Elvis's funeral cost the family just under $25,000 (translating to around $100,000 in today's money).
Preparing for the cost of a funeral
Not everyone needs the most expensive funeral to commemorate their life. A funeral is for loved ones and family members to pay their respects and share fond words. But it can also be a place to celebrate and toast to a life. Whatever the funeral you desire, the over 50s life insurance can help your family to cover the cost should you pass away.
If you're starting to think about what you might want for your own funeral, our free My Perfect Send Off tool is a great place to start.
Continue reading
If you've found this post interesting, you may like:
Sources
The thoughts and opinions expressed in the page are those of the authors, intended to be informative, and do not necessarily reflect the official policy or position of SunLife. See our Terms of Use for more info.