15 weird and wonderful funeral requests
Last updated 16th November 2023
2 min read
When it comes to attending a funeral, we usually know what to expect – or at least we thought we did. But our latest cost of dying research has uncovered some unusual send-off requests.
Bright colours are replacing black clothes
One of the most common requests from people who talk about their funeral plans is 'no black'.
Some people ask for their loved ones to wear their favourite sports team's kit. But many have more 'out there' requests, such as Hawaiian shirts.
A Glastonbury fan asked everyone who went to their funeral to wear wellies, to commemorate their love of the festival. Probably not a bad idea considering the British weather.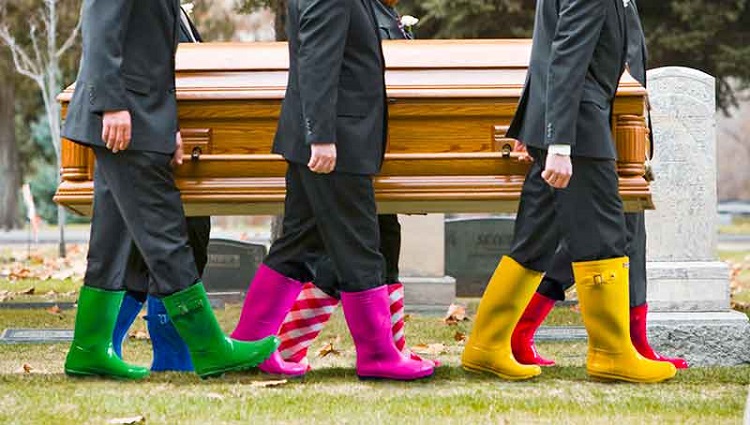 Unusual intro and outro ideas
Unconventional transport is also a popular request. Why have a hearse when you can arrive in an American rig lorry or an old-fashioned milk float?
Another growing trend is to do something 'different' with the person's ashes. Often people's ashes are made into jewellery, or sometimes they're put into a firework to 'go off with a bang!' Either way, they'll be remembered.
Whether the request is warm-hearted, wonderful, wacky or just downright weird, personalisation is a great way to turn a funeral into a celebration of life.
Here's our top 15 out-of-the-ordinary funeral requests
Take the deceased on a tour of London
Have everyone dress up as clowns for the service
Arrive in an American rig lorry
Have ashes in a firework (to go off with a bang)
Star Wars theme with a Darth Vader funeral director
Lead the congregation with the conga
Attendees to wear wellies
Pets at the funeral
Being buried with a whistle (in case of waking up)
Milk float as transport
Plants and vegetables instead of flowers
Harry Potter/Lord of the Rings dress code
Motorbike procession
Beach wear attire
Have ashes made into jewellery
Make it personal
Most of us don't like talking about death. It's a conversation we'll put off, often until it's too late. But, if you want a funeral personal to you, you can make your wishes known with our My Perfect Send-Off planner. Or why not use our funeral planning guide to help you start thinking about your funeral arrangements.
The thoughts and opinions expressed in the page are those of the authors, intended to be informative, and do not necessarily reflect the official policy or position of SunLife. See our Terms of Use for more info.