Simple ways to turn a funeral into a celebration of life
Celebration of life – questions and ideas
Last updated 19th January 2023
8 min read
What is a celebration of life?
A celebration of life is a funeral or ceremony that reflects your loved one's personality. It can be held alongside a more traditional send-off, like a church funeral, or it can be its own separate event.
A celebration of life can be as unique as you like. It all depends on how you feel the send-off will best represent your loved one.
As the name suggests, celebrations of life tend to focus less on grieving, and more on celebrating a person's time on this earth.
Many find this less formal send-off makes their loved one's passing easier to deal with.
In fact, our research shows that it's now the most popular type of send-off, with almost half of funerals being described as a celebration of life in 2022.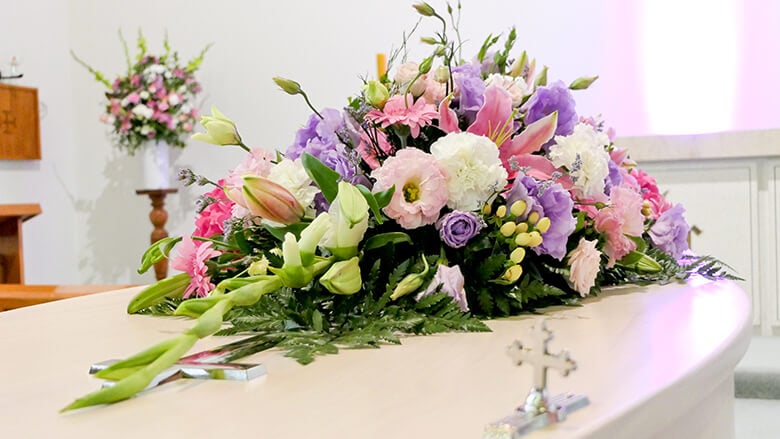 What's the difference between a funeral and a celebration of life?
A celebration of life is more upbeat and less formal than a traditional funeral. Unlike a traditional funeral, the body usually isn't present, and people tend to dress in brighter colours.
Celebrations of life are also not normally held in a church or crematorium. Often, they are in someone's house or at an outdoor venue.
There is usually some kind of party as well, with a focus on celebrating rather than mourning.
Like a traditional funeral, celebrations of life are often held straight after the burial or cremation.
But they can also be held days, weeks, months or even years after your loved one dies (for example, on the anniversary of their death).
What happens at a celebration of life?
The great thing about a celebration of life is that no one send-off is the same.
But there are some things that lots of celebration of life funerals have in common:
Bright colours. In 2022, over 20% of funeral organisers asked for bright clothes to be worn instead of black.
An upbeat eulogy. It's common to focus on heart-warming and funny stories in a celebration of life eulogy.
A touch of humour. There are often funny songs, poems and quotes included in a celebration of life to make it upbeat.
A personal touch. People tend to incorporate photos and videos of their loved one into the celebration. Some of the deceased's favourite music, food and drink is usually included, too.
How to plan a celebration of life
Planning a funeral can be stressful, and a celebration of life is no exception.
We've put together these tips to help you plan a send-off your loved one would be proud of:
Ask friends and family for help. Before you start planning, ask those around you for support.
Decide whether you'd like a funeral director or celebrant. They can help to take the pressure off during what's often a difficult time.
Decide what you want the celebration to be. Would you prefer it to be really fun, or more traditional with a few personal touches?
Lay out your budget. Knowing what you can afford means you can plan accordingly, which could save you lots of stress.
Pick a venue and date. Consider the number of people who may attend, the cost, and how you want the space to reflect your loved one.
Ask who would like to speak at the celebration. Whether it's friends or family, people usually share stories about their loved one at a celebration of life.
Consider a memorial gift. If your budget allows, you could give everyone a special token to remember your loved one by. Seed packets, candles and flowers are all popular choices.
Spread the word. You can send letters, invite people on social media or put a message in the local paper.
Personalise it. From fancy dress to plane-shaped coffins, anything goes at a celebration of life.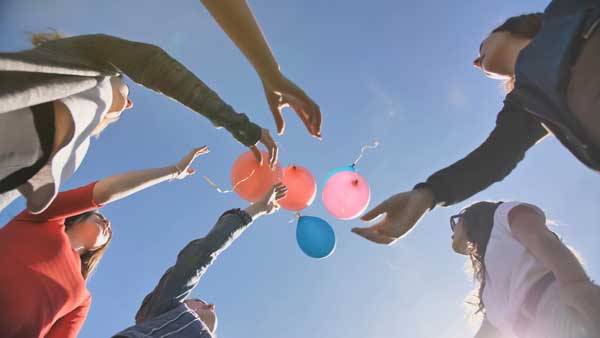 How to personalise a celebration of life
A celebration of life can be as personal as you want it to be. Here are a few ways to make sure the send-off is a fitting tribute to your loved one:
Songs
A celebration of life gives you the chance to play your loved one's favourite music, whatever the genre.
Traditionally, hymns are the funeral music of choice. But celebration of life songs for funerals are more modern and upbeat.
For example, one of the most popular choices is the classic 'Always Look on the Bright Side of Life'.
People even ask for their favourite TV theme song, or for tongue-in-cheek tunes like 'Highway to Hell' or 'Another One Bites the Dust'.
If you really want the send-off to be a celebration, you could also make a playlist of their favourite music (either yourself or by asking loved ones to suggest songs) and have a dance!
Poems
Poems about celebrating life can offer great comfort – especially if you're speaking at the service and are struggling to find the right words.
If your loved one had a favourite poem or poet, that's a good place to start.
But if you're not sure what poetry they liked, there are lots of bereavement poems to choose from.
They don't have to be sad, either. If your loved one liked funny poems, why not recite one or two? They'll help to raise a smile and bring up fond memories.
Quotes
Did your loved one have a favourite quote? Or perhaps they had their own unique sayings?
Including these in a celebration of life is an easy way to personalise the send-off.
For example, you could print quotes in the order of service. Or, if you're having a slideshow, you could put quotes alongside some of the images.
If you're not sure what quotes they liked, you could include some that simply remind you of your loved one.
There are resources online to help you find life celebration quotes that reflect them perfectly.
Food
Did your loved one have a food they just couldn't get enough of? Perhaps they were fond of a particular cocktail, or a certain country's cuisine?
Whether you get caterers in, or make everything yourself with friends and family, food and drink is a simple way to celebrate your loved one.
Eating their favourite dish and sipping their go-to drink can bring everyone together. What could be better than sharing fond memories over a delicious meal?
Venue
A celebration of life isn't generally in a church hall or crematorium.
To help you decide where to have the send-off, think about your loved one's hobbies and passions.
Did they have a favourite place? (For example, a social club or museum.) It could be worth seeing if that venue is available for hire.
Or you could have the send-off in your loved one's or a family member's home.
Whatever venue you use, you can personalise it with decorations. Team banners, themed bunting and family pictures are all popular choices.
Flowers
The flowers at a celebration of life can be whatever you like. If your loved one had a favourite bloom, including it is a good way to make the send-off more personal.
While traditional funerals tend to have more formal flower arrangements, like sprays and wreaths, you could opt for smaller bouquets.
Or, if you want to make the send-off even more personal, you could have a flower tribute tailored to your loved one.
These can be shaped to say their name, or even to look like an object, such as a football or animal.
Memories
Sharing memories of your loved one can really make a celebration of life special.
As well as asking people to speak about your loved one, why not ask them to bring photos along, too? It's a great way to get people reminiscing.
Some people also make a memory album or box, so others can contribute their thoughts, memories and pictures.
You could also have a slideshow of images and videos playing during the celebration.
Or why not ask people to send in short videos in which they share their thoughts and memories?
It's a moving way to share what people most appreciated about your loved one.
What to wear to a celebration of life
Celebrations of life can vary in tone, so it's best to ask the family of the deceased what you should wear.
They might ask you to dress in bright colours, or wear at least one item of a specific colour. There might even be a fancy-dress code.
If you don't know the deceased's family and friends, it's best to play it safe and dress in smart-casual clothes that aren't too bright.
Remember to dress for the weather, too. Wrap up and take an umbrella if it's cold outside. Wear thin, breathable layers in warmer weather.
What to bring to a celebration of life
If you're going to a celebration of life funeral, some families ask people to bring flowers.
Others might ask you to write down a memory of their loved one, so they can put it in an album.
Something that's always appreciated is a sympathy card, so it's best to take one with you.
And if the family is catering the funeral themselves, it could be a big help to take a dish or two with you.
You could also send them a gift basket or bouquet before the celebration. Gestures like this can mean a lot to people who are going through a difficult time.
Donations
It's common to ask people for a donation in the deceased's name at a celebration of life.
Your loved one may have had a cause, charity or organisation close to their heart.
In which case, you could either ask that friends and family donate to these causes in their own time, or collect donations at the send-off.
You could even organise an event to raise money. A charity bike ride or walk can be a great way to support your loved one's favourite charity.
Final tips for a celebration of life
A celebration of life gives us a chance to reflect on our loved one's life and pay tribute.
Here are a few quick tips on what to do, and what to expect, from a celebration of life:
Celebrations of life are more upbeat than a traditional funeral
They generally reflect a person's passions and hobbies
It's usually OK to wear brighter colours
Music tends to be more modern and upbeat, and dancing is often encouraged
Don't be afraid to smile and share fond memories. It's an opportunity for everyone to come together and celebrate what made their loved one special.
A funeral is an important part of saying goodbye to someone we love. Whether you're organising a traditional service or a celebration of life, our tips and tools can help you plan the perfect send-off.
The thoughts and opinions expressed in the page are those of the authors, intended to be informative, and do not necessarily reflect the official policy or position of SunLife. See our Terms of Use for more info.