What to wear to a funeral
Last updated 4th December 2020
Funeral outfits don't always follow the traditional 'black clothes only' rule these days. A funeral dress code can be anything from formal, to bold and brightly coloured.
When deciding on your funeral attire, it's usually best to speak to the deceased's family and friends about the dress code or ask others what they'll be wearing so you can plan accordingly.
If you are still unsure about what to wear, the following tips can help you decide how to dress for a funeral:
Consider the type of funeral. If it's a traditional funeral or memorial service, the dress code will probably be smart and more sombre. If it's a celebratory send-off, you could opt for a more casual style and brighter colours.
Dress for the weather. Is it a rainy day? Take an umbrella. Cold? Wrap up warm. Hot? Wear thin, cotton layers and take sunglasses.
Blend in. A funeral isn't the time and place to make a fashion statement.
If in doubt, dress smart. When you just don't know what to wear to a funeral, it's best to wear smart, dark-coloured clothes (the kind you might wear to a job interview).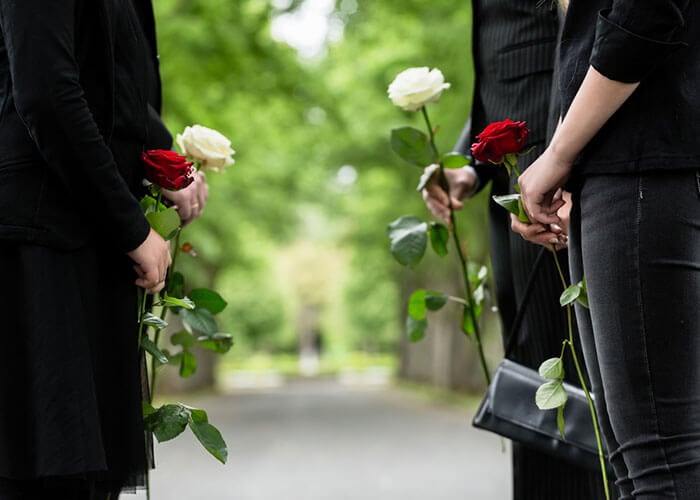 What to wear to a funeral: Ideas for women
For women's funeral attire, it's best to stick to modest clothes and simple accessories.
A smart suit or a simple black dress is often a good choice when attending a funeral. It doesn't necessarily have to be black, though. Dark colours like navy blue or burgundy also work well.
If you wear a dress or skirt, check the hemline isn't too short. It's also worth making sure your top isn't too low-cut.
To play it safe you could easily stick to plain clothes. Otherwise you could wear a slightly patterned top, such as low-key stripes, floral, checked or polka-dot.
Flat shoes or low heels are a good choice, especially if you'll be walking to the graveside and standing up for a while.
Your jewellery, hair and makeup should be simple, too. And if you wear a hat, make sure it's not so big it will block someone's view.
To recap, here's a few simple funeral outfit ideas for women:
Knee length or long smart darkish-coloured dress with tights
Smart style suit with slightly patterned top, blazer and trousers or a skirt
Smart-casual linen coloured or patterned shirt with black trousers
Plain jumper, trousers and long-trench blazer style coat (winter)
What to wear to a funeral: Ideas for men
For men's funeral attire, your safest bet is a dark or black suit. Dark blue, navy and grey are also good colours.
This is usually worn with a white dress shirt, plain tie and smart shoes.
Basically, your funeral dress code is usually the same as what you'd wear to a job interview.
If you don't have anything smart in your wardrobe already, you could consider hiring a funeral suit.
For more casual funerals, it's usually OK to wear a smart jacket over a jumper. Or you could wear loafers, but not trainers.
It's also OK to wear a hat, as long as it's not too casual. (Just remember to take it off during the service.)
Even in the summer, men generally still wear trousers and a shirt to a funeral, not shorts. If it's hot, you could always lose the blazer and wear a light-weight shirt and wear a colour that won't show sweat patches.
Funeral attire for children
For children's funeral attire, it's standard for boys to wear a shirt and tie, and for girls to wear a dress.
But make sure to check what's appropriate for that specific funeral. A good rule of thumb is to dress children in the same style as the adults.
While funerals are generally no longer than an hour, it's a good idea to make sure your children are comfortable in their funeral outfit.
Also, make sure they can add or remove layers depending on the weather. The last thing you need at a funeral is your children complaining about being too hot or cold.
How to dress for a celebration of life funeral
A celebration of life funeral means the send-off is more light-hearted. There's often drinking and dancing, so the funeral dress code will be more casual.
If you're going to a celebratory funeral, it's best to ask family and friends of the deceased what they'd like you to wear. Especially as some funerals have a theme. For instance, you might be asked to wear a certain colour.
If in doubt, it's usually fine to wear smart-casual clothes to a celebration of life funeral.
What to wear to a funeral in summer
It's important to dress for the weather when you go to a funeral.
When the sun's out and temperatures are high in summer, you might want to pack sunglasses and sun cream if you're going to be outside for a while.
And dressing in thin layers means you can take clothes off and still look appropriate.
Breathable fabrics will also help to avoid the dreaded sweat patches. Light-weight fabrics include:
Umbrellas are just as useful in summer as they are in winter, too. Take one with you for shade.
What to wear to a funeral in winter
It always helps to layer up properly for a winter funeral. Wear a dark, smart coat (if you have one) and pack a hat, scarf and gloves.
If it looks like rain, don't forget your umbrella. And wear practical shoes that will keep your feet dry and warm.
Men's smart shoes often have a smooth sole meaning they're more likely to be slippery on a wet floor. Bear this in mind if it's been raining.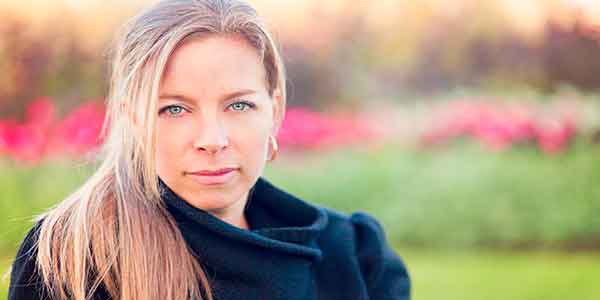 What not to wear to a funeral
When attending a funeral, it's best to avoid clothes that will draw attention to you. A send-off is a time to pay your respects, so it's important to dress appropriately.
Of course, what's appropriate depends on the type of funeral service. Some people might encourage casual clothes and bright colours. But as a general rule, it's best to avoid:
Jeans
Flip flops, sandals or trainers
Revealing clothes
Large hats
T-shirts
Clothes with branding, writing and logos
Baseball caps
Showy jewellery
Funeral etiquette: quick tips
We know there can be lots of rules around funeral clothes. So here's a quick round-up of what you can do to dress appropriately for most send-offs:
Wear smart, modest, dark-coloured clothes
Keep your hair, makeup and jewellery simple
Don't show too much bare skin
Polish your shoes
Don't wear strong perfume or aftershave
If it's a traditional church service, cover your tattoos
But remember – while dressing appropriately is important at a funeral, your presence is what matters most. So don't worry if your wardrobe hasn't got many funeral-type clothes in it. You can pay your respects, whatever you're wearing.
For more advice and guides, see our funeral planning tips and tools.
The thoughts and opinions expressed in the page are those of the authors, intended to be informative, and do not necessarily reflect the official policy or position of SunLife. See our Terms of Use for more info.