Popular funeral flowers and arrangements
Last updated 29th March 2022
8 min read
A guide to choosing funeral flowers
Expressing sympathy with funeral flowers is one of our longest-standing traditions. But knowing what flowers to choose can be hard, especially at a sensitive time.
There are plenty of other decisions that will need to be made when planning a funeral, and we all want to make sure we get our choices just right.
The good news is, the continuing rise of alternative funerals has meant traditional funeral flower etiquette has softened, leaving you free to do what you feel is right for the person and the occasion.
If your loved one had a favourite flower, or there is a flower that reminds you of them, it can feel quite soothing to have it at the funeral.
This complete guide takes you through some of the most popular flowers chosen for funerals and the meanings behind them, as well as some contemporary choices and other popular questions surrounding funeral flowers…
On this page:
What types of funeral flower arrangements are there?
There's no requirement for flowers expressing sympathy to be presented in a particular way, so do whatever you feel is right.
If you'd like the flowers to be on display at the funeral, it's advisable to go for an arrangement that is flat at the back, so they can be laid down on the coffin or ground.
Here are some popular funeral flower designs:
Funeral sprays and sheaves
These are very popular types of funeral flower used as a way to express sympathy.
Traditionally sprays are a large, flat bouquet of long-stem flowers used to adorn a coffin or casket. They come in a variety of colours, styles and sizes and can be made to suit your requirements.
They sit on top of the coffin, and can be single-ended or double-ended for a bigger covering.
Sheaves are generally hand tied and make a lovely alternative to a bouquet of flowers, as they can be sent to a home address directly after a funeral.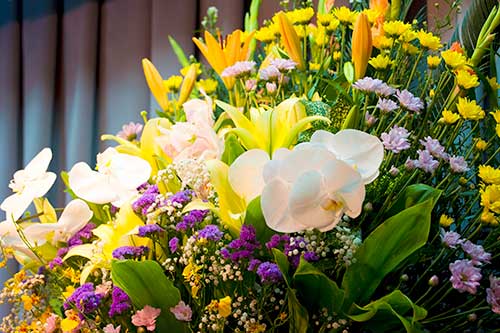 Flower wreaths
A wreath is probably the most familiar funeral flower arrangement. They consist of a band of plant materials and flowers which are secured together in a circle.
The circular shape represents eternal life and they can be made to different sizes using a variety of flowers.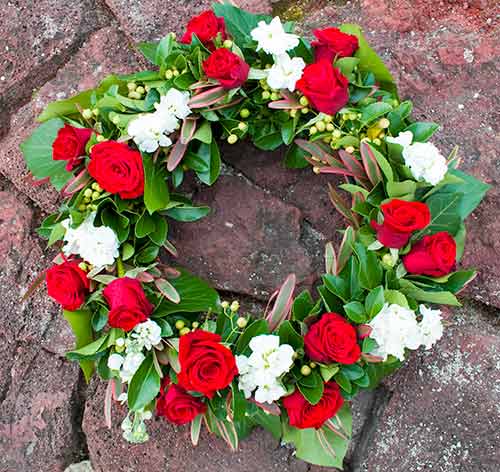 Floral baskets
Floral baskets contain a mix of flowers and foliage and are good to display on tables or alongside the coffin.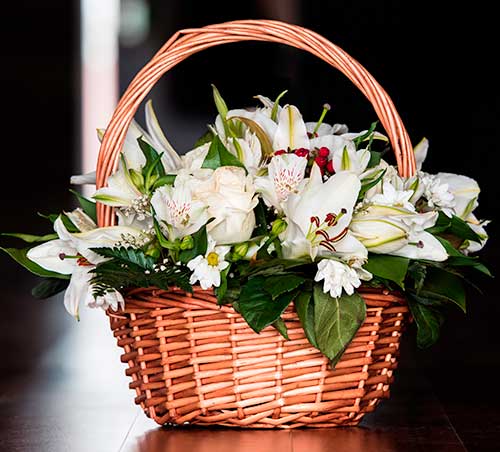 Special floral tributes
Special shaped tributes add a very personal touch to a funeral. They can make a name in flowers or something personal, such as a much-loved car or sport.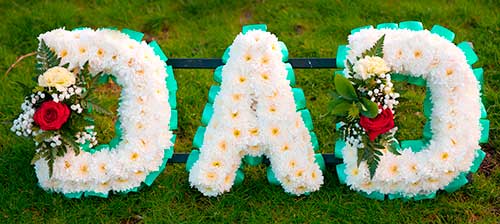 What are the most popular flowers for funerals?
Your selection of funeral flowers is the perfect way to reflect the personality of your loved one.
Among the variety of single stem flowers for funerals, both roses and gladioli remain popular choices. Below you'll find a list of the most popular funeral flowers.
Lilies
Lilies represent innocence and a return to peace, making them the go-to flowers for expressing condolences. The white lily represents purity and the white stargazer lily is a symbol of sympathy.
Lilies are a popular choice of funeral flowers for mums or grandmas.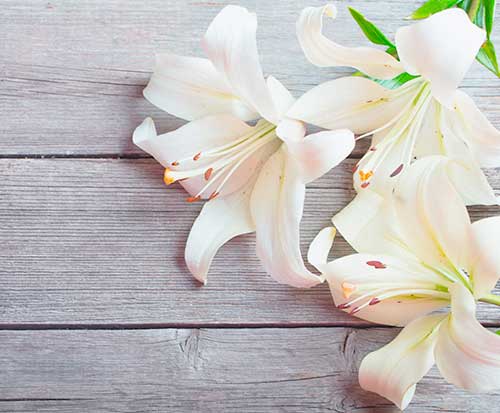 Roses
The rose is another reliable and beautiful choice of funeral flower, and a single stem is often enough. All roses represent love, but each colour has a slightly different meaning. White stands for purity and innocence, while deep red roses symbolise love and grief.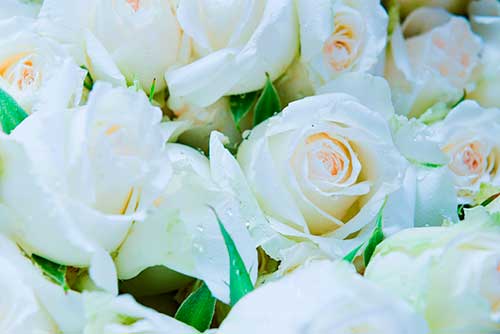 Carnations
If the cost of funeral flowers is a concern, carnations are a good option. They also have the advantage of staying at their best for a long time. Pink carnations symbolise remembrance and white varieties represent love.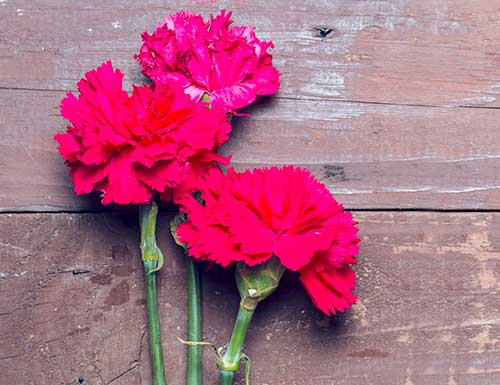 Gladioli
Gladioli are striking flowers, often measuring over a metre tall. They come in a huge range of colours and represent strength of character and integrity, making them great funeral flowers.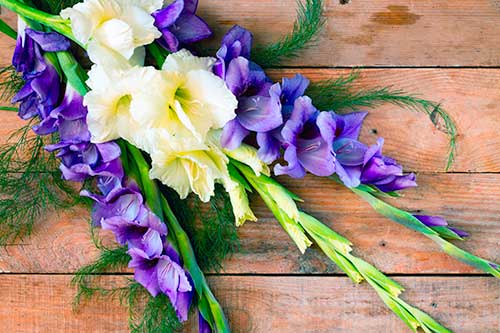 Single stem flowers for funerals
Traditionally, single stem flowers for funerals can be left on the coffin or casket before, during or after the service. This provides an ideal moment to pay personal tribute to someone special as each flower is laid.
Petals from single stem flowers can also be scattered into the grave to add a beautiful farewell touch.
Other funeral flower ideas
Chrysanthemums
In some parts of Europe, chrysanthemums are only ever used as funeral flowers, and in Asia they symbolise grief. Although we don't attribute the same meaning to them in the UK, their simple beauty makes them a fitting funeral flower.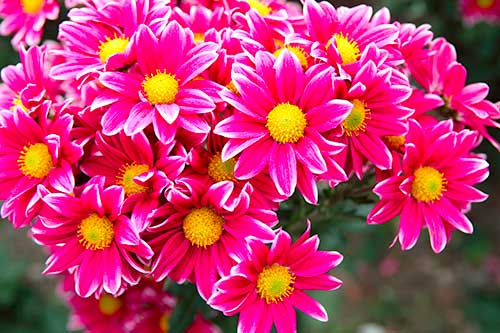 Orchids
Orchids universally stand for eternal love. If you're not sure which ones to go for, pink or white are associated with mourning and are often given as sympathy flowers.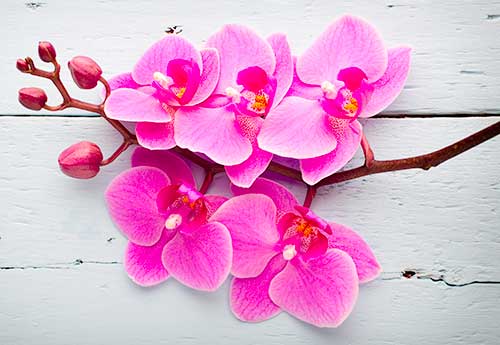 Hydrangea
Hydrangeas are usually used to say thank you so may not spring to mind as a funeral flower. But they are also associated with deep emotions, so could make a touching choice for a floral tribute.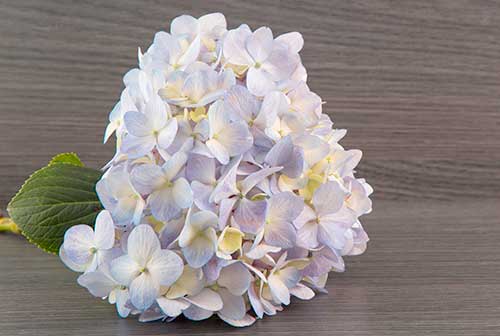 Tulips and daffodils
These vibrant spring flowers are associated with new beginnings, but can also add a refreshing burst of colour to a sad occasion — perfect as a tribute to a bubbly personality or for funerals as a celebration of life.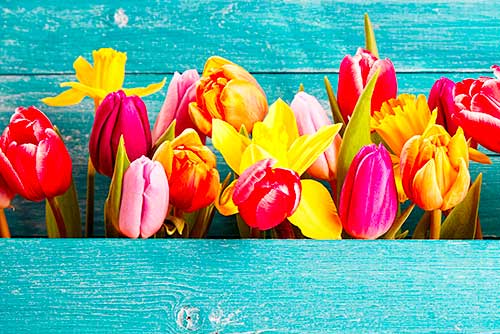 What else to consider when choosing funeral flowers?
Family wishes
It's worth double-checking the family's wishes. Today, people often ask for donations to their favourite charity rather than funeral flowers.
The personality of the person
If the deceased was a bubbly person, you could choose bold, bright flowers to reflect their personality, or you could use their favourite flower as inspiration.
Type of funeral
Is it a traditional funeral service or a more of a celebration of life? Knowing the tone of the occasion can help you decide on appropriate funeral flowers.
Your budget
The cost of funeral flowers can mount up – especially if you go for large arrangements. Don't forget, something very simple can be equally as touching, if not more so. Don't underestimate the power of a single rose or hand-picked flowers from the garden.
What to write on funeral flowers
Choosing the right words for the card to accompany the flowers can be hardest of all. Don't feel the need to say too much. A simple 'Forever in our hearts' can be enough. Read What to write on funeral flowers and sympathy cards for inspiration.
And finally, always remember that it's the thought that counts. Sending flowers for a funeral or to express your condolences is a touching gesture, and a wonderful way to convey your sympathies.
How much should I spend on funeral flowers?
How much you want to spend is up to you. Smaller flower arrangements will often cost a lot less than, for example, a coffin spray which can cost up to the hundreds.
Floral tributes in shapes or words can vary in price greatly. With whatever you choose to spend, it's always the thought that counts, so try not worry too much.
Florists will usually be able to offer a wide range of funeral flowers, so you can find something to suit your budget and requirements. Alternatively, some funeral directors may be able to arrange flower tributes, and you can find a huge range of sites online that will deliver.
Where should I send funeral flowers?
You can send funeral flowers to the funeral home that's helping to organise the funeral. The funeral director will be able to keep the coffin together with the flowers and ensure everything is set up together.
Flowers can also be sent to the bereaved family or loved one's home address, but remember to check that someone is able to receive the delivery.
What could I give instead of funeral flowers?
If you feel that flowers aren't necessarily the best way to honour your loved one, or if people have requested no flowers are to be given, then there are plenty of alternative gift ideas to funeral flowers.
Sometimes families ask for a donation to a charity, other kinds of tribute like balloons, or even a financial contribution towards the costs.
If in doubt, it's best to ask the family what they might find most fitting.
For more help with funeral arrangements, explore our other blogs, including how to personalise a funeral, popular hymn ideas, and poems for funerals.
Our My Perfect Send-Off planner is designed to make recording your funeral wishes a little easier. It guides you through your options and lets you save your answers ready for when they're needed, so your loved ones will know what to do when the time comes.
The thoughts and opinions expressed in the page are those of the authors, intended to be informative, and do not necessarily reflect the official policy or position of SunLife. See our Terms of Use for more info.