What to do with ashes after a cremation
Last updated 18th January 2023
6 min read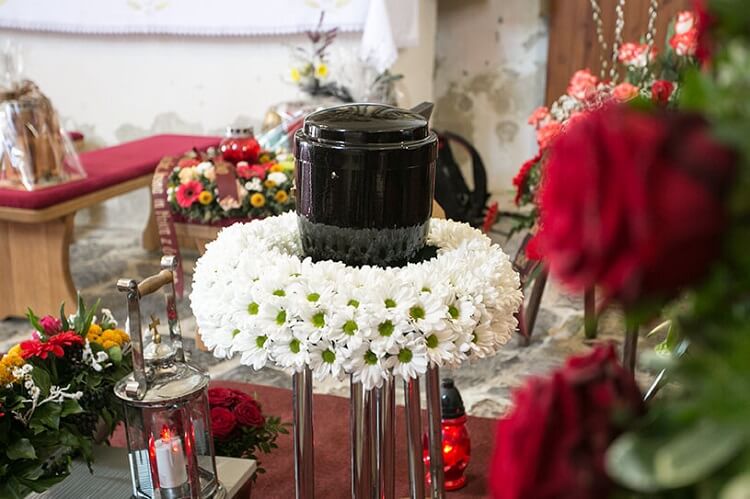 When considering what to do with your loved one's ashes after a cremation, there are plenty of options open to you. More traditional choices include interment, storing cremated ashes at home, or scattering them. If you're thinking of something more unique, there are also more creative things to do with ashes such as turning them into jewellery.
This guide takes you through a range of potential things to do with cremated remains. As well as providing you with some ideas, we'll also look at practical points such as possible containers for storing ashes. Whichever option you decide on, the main thing is to pick something that will be meaningful for you and others who were close to the deceased.
Interring cremated ashes
Interment of cremated ashes is the most traditional option. This refers to the act of burying your loved one's ashes or placing them in a permanent location above ground like an urn garden.
There are several possible locations for interring ashes:
Cemeteries are a conventional location for the interment of ashes. You could opt for a graveyard attached to the deceased's usual place of worship if they were religious. Alternatively, there are non-religious cemeteries across the UK.
Urn gardens can be found in cemeteries and at other memorial sites, so you can choose a religious or secular location. Some urn gardens require you to bury ashes, whereas others have space to store urns above ground.
Natural burial grounds are sites where your loved one's ashes can be laid to rest in nature. Often positioned in woodlands or other places of natural beauty, these grounds offer a different option for interring ashes and there are many located throughout the UK.
A columbarium is a space where cremated urns are stored. They can be found in mausoleums, but there are also entire structures dedicated to this purpose. The urns will typically be positioned in alcoves along a wall.
Private land is also an option. You could choose to bury the ashes in your own garden or elsewhere provided that you have the landowner's permission.
Interring allows you to store your loved one's ashes permanently in a place that meant something to both of you. And there's also the option to have their ashes buried at the same site as someone who they were particularly close to in life.
Some people choose to inter ashes if they opted for a direct cremation (i.e. a cremation without a funeral service).
Scattering ashes
Scattering ashes is an increasingly popular choice. Often, the scattering will be accompanied by some form of informal ceremony or send-off to say goodbye.
In the UK, the law allows you to scatter a loved one's remains wherever you wish provided that you have the landowner's permission – this could be at a location that meant a lot to them, a site of outstanding natural beauty, or even at sea.
Take a look at our in-depth study on the best locations for scattering ashes to learn more about where people choose to say goodbye to their loved ones, ceremony options, and other helpful advice on this topic.
Storage ideas for ashes
If you'd like to keep your loved one's remains after the cremation, there are several different storage ideas for ashes that you could consider. The main decisions to make in this case are how and where you'd like to store the cremated ashes.
Containers for cremated ashes
An urn is the traditional container for cremated ashes. The standard type of urn that you may have seen before is shaped like a vase. They tend to be made from materials like metal, wood, or stone.
If your loved one was an environmentalist, you can buy biodegradable urns that offer an eco-friendly alternative to the conventional style. You'll also find larger 'companion urns', which are designed to hold two people's ashes.
Want to break from tradition and honour your loved one's memory in a different way? You could consider an alternative type of ashes container altogether. Some choose to store remains inside something that symbolises an aspect of the deceased's personality such as:
A wall-mounted plaque
A chest
A picture frame
A clock
A keepsake
An everyday item
There are lots of creative and unusual urns and containers that can be bought online, so you're sure to find a fitting vessel for your loved one's ashes. Whichever kind of container you go for, just make sure that it is durable enough to hold the ashes for years to come.
Choosing to store cremated ashes inside a smaller, alternative container also means that the remains can be shared between more than one person if you'd like.
Where to store cremated ashes
Most people who decide not to inter or scatter cremated ashes keep them at home. You could place the urn on your mantelpiece or in a more quiet, secure location such as a study. If you've opted for an alternative container like a clock or picture frame, this may also determine where you end up positioning the cremains.
Creative things to do with ashes
None of these options sound right in your case? There are plenty of more unique alternatives for you to consider, with people coming up with new creative things to do with cremated ashes all the time.
Memorialise your loved one in art
One option is to commission a piece of art that honours the deceased's life and turns their ashes into a thing of beauty. This can be a particularly appropriate way to memorialise someone who had an artistic personality or a fascination with a certain artform.
It's possible to create cremation sculptures(www.castingashes.com opens in a new tab), glass artwork(www.withloveandlight.co.uk opens in a new tab), and paintings(www.joincake.com opens in a new tab) depending on your preferred medium.
Create unique, personalised jewellery
Some people are now choosing to incorporate cremated ashes into jewellery, including rings, lockets, necklaces, bracelets, and other keepsakes. Cremation jewellery allows you to keep your loved one close to you wherever you go – it can also provide the perfect heirloom to hand down through the generations.
Take a look at Forever Together's website(www.forevertogetherjewellery.co.uk opens in a new tab) to learn more about the process of making the jewellery and how to order.
Grow a tree with the cremation ashes
Another beautiful idea that's becoming more and more popular is to grow a tree from the cremains.
Cremated ashes can harm plant life if interred on their own due to the acidity involved in the embalming process, but tree pod burials prevent this from happening. The process works by neutralising the pH of the ashes and separating them from the soil and seeds in two chambers. As the tree grows, the ashes become part of its structure without harming any of the surrounding flora.
You can learn more about the process on The Living Urn's site(www.thelivingurn.co.uk opens in a new tab).
Let them become one with the sea
If your late family member was a lover of the sea and marine life, you could think about having their ashes incorporated into a man-made coral reef under the waves.
This unique type of send-off sees the cremation ashes become part of an eco-friendly formation at the bottom of the sea, which is then assimilated into the natural ocean environment over time. You can choose the location of this formation and they're completely safe, even providing a new habitat for fish and other sea creatures to live in.
Visit the Eternal Reefs site(www.eternalreefs.com opens in a new tab) for more information.
Have the ashes made into music
What better way to say goodbye to a music lover than to have their ashes made into a vinyl record of their favourite song or album? You can keep the record spinning for eternity with a custom-made cremation vinyl from And Vinyly(www.andvinyly.com opens in a new tab).
Send them on a final journey into space
Whilst they may or may not have made it into space during their lifetime, many would consider it a fitting end to have their ashes sent off into the stars after the cremation. Aura Flights(www.ashesinspace.co.uk opens in a new tab) offers just that, using lighter-than-air gas balloons to scatter cremains at the edge of space.
Next steps
If you've found some inspiration in this guide on what to do with ashes after a cremation, you may also want to take a look at the following resources:
At SunLife, we offer a range of products and services that may be of interest, including over 50s life insurance, our Guaranteed Inheritance Plan, and equity release.
The thoughts and opinions expressed in the page are those of the authors, intended to be informative, and do not necessarily reflect the official policy or position of SunLife. See our Terms of Use for more info.