Burial or cremation: what's the best option?
Last updated 22nd November 2023
6 min read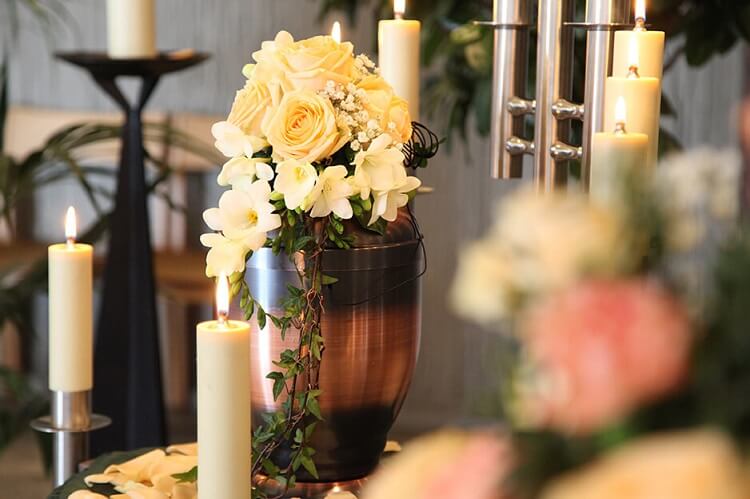 When considering a burial or cremation for yourself or a loved one, you may find it difficult to settle on a decision – especially if a loved one has not asked for a specific type of service in their will.
In our Cost of Dying Report, we found that 57% of all funerals in the UK are cremations – the most popular choice for individuals and families. This is closely followed by burials at 25% and direct cremations at 18%.
While over half of the country are opting for a cremation over a more traditional burial service, are cremations the best option for you and your family? Keep reading this guide to learn the differences between a traditional burial and cremation, including the average cost, environmental impacts and religious beliefs.
The traditional burial process
To understand what funeral service is right for you, it may be helpful to learn what happens in a traditional burial service, especially if you haven't attended one before.
In many cases, the funeral director and family of the deceased will travel to the funeral venue with the hearse, though some families may choose to meet the procession at the venue instead. The coffin is led into the venue by the pallbearers and, once everyone is sat, the main funeral service will begin.
The burial service is then usually held at a churchyard or cemetery, which attendees will be guided to after the main funeral service has ended. The coffin will be lowered into the grave, where it is common for attendees to scatter soil or place flowers into the grave.
The grave is traditionally not covered until all guests have left.
Benefits of traditional burials
It's a traditional method to celebrate the life of a loved one
Provides a dedicated place for family and friends to visit for years to come
Offers environmental benefits by not releasing gas, with eco-friendly burials available
Accepted among most religions
The cremation process
Similar to a traditional burial, a main funeral service can take place at the crematorium before the cremation.
When the coffin is carried into the venue by the pallbearers, it will usually sit on a raised platform as the funeral service takes place. Once the main funeral service has ended, some crematoriums may draw curtains across the coffin or lower it below the floor, out of sight, to signify the committal.
Once the committal begins, guests will leave and the coffin will be taken out of the room to be cremated. The cremation can take up to 90 minutes in total. Family or loved ones will then be able to collect the deceased's ashes once they have cooled and are stored within an urn.
Benefits of cremation
On average, they're much less expensive than a traditional burial
Ashes can be scattered or held in a special or meaningful place for your loved one
Provides greater flexibility in the case that you move away and wish to take the ashes of the deceased with you
Environmental benefits by not using land space
What is a direct cremation?
A direct cremation is a term used to describe a cremation with no funeral service. Usually, this means that the cremation will take place at a time and place convenient to the funeral provider with no mourners, attendees or ceremony.
There are many reasons why you may choose a direct cremation for your loved one:
On average, they are the most affordable funeral choice
Families can arrange their own service when everyone is ready, at a time and place suitable for them
Family and friends may not wish to collect sad memories of their loved one at a funeral
No additional expenses for hearses, embalming or officiant fees
You can read our guide to direct cremations to help decide if it is the right option for you.
Cremation vs burials: the cost
An important factor to consider when choosing a funeral service is cost – and when it comes to cremation vs burials, there is a big difference.
According to our Cost of Dying Report, the average cost of each funeral service is as follows:
The average cost of a traditional burial is £4,794
The average cost of a cremation is £3,673
The average cost of a direct cremation is £1,511
The overall cost of a funeral will ultimately depend on a number of factors, including the venue, mode of travel, officiant fees, flowers, whether the body needs to be embalmed, the addition of a memorial or headstone and any optional extras.
To find out how much the average funeral will cost in your area for each service, try our free funeral cost calculator.
Which is better for the environment?
Both cremations and traditional burials have some degree of negative impact on the environment, but having an eco-friendly send-off may be important for you or your deceased loved one.
Check out our full article on green funerals for more information and inspiration.
Cremations and the environment
The cremation process typically uses a large amount of energy and produces excess carbon dioxide which can be harmful to the environment. However, all cremators must comply with The Environmental Protection Act 1990, meaning there are strict requirements in place to reduce these emissions.
Burials and the environment
Burials are often perceived as more eco-friendly – however, toxic chemicals are used within the embalming process and within the production of many coffins which then leak into the surrounding soil and groundwater. On top of that, there is a vast amount of energy and resource that goes into creating coffins and headstones.
Natural and woodland burials
Many eco-conscious individuals may opt for a natural or woodland burial. These burials are not harmful towards the existing environment and, instead, create a new habitat for wildlife.
Eco-friendly practices are used wherever possible, such as using a biodegradable wicker coffin and prohibiting embalming to stop any toxic chemicals from entering the soil. There are currently over 270 green burial sites in the UK.
What do religions say about cremation vs burial?
Different religions have different views on cremation, with some strongly favouring a traditional burial and others taking cremation as the preferred method. In some cases, religious attitudes have changed over time, permitting cremation when it was once forbidden.
When planning a funeral for a loved one, try to take their religious beliefs into account when choosing between a burial or cremation. If you're unsure what their religious beliefs permit, we'll take you through some of the differing attitudes below.
Religions that accept both cremation and traditional burial
Hinduism
Buddhism
Sikhism
Parsees
Jehovah's Witnesses
Quakers
Catholics*
Many other Christian denominations
*Historically, cremation was not an accepted method for Catholics as they believe in the resurrection of the body after death. However, in 1963, the Pope lifted the ban on cremation, though the ashes of cremated loved ones must be kept in a sacred place, such as a church cemetery, and not scattered or kept at home.
Religions that do not accept cremation
Islam
Judaism
Eastern Orthodoxy
Mormons (cremation should occur only when required by law or in unusual circumstances)
Planning a burial or cremation for a loved one
If you're in the process of planning a funeral for yourself or a loved one, we hope this guide has helped you decide on the most appropriate funeral service.
Remember to consider the cost, religious beliefs, what happens during each service and, perhaps most importantly, the ideas and/or feelings that mattered the most to the deceased.
For more guidance through the planning process, take a read of our funeral planning guide or explore other helpful articles in our funeral planning hub.
Services you may find useful
Looking to plan ahead for the future? At SunLife, we offer over 50s life insurance which can help to cover the costs of a burial or cremation.
The thoughts and opinions expressed in the page are those of the authors, intended to be informative, and do not necessarily reflect the official policy or position of SunLife. See our Terms of Use for more info.