Green funerals – eco burials and greener cremations
Last updated 14th June 2022
3 min read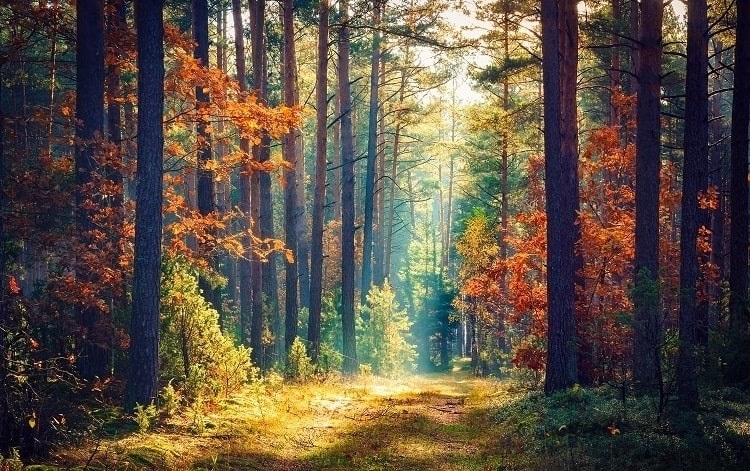 The modern world is changing to be more eco-friendly, and funerals are adapting with it.
Eco-friendly funerals and greener cremations are becoming more popular. They give people a way to return their body to the earth in the most natural way possible. This type of funeral reduces your impact on the environment – and may even give something back.
In this guide, we'll cover exactly what a green funeral is, the options available to you, and how you can start planning your own eco-friendly burial or cremation.
What is an eco-friendly funeral?
An eco-friendly funeral is a type of burial that is less harmful and has less impact on the environment. An eco funeral often occurs in a natural memorial setting, with a biodegradable coffin and a small, personal ceremony.
Why should I choose an eco funeral?
With many of us more conscious about our carbon footprint, it's only natural that we think about our impact on the environment, even after death.
Eco-friendly funerals are the answer, offering to reduce your carbon footprint with less chemicals, less pollution and more consideration for wildlife.
However, there are other reasons to choose an eco funeral beyond the environmental considerations.
Eco-friendly funerals are often cheaper
A green funeral tends to be cheaper than a traditional burial, or even cremation. The ceremony itself can be simpler and personalised, reducing costs.
Eco-friendly burials also offer alternative biodegradable coffins such as willow or bamboo. These are cheaper than their solid wood counterparts.
A beautiful resting place
Eco funerals such as woodland burials take place in a rural, natural setting. Surrounded by beautiful scenery, your loved ones will have views of wildflowers, protected woodland areas or a designated green forest area.
Natural places such as this offer a peaceful resting place for you, whilst giving any visitors a quiet place to return to.
Eco funeral and green funeral plans
If you think a green funeral sounds like something you'd be interested in, it's worth knowing the different types of eco-friendly plans that are available...
What is an eco-friendly burial?
An eco-friendly burial, often called a natural burial or woodland burial, involves laying a person to rest in a designated natural area. Eco burials are often non-traditional, with a biodegradable coffin or shroud, a natural headstone and a shallow grave.
Is there a green version of cremation?
Cremation is often seen as more harmful to the environment, due to the high fuel and energy usage. This has resulted in scientists researching ways to reduce the carbon footprint of cremation, such as water cremation.
While water cremation isn't available in the UK right now, there are other ways you can have a greener cremation, including:
Choosing a biodegradable cardboard cremation container
Using a biodegradable or natural urn for the remains
Selecting a cremation provider that uses energy-efficient furnaces
Opting for a direct cremation to skip the embalming process
What other green funeral options are there?
Eco-friendly burials and green cremations are certainly the most popular sustainable funeral choices, but there are other options out there.
Here are just a few of the other green funeral plans you could consider:
Sea burial
Mushroom suit burial
Body composting
Burial shrouds
These sustainable and environmentally-friendly funerals aren't often covered in regular funeral plans, and they can often cost more. So it's best to do some research on these funeral types before making any plans.
How can I start planning my eco funeral?
If you're thinking about planning an eco funeral for yourself, or you're helping a loved one plan a green funeral, it's worth thinking about which of the above options you'd prefer.
Think about how you'd like your resting place to reflect your life, and whether you'd prefer a burial or cremation.
Once you have an idea in mind, you could speak to a funeral director about what's available in your local area. They'll help you with the next steps.
Depending on which type you choose, the cost of a green funeral may be covered by a funeral plan. Get a funeral plan quote today, or get in touch to discuss your options with our friendly team.
Continue reading
If you found this guide on eco funerals useful, you may also want to read: