Types of coffins and prices
Last updated 31st May 2023
7 min read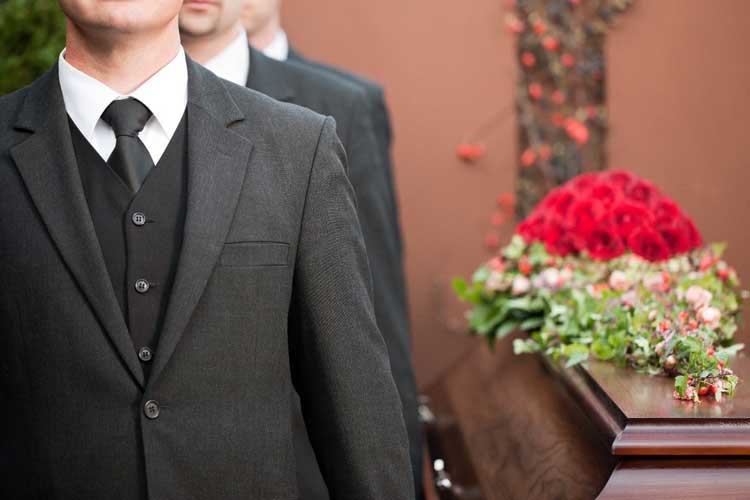 Whether you're planning a funeral for a loved one or starting to put plans in place for your own send-off, it can be hard to know where to start when it comes to coffins.
Most people buying a coffin are doing so for the first time. And, even if you have bought one before, all the different types and options can be overwhelming.
This article outlines some of the main types of coffins, and how much you might expect them to cost according to online retailers. Prices will vary if purchasing a coffin through a funeral director.
How much is a coffin?
The price of a coffin depends on the type of coffin, the material it's made of, and the workmanship needed to build it.
For example, a cardboard coffin is likely to cost significantly less than a solid wood coffin.
You'll also find that a casket is usually more expensive than a coffin, because it's bulkier and more extravagant.
Funeral directors generally mark-up the price of coffins. If you're looking to cut costs, you could buy your own and get it delivered to a funeral director.
What are the types of coffins and caskets?
There are all kinds of coffins and caskets available. Popular choices include metal caskets, solid wood coffins, and bamboo coffins.
Here are some of the most popular types of coffins and caskets for every price range:
Burial shroud
There's no legal obligation to be buried or cremated in a coffin. If you wish, you could get buried in a shroud – a long piece of cloth that's wrapped around the body. A shroud can be made from materials including linen, silk, hemp, flax, and cotton.
The benefit of choosing a shroud is that it's cheap, easy to plan for, and kind to the environment. Prices vary, but you could expect to pay around £300 for a bamboo-fabric shroud. If you would also like a shroud stretcher, this will add to the cost.
Cheap coffins
Cheaper coffins usually range from anywhere between £170 to £480. The most common types are:
Cardboard coffin – Cardboard coffins are an affordable option that can be easily customised. They are becoming more and more popular. Cardboard coffins are made from biodegradable cardboard. They also cremate quickly, producing lower carbon emissions. It's important to consider the person's size when choosing a cardboard coffin, as there are weight limitations. Make sure to choose a cardboard design from a well-known provider, to make sure it's good quality.
Flat-pack – If you're looking for a coffin that will reduce your carbon footprint, a flat-pack coffin is ideal. You can order flat-pack coffins online, get them delivered to your home, and put them together yourself. This is helpful if you need a coffin quickly. The easy-to-assemble design is more eco-friendly, because it takes up 80% less room during transport than the average coffin.
Mid-range coffins
Mid-range coffins usually cost around £350 to £800, or up to £1,000 for coloured or personalised options. Popular types of moderately-priced coffins include:
Veneered wood – Veneered wood coffins offer a quality look without the steep price tag. They are made with veneer panels and a real wood top. This offers a feeling of luxury and makes them a popular choice for a traditional funeral.
Woollen – If you'd like something more unconventional, woollen coffins are becoming a popular choice. Woollen coffins are made from cardboard, then upholstered with 100% wool. This creates a warm, cosy look which might seem more comforting than a traditional coffin, and is fully biodegradable.
Bamboo – Bamboo coffins are a 100% natural, eco-friendly option. They're ideal for a green funeral or a natural burial. Bamboo is extremely hard-wearing. In fact, it's used to build houses in some parts of Asia. So, you can rely on a bamboo coffin for strength and quality. The bamboo is hand-woven around a durable natural frame and is easily personalised. You could, for example, decorate the coffin with leaves or flowers for a botanical look.
Pandanus coffins – Another environmentally-friendly option is a pandanus coffin. They are made by hand by weaving rattan with pandanus leaves. This gives them a natural look and means they decompose easily.
Willow – Willow coffins are great for creating a natural look that doesn't compromise on quality. Willow is known for being strong and beautiful. It's sustainably grown, making willow coffins an eco-friendly choice. They are also considered good value for money and are easy to personalise.
Sea grass coffins – If you're looking for an eco-friendly coffin with a unique look, a sea grass coffin is the perfect choice. Sea grass is usually hand woven into a bamboo frame to create a soft, oval shape with a natural feel. It's best to double check where the supplier gets their sea grass, to make sure it's from a sustainable source.
Expensive coffins and caskets
Solid wood or metal coffins can cost anywhere from £450 up to £10,000, depending on the style and materials you choose.
Solid wood coffins – Solid wood coffins are a sophisticated, popular choice for a traditional funeral. They are often made from solid oak and mahogany. Many can be engraved for a personal look.
Metal caskets – These caskets are made from solid metal and promise extreme quality and strength. They are often finished in a high gloss and feature elaborate detailing. This makes them a good choice for a luxurious ceremony.
Colourful coffins
A colourful coffin can capture your personality and make your send-off really memorable.
From bright pink to bold metallics, the options are endless. Have a think about the colours that best represent you or your loved one.
How about yellow to reflect your sunny personality, or green to represent a love for nature?
Bespoke picture or themed coffins
For a funeral with a difference, why not break the mould with a custom-made picture coffin or a themed design?
It could be your favourite football team. A collage of your most treasured photos. Or even images of your favourite food.
You can customise a picture coffin to reflect your personality – making them a thoughtful way to celebrate someone's life.
Comparing coffins
There are many types of coffin out there. It's worth weighing up the pros and cons of each to decide which one is best for you.
Think about what kind of funeral you or your loved one would like to have. Then pick a coffin that's in keeping with the theme.
How do you pick a coffin or casket?
There are two main types of coffin styles available: coffins and caskets.
Caskets tend to be more expensive than coffins, as they are wider and grander in appearance.
Coffins usually cost hundreds of pounds, whereas caskets can be in the thousands.
What's the difference between a coffin and a casket?
While coffins and caskets seem very similar, they're not the same.
Caskets are rectangular, whereas coffins are wide at the top and narrower towards the feet.
What to consider when choosing coffins
When choosing coffins, it's important to bear these things in mind:
The price – Whatever your price range, coffins can be expensive. Elaborate coffins made from premium materials will cost far more than standard designs. Sometimes you can barely tell the difference between one style over the other. It's good to weigh up the costs of each to see if it's worth paying extra. A solid wood casket may be high quality, for example, but it might look almost the same as a cheaper veneer casket.
Materials – Consider the material of your coffin carefully. Think about cost, and whether it's what you or your loved one would want. For example, is it important to you that your coffin is eco-friendly, like cardboard? Or would you prefer something more durable, like metal?
Whether you have any special requirements – There may be rules and regulations about certain types of coffins. For example, coffins made from non-biodegradable materials release toxic fumes when cremated. So they're not allowed on eco-friendly burial grounds. If you want a green funeral, always ask the burial site whether the coffin you'd like meets their guidelines.
Will my funeral director let me buy my own coffin?
You can source your own coffin rather than buying it from the funeral director. Many online retailers can even arrange to deliver your order directly to your funeral director's premises.
Funeral directors are legally obliged to let you buy the coffin elsewhere, if that's what you'd prefer.
Buying your coffin from a funeral director can be more expensive. Shopping for one independently could save you a quite a bit of money.
How to carry a coffin
Carrying a coffin can be a big responsibility. All eyes are on you and your fellow pallbearers.
The funeral director will help you raise the coffin onto your shoulder when the service begins. When you walk, keep the coffin close and follow the director's movements.
Always walk in line with the other pallbearers. Pay your respects by holding your head up and keeping your back straight.
Next steps
Did you find this information useful? Take a look at our handy guide on how to personalise a funeral and simple ways to turn a funeral into a celebration of life. Or use our My Perfect Send-Off tool for a simple, free way to record your funeral wishes.
Coffin pricing information:
The price ranges given in this article are intended as a general guide based upon available online pricing from leading UK coffin suppliers. These prices were reviewed in May 2023.
Sources:
Greenfield Coffins(www.greenfieldcoffins.co.uk opens in a new tab)
Good Funeral Guide(www.goodfuneralguide.co.uk opens in a new tab)
Co op Funeral Care(www.coop.co.uk opens in a new tab)
FuneralGuide.co.uk(www.funeralguide.co.uk opens in a new tab)
Funeral Care(www.funeralcare.co.uk opens in a new tab)
Willow(www.thinkwillow.com opens in a new tab)
Natural Endings(naturalendings.co.uk opens in a new tab)
The Coffin and Urn Store(www.coffinandurnstore.co.uk opens in a new tab)
Coffin Company(coffincompany.co.uk opens in a new tab)
Cardboard Coffin Company(cardboardcoffincompany.com opens in a new tab)
The thoughts and opinions expressed in the page are those of the authors, intended to be informative, and do not necessarily reflect the official policy or position of SunLife. See our Terms of Use for more info.