15 affordable Christmas craft ideas for the over 50s
Last updated 21st November 2023
10 min read
Christmas crafts are an easy way to get creative this festive season. And crafting at Christmas is extra-special, because not only can you make memories with loved ones – you can also give your creations as Christmas gifts to the people you love.
Christmas crafting is an ideal activity for anyone, especially as it's a chance to have fun with grandchildren and friends. In fact, crafting can be especially good for people in assisted living facilities or with conditions that affect cognitive functions, such as dementia. So you can get creating with anyone in the family!
Read on to find Christmas craft ideas that are perfect for people over 50.
1. Homemade Christmas cards
Nothing is as traditional as a homemade Christmas card! We all remember making them in school, and they're just as fun to make now as they ever were.
The best thing about a Christmas card is you can make it with a specific person or family in mind, meaning you can tailor it to them. You could make a picture that calls back to a memory you have together, or add a personal message that makes them laugh.
Cards are also a cheap and easy Christmas craft to make, as you don't need anything more than paper and stationery that you probably already have.
Just fold the paper in two for a basic card, or you can cut it into festive shapes. Once you have the shape you want, then add as many decorations as you wish. Then simply write a happy holiday message and your unique, personal Christmas card is ready to be sent!
What you'll need:
Paper
Scissors
Glue
Pencils and pens
Glitter, ribbons and any other decorations you want to put on your card
2. Gingerbread houses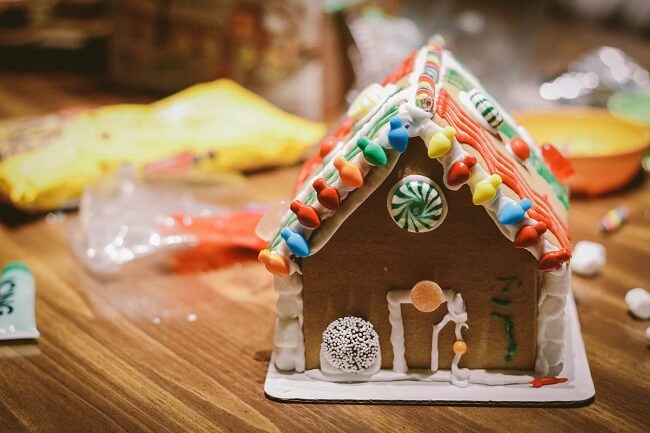 Crafting a gingerbread house can certainly help get you in the festive spirit!
This easy Christmas craft involves baking gingerbread into shapes and then using icing to build them into a house. (And lots of supermarkets sell gingerbread house kits, which can make this craft even easier and cheaper to do.)
Most of the fun with making a gingerbread house involves decorating it, using icing and coloured sweets to make it as festive as you can. This is also why making a gingerbread house is an ideal Christmas craft to do with your grandchildren.
They'll have plenty of ideas about what will look good – and they'll also be excited to try a craft that they get to eat at the end!
What you'll need:
A gingerbread house kit (which should include gingerbread walls, icing and edible decorations)
Extra decorations (sweets, frosting, any other decorations that look festive)
3. Sock snowmen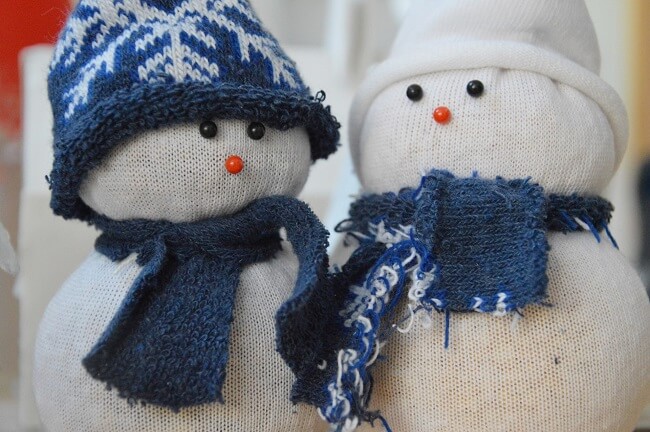 Sock snowmen are a great way to make some extra decorations for the holiday season and get rid of some spare socks. Plus, you don't need many materials.
To make a sock snowman, take a white sock and fill it with rice. Secure the filled sock with a rubber band once you have enough to form the snowman's body. Then use a second rubber band to secure the sock further up, making a smaller portion that can be its head (like in the picture above).
Add some coloured buttons on his belly, and then use either more buttons or a black marker to draw his expression on. Tie a ribbon around his neck for the scarf and use some extra coloured fabric to give him a hat.
In no time at all, you've got your very own sock snowman! For a full step-by-step on how to make your sock snowmen, read this guide here(www.easypeasyandfun.com opens in a new tab).
What you'll need:
White sock
Coloured fabric
Black marker
Coloured ribbon and buttons
Glue
A large bag of rice
4. Stick snowflakes
Stick snowflakes are a quick Christmas craft you can make to hang on your Christmas tree.
Next time you go for a walk, look for twigs and sticks that are as straight as possible. You'll need four large twigs and two smaller twigs to make one snowflake. Once you have enough, paint each twig with your chosen colour (white or silver works well) and leave the paint to dry.
Once they've dried, use some strong glue to criss-cross your twigs into the shape of a unique snowflake. Wrap a piece of twine to the end of one of your twigs – and your ornament is ready!
Stick snowflakes are plastic-free and a great excuse to get out in nature. Plus, it can be good for your mental health too!
To follow the step by step process of crafting stick snowflakes, visit this guide here(www.countryfile.com opens in a new tab).
What you'll need:
Four large twigs
Two smaller twigs
Your chosen colour of paint
Strong glue
A piece of twine
5. Homemade handwarmers
Christmas time can bring joy into our lives, but also quite a bit of cold weather. So why not warm yourself up by crafting festive handwarmers? You'll need some basic sewing skills, but it's still a simple craft to do.
Start by sewing two pieces of festive fabric together (any cotton will work) to create a sealed pouch – but make sure to leave one side open so you can put the filling in (dry rice works well).
Once you've put the rice in the pouch and sewn all the fabric together, you have a homemade handwarmer to see you through the cold winter! Just microwave it to heat it up.
What you'll need:
Two pieces of cotton fabric with festive patterns
Scissors
A needle and thread
Rice for the filling
6. Draw or paint winter scenes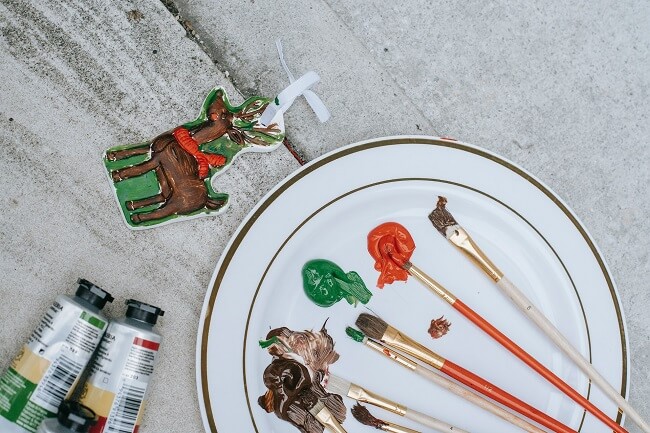 Painting and drawing are a calming activity all year round, but the Christmas season is a chance to create beautiful, festive images.
A good place to start can be to draw or paint winter scenes from the comfort of your own home. These scenes could be Christmas decorations in your village, a snowy landscape that caught your eye, or even a classic Christmas character such as Father Christmas.
According to Senior Helpers, the many benefits(www.seniorhelpers.com opens in a new tab) of making art when you're over 50 include improved mood and better motor functions. Simply find yourself some paper, paints and a creative idea, and you'll be ready to paint your Christmas scene.
What you'll need:
Paper or canvas
Paints
Pencil
7. Knitting gifts (hats, scarves and mittens)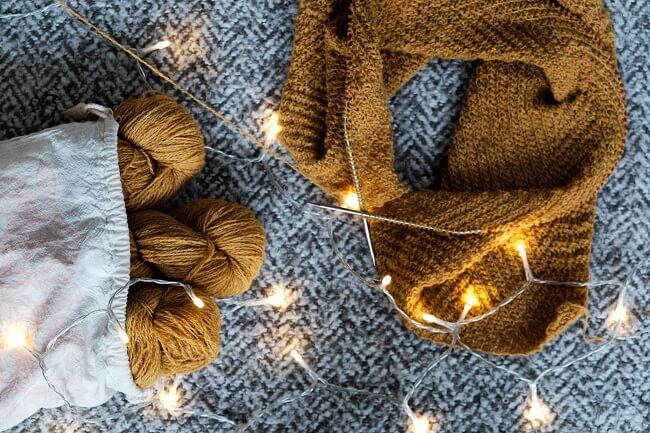 No list of Christmas crafts would be complete without knitting!
The effort and patience it takes to knit a piece of clothing makes these gifts some of the most personal of all. If you can knit a hat, scarf or gloves for someone, it can be a calming Christmas craft to do in the warmth of your own home.
You only need wool or yarn, and knitting needles, so this Christmas craft can be very affordable.
The main thing to consider is what you want your article of clothing to look like. Have a think about what images, letters or words are most significance to the person you're making it for, as this will make the gift even more personal.
What you'll need:
Yarn or wool (you can choose as many colours and textures as you like)
Knitting needles
Scissors
8. Pine cone Christmas tree decorations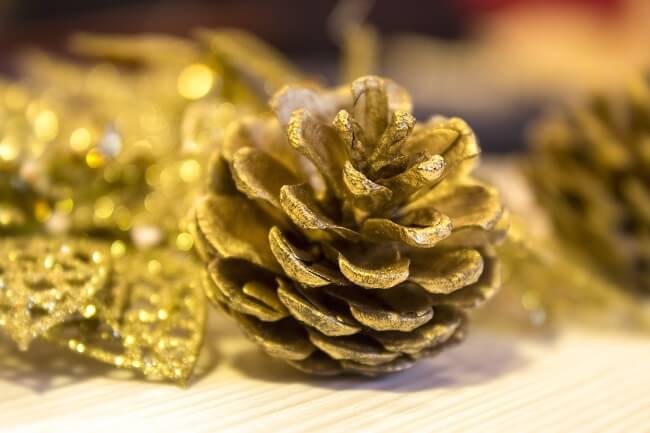 Much like stick snowflakes, a pine cone Christmas tree decoration is a chance to transform something you find in nature into something festive.
Whether you find your pine cone in the park or your garden, you can make this affordable Christmas craft with friends or family – it's a great way to add some festive cheer to the season.
Simply find a pine cone that's in good condition, and customise it to your liking. You can paint it to look like a Christmas tree, add some ribbons and a star, or even add glitter to make it sparkle. You can also attach some twine with a bit of glue to hang it on the tree.
You can find a full guide to crafting pine cone Christmas decorations here(www.nationaltrust.org.uk opens in a new tab).
What you'll need:
Pine cone
Paint
Glue
Twine for hanging
Any decorations you like!
9. Personalised stockings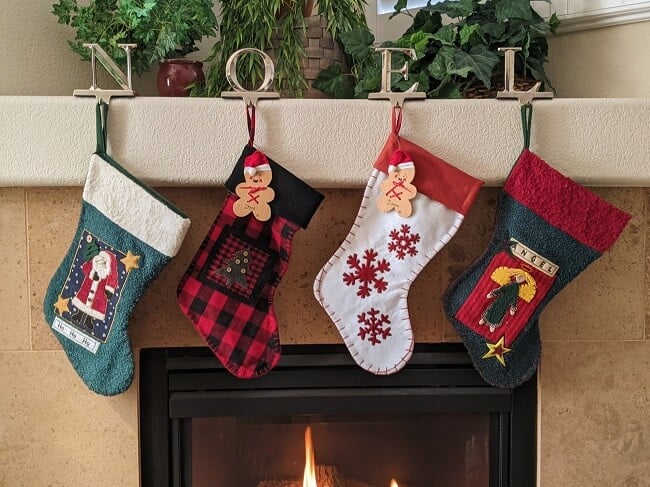 Stockings are a Christmas classic. A row of merry stockings hanging over a fireplace can be found on christmas cards, in films and in many people's homes every year. And crafting your own Christmas stockings means you can tailor them to you or your loved ones.
This Christmas craft is very affordable, and many businesses have pre-made templates you can print off and stitch together easily. Some sewing skill is needed – but if you're confident with a sewing needle, you can even stitch custom patterns into your stocking.
For a step-by-step on how to make your own personalised Christmas stockings, read this guide here(www.bagsoflove.co.uk opens in a new tab).
What you'll need:
Two pieces of festive fabric cut into a stocking shape
Extra fabric for the cuff
Scissors
Sewing needles
Thread
Pins
Sticky tape
Any decorations you like!
10. Create your own gift tags
Making your own personalised, festive gift tags is an easy Christmas craft you can master in minutes.
To customise a gift tag, think about what sort of things your loved ones enjoy. For example, if it's your grandchild, you could draw their favourite cartoon character on the tag.
Finally, no matter who the recipient is, be sure to write a heartfelt, personal message inside the tag. Let them know why you care enough to put so much effort in!
What you'll need:
Card or burlap tags
Stickers
Buttons, plus any other decorations you like
Ribbons
Thin black marker
Ruler
Glue
11. Waterless snow globes
Instead of spending money on a snow globe from a shop, it can be fun to make your own waterless snow globes at home. They're an easy craft and you'll only need a few cheap materials.
To create your snow globe, take a pretty glass jar and glue a few decorations (such as trees or snowmen) to the inside of the lid. Pour a small amount of fake snow into the jar and screw the lid on tight.
Turn it upside-down so the lid is on the bottom, and you've made your waterless snow globe ready for display. You can see a full tutorial here(craftsbyamanda.com opens in a new tab).
What you'll need:
Glass jars
Artificial snow
Strong glue
Decorations (such as tree or snowmen)
Glitter (optional)
12. Painted pasta garlands
To spruce up your Christmas decorations, you can craft a pasta garland. It's perfect for getting the children involved in a fun Christmas activity.
To create your garland, decorate your chosen pasta by painting it with festive colours or glue and glitter. After drying, thread a length of string through the pasta. You could also add bells or ribbon to the garland after every few pieces of pasta.
By the time you're done threading, you'll have a festive decoration perfect for putting on the tree! If you need a full step-by-step on creating your pasta garland, read this guide here(feelslikehomeblog.com opens in a new tab).
What you'll need:
Pasta (penne works best)
String
Small jingle bells
Ribbons, plus any extras you like, such as glue and glitter
13. Festive collage
A Christmas collage can be a fun way to express your creativity at Christmas.
The cheap materials and limitless ideas also mean this Christmas craft can be done with friends or family – especially the grandkids.
You can use any crafting materials you have around the home. Pick a classic Christmas image (e.g. Santa, a Christmas tree) and then use fabric, felt and paper to bring your image to life on a piece of card.
What you'll need:
Coloured card
Felt
Fabric
Felt tip pens
PVA glue
Any extra decorations you like, such as glitter
14. Make your own wreath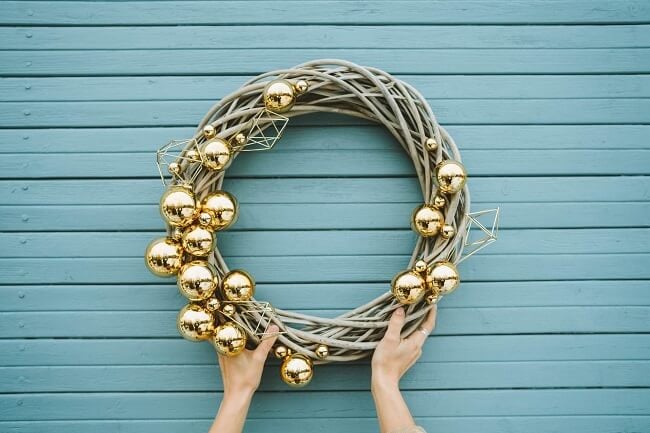 A Christmas wreath is a traditional decoration that's perfect for hanging on your door. By learning this easy and affordable craft, you'll be able to make your very own Christmas wreath for years to come.
Simply take a metal or wooden circle, and layer it with different pieces of Christmas crafting materials. You could use natural items such as fir leaves from your garden, leftover Christmas decorations such as baubles, or even something as simple as ribbons and bows.
This craft is fun and creative, and you can teach others how to make wreaths themselves, which makes it more social. If you want a full idea of how to create your own wreath, why not follow these guides(www.gardenersworld.com opens in a new tab).
What you'll need:
Variety of Christmas crafting materials
Scissors
Strong glue
Ring of wood or metal wire
Twine for hanging
15. Foodie ornaments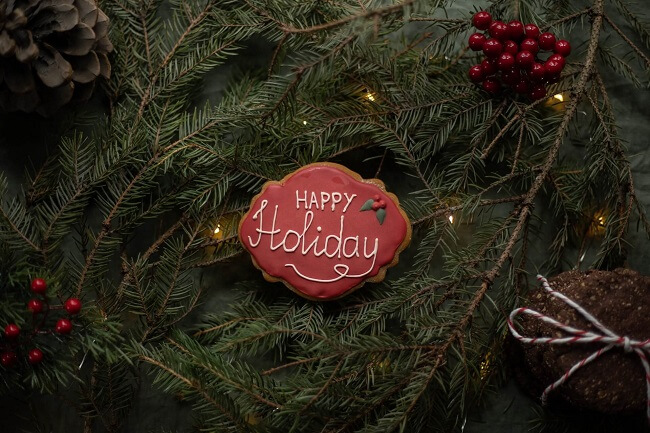 If you want to try something different this year, this foodie Christmas craft can help you get excited about decorating.
Similar to the pasta garlands, simply thread a piece of string through dried, fragrant food (like sliced oranges) and hang it on your tree as a decoration.
Use foods that are colourful and scented, such as citrus fruits. Candy canes, biscuits and sweets are also a fantastic choice for foodie ornaments – with the added benefit that any visiting grandchildren can pick a treat off your tree.
What you'll need:
Thread
Mini hooks
Food (dried fruit, candies – anything that won't perish)
The benefits of Christmas crafts for the over 50s
There are lots of benefits to making Christmas crafts. The holidays are a time of joy for many, but they can also be stressful and sometimes even lonely. Getting involved with Christmas crafts at any age can bring benefits such as:
Strengthened motor skills
Increased well-being and reduced stress
Improved cognitive function
Developing new skills
Opportunities to socialise and reduce loneliness
Next steps
For even more Christmas craft ideas, check out our festive Mini Money Tips! And if you found this article helpful, you may also be interested in these articles:
The thoughts and opinions expressed in the page are those of the authors, intended to be informative, and do not necessarily reflect the official policy or position of SunLife. See our Terms of Use for more info.