How does equity release work?
Last updated 2nd August 2023
6 min read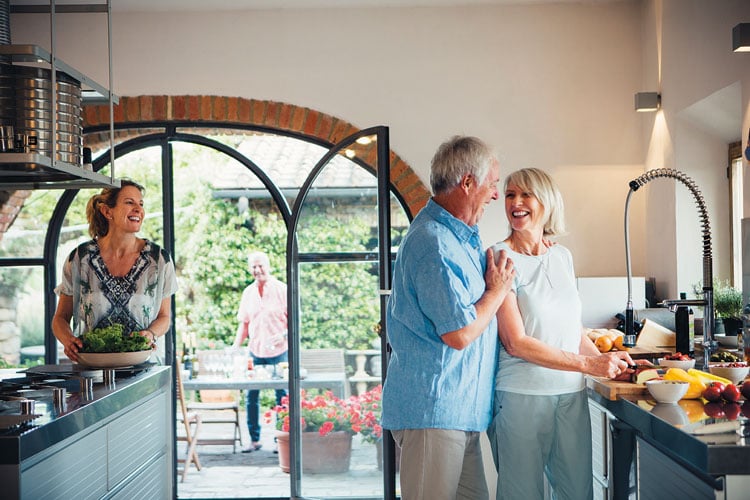 To release equity from your home, you'll need a quote from an equity release provider based on a valuation of your property, as well as to go through an advice and suitability process. Depending on your plan, you can release equity as a lump sum or in smaller instalments. You'll need to use the money to pay off anything left on your mortgage – then you can use the rest to spend as you wish.
Once you've accessed your money, you won't have to make any monthly repayments. There are equity release products that come with the option of making regular payments to help reduce the total cost of borrowing. Even if you're only able to make small repayments, it'll help reduce the amount of interest you pay over the lifetime of your loan.
With the most common form of equity release – a lifetime mortgage – the outstanding loan will be paid back when you sell your house (plus interest if unpaid). This usually happens when you pass away or move into long-term care.
Equity release can be an option to consider if you're looking to obtain a cash lump sum without selling your home. People often use equity release to pay for home improvements, or to make their retirement more comfortable.
In this guide, we'll take a look at how equity release works. Remember to take a look at our other resources on this topic, including 'What is equity release?' and 'Remortgage or equity release?'.
How do I apply for equity release?
Equity release plans are available to over 55s who own a qualifying property in the UK. If you're taking out a joint equity release plan, you both need to be at least 55.
The process of applying for equity release varies depending on the provider you choose, the type of equity release, and your own personal circumstances.
The application process should generally follow these steps:
Chat to a provider to find out whether you're eligible
Discuss your options with an equity release adviser
Submit your equity release application
Receive a property valuation and mortgage offer from the provider
Talk to a solicitor to make sure you get independent legal advice
Additional questions and document requests
Complete and get your money
We always recommend speaking to an independent adviser about equity release before applying.
How long does equity release take?
Equity release can take around eight to 12 weeks, including the time it takes to secure a valuation, work with a specialist solicitor and receive the money into your bank account. Give as much information as possible during initial advice meetings to avoid complications that could slow the process down.
Choosing a specialist equity release solicitor can help to ensure that your application runs smoothly so your money reaches your bank account as soon as possible. It's also a good idea to make sure you've got all the relevant documentation to hand before starting the process. This includes your identification and title deeds.
Find out more about the steps and timeframes of equity release in our expert-authored article, 'How long does equity release take?'.
Can I sell my house if I have equity release?
If you want to sell your house, you will have to check with your equity release provider first, although most allow you to transfer the loan to a different property if certain criteria are met.
Some providers might not let you move to a cheaper property than the one the loan is against, which means downsizing may not be possible. In the same way that your current homes is valued and assessed for its suitability to secure an equity release plan, a new home will need to be assessed too. If the lender does not deem it to be suitable, you won't be able to transfer the loan.
If you think you may wish to move house in the future, check whether you are able to transfer the equity release to a new property before going ahead, and make sure that you fully understand the criteria.
How does equity release work when you die?
When you die, your equity release provider will need to be notified. Your home will be sold and the equity release loan will be repaid in full from the sale, along with any unpaid interest.
If you have a joint equity release scheme, the provider will need to be informed when one policyholder passes away. You will still have the right to live in your home until the last policyholder dies or moves into permanent care.
Can you lose your house with equity release?
Generally speaking, you can't lose your house with an equity release lifetime mortgage, and the house remains yours throughout the duration of the loan period. Much like a regular mortgage, you retain the right to sell the house and transfer the loan to a new property provided that your provider deems it to be suitable.
The Equity Release Council sets standards for its provider members to ensure that the house will always belong to you and cannot be repossessed. In this sense, it's actually safer than a regular mortgage, where the lender does retain the right to repossess the property for non-payment.
There are certain circumstances where the lender could instigate repossession of the property, such as if you:
Deliberately supply false information on your application;
Leave the property unoccupied for more than six months, without moving into long-term care;
Fail to comply with the loan's terms and conditions.
Can you repay equity release early?
Unlike a standard mortgage, there is no set time frame for repaying your equity release loan. Full repayment is usually triggered when the policyholder(s) die or move into long-term care. This means that the repayment terms are fairly flexible, and you may choose to repay your equity release early.
However, depending on your specific plan and lender, this may incur early repayment charges. When choosing your equity release plan, pay close attention to the early repayment terms, as some charges may make it less cost effective to repay early than to see out the original loan term with interest.
Many newer equity release plans offer fixed-term early repayment charges, making it much more practical and affordable to repay the loan early if you wish.
Is equity release regulated?
Equity release schemes, providers and advisers are regulated by the Financial Conduct Authority(www.fca.org.uk opens in a new tab). As such, all parties must take steps to ensure that an equity release product is suitable for you based on a full understanding of your circumstances.
Is equity release safe?
Most providers are now also members of the Equity Release Council and abide by its standards and principles. This includes a 'no negative equity guarantee', which means that you will never need to pay back more than the value of your home. However, a lifetime mortgage may result in limited or no property equity remaining, and will reduce your financial options in the future.
Always check the Equity Release Council's register(www.equityreleasecouncil.com opens in a new tab) to make sure the person or company you're dealing with has signed up to this industry body's code of practice.
Our article 'Is equity release safe?' is a useful resource to find out more about the regulations governing equity release schemes.
When can you get equity release?
You're likely to be able to release equity from your property when you are 55 or over, as long as you own a property that is worth at least £70,000. The exact age range in which you're eligible for equity release will vary by provider.
Equity release could be a way to boost your finances if you're looking for a way to fund a more comfortable retirement and have money tied up in your home.
That said, equity release is less likely to be the right option if you've not got enough spare cash or other investments that will allow you to maintain your lifestyle in retirement.
Use our equity release eligibility checker to find out if you can apply.
Getting equity release advice
The information in this article is provided for general guidance only and is not offering financial advice.
Equity release is a financial commitment related to your home, so it's a big decision. As well as providing a roof over your head, it's also a valuable asset and may form a significant part of your estate.
There's a lot to consider, so it's important to get professional advice. A specialist financial adviser can help you decide if it's the right option for you.
Reading up about the pros and cons of equity release, as well as what alternatives may be available to you, is also essential before taking any action.
Next steps
If you want to know more about equity release, take a look at our equity release page or get in touch to speak to a friendly member of our team.
Prefer to keep reading first? Here are some other articles that our customers found helpful: