How does equity release work?
Unlocking the cash tied up in your home
There's more than one way to release equity from your property. Some people will decide to sell up and downsize to a smaller property. But what if you don't want to move out of the home you love – where you've made lots of happy memories over the years?
If you've been wondering how to release equity from your home, then you may have come across equity release. Especially as it's becoming more and more popular with homeowners age 55 and over. In fact, on average, someone unlocks tax-free cash from their home every 12 minutes1 – and they're using it to make the retirement they've always dreamed of a reality.
Use our 60 second equity release calculator
Use our 60 second equity release calculator
Use our equity release calculator
Use our 60 second
equity release calculator
Release tax-free cash from your home
But what is equity release and how does it work?
First things first…
The 'equity' in your home just means the market value of your home less any loans or debts (like a mortgage) you have secured against it. Here's a quick example: if you decide you'd like an extra £20,000 to make home improvements, and your house is worth £200,000 and you've still got £10,000 mortgage to pay, then you'd have £190,000 of equity in your home, which the £20,000 would be deducted from.
Equity release is all about taking this 'equity' out of your house – and the cash sum (which would be £20,000 in the example above) is completely tax-free. Equity release gives you the chance to use the money tied up in your house – whether that's topping up your pension, booking the holiday of a lifetime, or seeing loved ones enjoy their inheritance in your lifetime. Oh, and you won't have to move to a new house to make all this possible.
Equity release: how does it work?
To be eligible for an equity release plan, you'll need to be a UK homeowner age 55 or over. Even if you still have a small mortgage on your property, you could still be eligible – you'll have to pay it off using the money you release.
Once you've accessed your money – which is yours to spend as you like – you won't have to make any monthly repayments. The loan (plus interest) is simply paid back when you sell the house – which will usually be when you pass away or move out permanently (into residential care).
There are varying types of plans, the two main types being lifetime mortgages (the most popular option) and home reversions schemes, which you can find out more about in our equity release guide.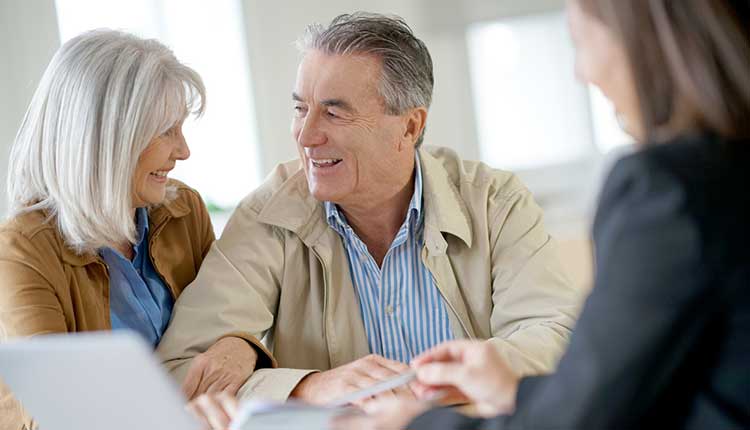 It's a straightforward process
So, once you've done your research and considered your options, you may want to get the ball rolling. The equity release process can vary from person to person and provider to provider, but you'll have plenty of support along the way. Here's an idea of the steps you can expect.
Have a FREE chat with the SunLife Over 55 Equity Release Service to find out whether you're eligible. You won't have to take things any further if you don't want to
Talk to an equity release adviser – over the phone or in person, in the comfort of your own home. Your Age Partnership equity release adviser will answer your questions and help you decide whether this is the best solution for you. The advice you're given will be confirmed to you in writing before any further decisions are made
Arrange a follow up meeting to talk through the advice that was given to you. You'll be able to ask any remaining questions that you might have and make sure you're ready to proceed with the process. And when you're ready…
Fill in your application with the help of your adviser. They will even submit the application for you, and if it's accepted, the provider will give you a valuation
Talk to a solicitor about your offer to make sure you get independent legal advice. They'll check all the legal details and talk you through them. Age Partnership will provide a list of recommended specialist independent equity release solicitors. And if you accept, your equity release scheme will be set up for you
Get your money through your solicitor – and get on with putting those plans into place
See? We told you it was straightforward. You'll have all the guidance you need along the way. And when it's done, you'll have access to the cash you need for the retirement you deserve.
How soon can I release equity from my home?
So, how long does equity release take? Well, it varies from provider to provider. But taking equity out of your home usually takes around 8 to 12 weeks – from the day the provider receives your application to the day your solicitor sends you your money.
Just like any financial decision, bear in mind that equity release isn't something you should rush into. So take the time you need to consider your options and decide whether it's right for you. It's also good to remember that taking out a lifetime mortgage will reduce the inheritance you leave your loved ones, so it's a good idea to involve them in the decision too.
How much does equity release cost to set up?
How much equity release costs depends on lots of different things – like the type of equity release scheme and the provider. In most cases, there are fees and costs when you take out equity release. These include:
Arrangement fees
Advice fee
A valuation fee (to value your property)
Your legal costs (your solicitor will give you a breakdown of these)
Buildings insurance (to make sure you meet your lender's requirements) – if you haven't got some in place already
Your financial adviser will talk you through all of this if you decide to go ahead with equity release (the SunLife Over 55 Equity Release Service can put you in touch – and book you in for a FREE appointment). You'll be able to ask them anything you like.
Related articles
The smallest print
1. This is based on the total number of equity release sales in 2018.