Life Well Spent report 2023 reveals money CAN buy you happiness… if you spend it well
18th October 2023
3 min read
PRESS RELEASE
As budgets get tighter – latest report from SunLife reveals the big spends you WON'T regret.
Gifting money to family one of the biggest joy-boosters for people over 50.
Holidays, home improvements and paying off debt among other spends that have a long-term impact on happiness.
However, 37% of over 50s worry about running out of money during retirement, rising to 39% of women and to 43% of those who are not yet retired.
For the second year running, SunLife's latest Life Well Spent report has revealed how big purchases are impacting happiness over time for people over 50.
As money gets tighter for everyone, it's more important than ever to know whether a big spend will be an investment in future happiness – or lead to financial regret!
Family gifting improves happiness for 81% of over 50s
Family is listed as one of the top three things that makes people over 50 the happiest, and 27% are worried about how their children and grandchildren are managing financially. So, it's no surprise that gifting loved ones cash makes 4 in 5 happier – whether it was for tuition fees, a special gift, a wedding, or a house deposit.
On average, 23% of people over 50 have given a significant cash gift in the last five years, rising to 34% of over 70s. The average amount gifted is £15,978.
Find out more about cash gifting
Holidays, home improvements and debt repayments also improve life after 50
According to the report's findings, the happiest over 50s:
Almost 2 in 5 over 50s worried about running out of money during retirement
The financial worries bothering over 50s the most are the rising cost of living, and running out of money during retirement. The rising cost of living is still one of the biggest worries for 73% (-2% since 2022) of people over 50, rising to 78% of 50-59 year olds.
37% of over 50s worry about running out of money during retirement, rising to 39% of women and to 43% of those who are not yet retired.
The number of people with no financial worries at all (12%) has risen slightly since 2022 (11%), but is still much lower than 2021, where 26% of retirees and 14% of non-retirees reported having no financial worries. Today, only 18% of retirees and 9% of non-retirees are free from money worries.
16% of over 50s would consider equity release
Equity release is a way for homeowners over the age of 55 to access cash that's tied up in their home, without needing to move. 85% of over 50s are aware of equity release, rising to 95% of retirees (+2% since 2022).
For many, equity release is a way to make some of these happiness-boosting spends a reality. Home improvements, paying off debts and holidays/travel are once again the most popular spends. But this year, people are spending more on these, with an average £43,579 of released equity going towards the mortgage/debts (compared to £18,441 in 2022).
People are also using their equity to give their loved ones more support, with the average spend on this coming in at £22,667 (up from £12,525 last year). Family gifting has also gone up, from £4,043 in 2022 to £15,267 in 2023.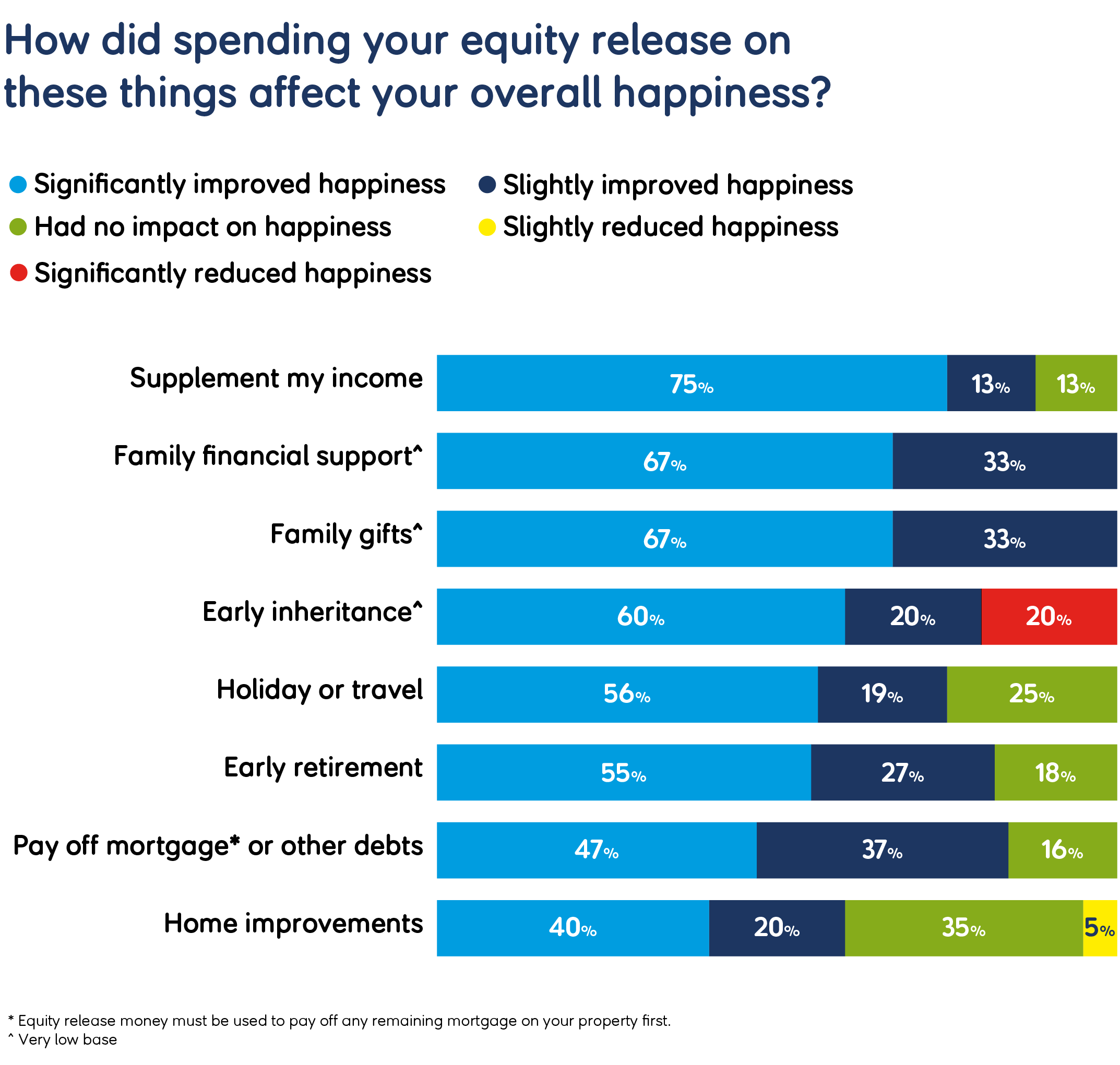 For those considering equity release, SunLife has a free Equity Release Calculator that helps you estimate how much you might be able to release from your own home. Equity release is a big decision, and any application will require you to speak to a financial advisor as part of the process.
Mark Screeton, CEO at SunLife, said;
"We all want to be reassured that we won't be left with buyer's remorse, especially when it comes to those big spends that take a great deal of planning and saving. In the current financial climate, where three-quarters of people over 50 are worrying about the rising cost of living, and 2 in 5 are worried about running out of money during retirement, investing in things like home improvements or bucket-list holidays can be even more daunting.
"So, it's a great relief to see that, for the second year, the vast majority of those making these big spends are seeing a return on investment in the form of long- and short-term happiness. With our SunLife Equity Release Service which launched this year, we know that family gifting, travel, debt repayment and home improvements are all things customers spend their released equity on, and we're glad to be helping more people find a way to finance their own happiness in retirement."
About the Life Well Spent report 2023
To better understand the relationship between happiness and major spending decisions, SunLife asked over 2,000 people over 50 to share:
What big purchases they've made in later life
The big purchases they'd like to make if money was no object
How their spending has affected their happiness

The report covers holidays, home improvements, family, debts, other big purchases and equity release. With the cost of living on everyone's minds, the findings are a window into the lives, concerns and dreams of people over 50.

About SunLife

SunLife has been around since 1810, making it one of the oldest financial services companies in the UK. It offers over 50s life insurance, equity release and funeral plans.

SunLife was the first company in the UK to offer life assurance without a medical, and has for many years been the UK's most popular over 50s life insurance provider (Association of British Insurers). It is also author of one of the longest-running and most highly-regarded reports into funeral costs – the Cost of Dying.

SunLife also works with leading finance journalists and industry experts to offer everyone over 50 free tools and guides to help with managing their money, planning a funeral and making the most of life after 50.
The thoughts and opinions expressed in the page are those of the authors, intended to be informative, and do not necessarily reflect the official policy or position of SunLife. See our Terms of Use for more info.