Top tips for dating for over 50s
Posted on 18 August 2020
8 min read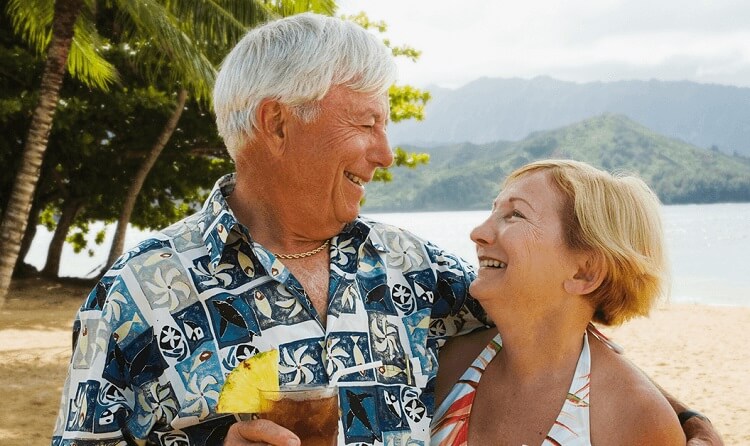 Are you making the most of your love life?
Attitudes to marriage and divorce have changed, leaving people feeling more liberated to change their situation if they wish.
And while older people might not talk about it as much as other age groups, exploring dating, love and sex doesn't stop once you hit 50! In fact, our research shows that sex, love and dating can actually be much better in later life.
Whether you've been dating for years or are completely new to it, fear not – there are lots of over 50s looking for love! And it's never too late to find 'the one'.
Here are our top tips for dating in your 50s…
If you don't know where to start
Finding a special someone can be daunting at the best of times, and it can take a little while before you're ready to embark on that journey.
If you're completely new to the dating scene and don't even know where to begin – don't panic, there are plenty of people in the same boat. Here are some things you can do to ease into it gently.
Talk about how you feel
One of the biggest hurdles for over 50s finding love is feeling embarrassed about 'dating again'. Many are worried what their friends and families – particularly their kids – will think about them 'getting out there' and moving on.
But honesty is the best policy, so open up to those around you about how you feel. Let them know what's going on in your love life so they can be there to support you – they'll only want you to be happy and may even be able to set you up!
Take up a new hobby
It is never too late to try something new. Not only is it a great way to meet new people – and potentially a new partner – but learning a new skill in later life will also improve your mental health.
Take some inspiration from our impressive Welcome to Life After 50 stories.
Get fit
Exercising is hugely beneficial on so many levels. There is the obvious physical benefit of being fitter, but exercise will also improve your mental health, boost your energy (and improve sexual performance!) and if you join a club or class, is a great way to meet new people and make friends.
Get a new look
If you do decide to 'get back out there' what better excuse for a new look? Freshen up your wardrobe by taking your old stuff to the charity shop and getting a few new outfits; you'll feel so much more confident.
If you are not sure where to start, ask a friend or family member for advice, or you could even think about hiring a personal stylist.
If you're ready and raring to meet someone but don't know where to begin…
Thousands of over 50s looking for love are turning to dating sites to find that special someone.
While it might seem a little scary at first, especially if you've heard some interesting tales about apps like tinder, online dating sites and apps are a completely normal way to meet someone – at any age.
Popular dating sites and apps for over 50s
eHarmony asks singletons to fill out a detailed questionnaire and uses a scientific approach to match compatible singles.
You fill in the basics first, then answer more in-depth questions about your personality and likes in order to get a selection of singles based on your responses.
Membership isn't free but you can choose various payment options depending on the account you want.
Most people will have heard of match.com, it's probably the longest running dating site around.
It's for people of all ages and has a huge proportion of members over 50 – and you can get a free trial to see if you like it.
An over 50s dating site for meeting a partner, or simply finding friendship, in your area.
Members also organise meet ups where they can enjoy shared interests and activities and get to know likeminded people without any pressure.
Bumble might be one of the newer apps on the market, but it's definitely got its merits. It makes female users initiate the conversation, meaning you have total control of who you speak to and you don't have to worry about seeming too keen!
This is the newest app designed specifically for the 80 million-ish singles over 50 around the world. It provides a safe, age-specific dating community where members go through a verification process to prevent fake profiles.
When it comes to getting in to dating apps, there are a few key things that can help set you above the rest.
Setting up your profile
While we want to present the best version of ourselves possible, it's important to use a photo that is up-to-date and accurate. If you're looking for a serious connection with someone, the best way to do that is to be honest and open from the get-go.
Try using a portrait shot and a full length one if possible. If you can show off your interests – even better! If you like walking and adventure, try a photo that reflects that. If you're into reading, have you got a photo surrounded by books? Aim to look smiley and approachable – cultivated poses might put some people off.
It's a good idea to be the only person in your photos. Not only are other people distracting, but they may be misconstrued as a partner or an old flame.
Be clear about your interests
Writing a dating profile can be really tough. Be clear about your interests – whatever they are. That way you or a potential partner will find it easier to identify if you have shared hobbies and start a conversation.
Don't go in to too much detail – you want to be able to hold something back for a first date. And no one needs to know all of your inner thoughts and feelings before they've even met you.
Writing your first message
The hardest part of online dating is opening the conversation. There's no natural lead so of course it can be tough to know what to say.
Try opening with a light-hearted line about something you liked in their photo – maybe something in their bio, or even their jazzy socks.
Don't be too overt, just try to speak as you might in real life. It's easy for things to get misinterpreted online, so save your bigger punch lines for face to face.
If the conversation is flowing nicely, remember not to give away too much about yourself. You are still strangers after all and it's always good to go into these things with a cautious mind.
The date itself
If you've struck up a connection with someone online, and you're planning to meet up for the first time, follow some basic rules:
Meet in an open area with other people around. Not only is this a safer option, it allows for some background hustle and bustle to fill any natural awkward silences.
Go on a date that caters to both people's interests. A date doesn't have to be dinner at a restaurant, it could be a country walk, a museum visit, or a drink in the local pub.
You're just getting to know each other, seeing if the connection that was there online exists in person, so there's no need to put lots of pressure on having the perfect first date.
Tailor your talk
People worry about not having things to talk about on a first date, and if that's the case then it can't hurt to prepare three topics of conversation you're interested in. If you can tailor one of those to their interests, then the conversation is sure to be easier and flow a little more freely.
Don't be too worried about awkward silences, it's perfectly normal when you're meeting someone for the first time. If they happen, take a moment and think of something to ask your date about themselves. You'll seem interested and engaged, and it will shift their mind away from any awkwardness.
Be happy to talk about yourself too, if you have children or have been divorced, it's good to be open about those topics. Try not to get bogged down in any negatives like a recent divorce or uncomfortable break up, keeping positive will make for an all-round better experience for both of you.
According to our research, people over 50 are less confident about dating and that might mean you're hesitant to be the first to get in contact after the first date – even if you had a great time.
Dating these days doesn't follow the same gameplaying or etiquette you might be used to. Throw caution to the wind and send a friendly follow up text message to let the other person know you had a nice time.
If the feeling is reciprocated then they'll be happy to hear from you, and if not, a casual text can be the gentlest way to find that out. If that's the case, don't be disheartened, there are plenty of people out there to connect with!
If you didn't feel a spark but they did, offer them the same kindness, let them know that you enjoyed yourself but would prefer to be friends.
Don't give up if you don't find 'the one' on the first go, take each date as a learning experience and you may even end up with a few new friends.
Other places to meet people
Try a singles holiday
If you are single and over 50, you may have decided against going on holiday. But with more freedom - and probably more cash – than you had when you were younger, it's worth thinking about going solo.
You can do what you want when you want, plus there are loads of holiday companies that offer trips especially for singles in their 50s, so you are guaranteed to meet like-minded people.
Friendship Travel, Solo Holidays, and Explore are all examples of companies offering over 50s holidays for single people.
There's no pressure to connect with someone on these holidays, it can purely be a nice opportunity to go away with a few future friends.
SunLife offers a range of straightforward and affordable products including over 50s life insurance, funeral plans and equity release.